US Women's Cycling Development Program diary
Photo ©: Jon Devich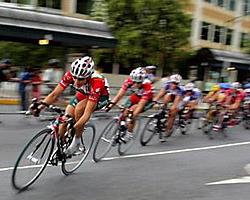 The US Women's Cycling Development program was founded by former pro rider, Michael Engleman, as a way to help promising young women cyclists reach their full potential as athletes. The USWCDP networks current and former women pro riders with up and coming athletes through mentoring and coaching.
With experienced mentors like Olympians Dede Barry and Mari Holden, along with current pros Amber Neben, Tina Pic, Kim Anderson and others, the USWCDP helps young riders like Mara Abbott, Katharine Carroll and many more to race better, find teams and become professional bike racers. The dedicated and well spoken women of this program provide thoughtful, compelling and sometimes hilarious anecdotes of their experiences in this diary.
For further reading about the program, visit the USWCDP website
December 31, 2007
New traditions
By Kris Keim
Welcome to Colorado.
Photo ©: By Kris Keim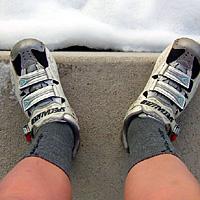 The training here in Boulder, Colorado, has been on-and-off since my last diary entry. The winds haven't been too bad but nine days of not being able to ride outside because of snow, and subsequently becoming one with my trainer, took its toll. If it wasn't for seasons one, two and five of Sex in the City (need to get three, four and six) I don't think I would have made it through my trainer workouts!
Watching the movie Pride and Prejudice was a great training session too (sarcasm). Luckily, the snow melted and I was able to get back on the bike... though I felt like I hadn't ridden a bike in nine weeks that first ride back. It was a fun one though; everyone was itching to get in some solid hours. The best part was the constant dodging of leftover ice and snow within the pack of riders; it was like dodge ball on the bike! We were all covered in mud, but I've never been happier and I got a free mud facial.
I've been busy creating new traditions this holiday season while spending my first Christmas away from home. A small group of us gathered to enjoy some holiday cheer off the bike, and it turned into quite an evening having Allen Lim do psychoanalysis tests on some tipsy cyclists. I learned that I'm a true "optimist" at heart, feel a ton of guilt when lying and that I might have the beginnings of carpal tunnel syndrome in my right wrist – an entire different story in itself. It was nice to get dressed up, eat good food and laugh the night away.
Watch what the pros watch
Photo ©: By Kris Keim

The snow decided not to torture the spandex community for a while and I've been able to get in some long rides with my new training buddies. Mara (I love Colorado) Abbott, Stefano ('Stef') Barberi and I even ventured out for a ride at 9:15 the other day. It was super-cold that morning and Mara almost bailed on us, but I gave her the "it'll only make you stronger" speech, and she ventured out. We laughed about being the only one's out riding at that time, but we are the "harden up" crew and got the training in! Actually, it ended up being a fairly warm day and by heading out early we missed those darn winds! Hurray!
Since I didn't go to South Carolina for the holidays I've been enjoying my time in Boulder working, training and hanging with friends. Yesterday, I started my own tradition of a Christmas Eve ride with my buddies. If I was home in South Carolina I would be training solo, and the roads/drivers aren't that great. Here in Colorado I had the opportunity to train with my friends and enjoy my new surroundings. I woke up this morning to my first White Christmas since I was a little girl, which will now become another new tradition while living in Colorado. Thankfully, I wasn't planning on riding today and it looks like I might have some trainer time coming up tomorrow, but for now I'm enjoying being lazy, drinking hot cocoa and watching the snow fall from my comfy couch.
Photography
For a thumbnail gallery of these images, click here
Images by By Kris Keim