US Women's Cycling Development Program diary
Photo ©: Jon Devich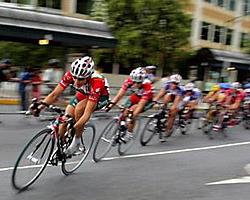 The US Women's Cycling Development program was founded by former pro rider, Michael Engleman, as a way to help promising young women cyclists reach their full potential as athletes. The USWCDP networks current and former women pro riders with up and coming athletes through mentoring and coaching.
With experienced mentors like Olympians Dede Barry and Mari Holden, along with current pros Amber Neben, Tina Pic, Kim Anderson and others, the USWCDP helps young riders like Mara Abbott, Katharine Carroll and many more to race better, find teams and become professional bike racers. The dedicated and well spoken women of this program provide thoughtful, compelling and sometimes hilarious anecdotes of their experiences in this diary.
For further reading about the program, visit the USWCDP website
December 11, 2007
It'll Only Make You Stronger
By Kris Keim
Keim off the bike
Photo ©: Kris Keim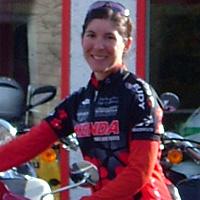 That's my new motto for my training life in my new home of Boulder, Colorado. I moved here a month ago from Athens, Georgia and I'm in my third week of being back on the bike. Things have been an interesting adjustment with the altitude, cold weather and wind. Boulder is great off the bike but a bit more challenging on the bike. I experienced my first day of riding last week where I wanted to actually cry because I was so cold! I couldn't feel my fingers or toes for the entire three-hour ride, and I forgot how much energy the body uses to keep warm so I was beyond exhaustion when we got back home. I'm not sure what was worse; the three hours of being numb or the "defrosting process" I felt when I jumped into the hot shower – Ouch!
All my race pals here keep saying, "It'll only make you stronger Kris." Who knew that the "strength tests" wouldn't stop there, because my body was yet again put to another test today when I got to face my first training ride against 25-35 mph (40-56 km/h) winds with gusts around 40+ mph (64 - ed.) at times.
I woke up feeling really motivated to get a solid training ride in but to my dismay looked online at the weather and saw that the wind was going to be pretty rough despite the beautiful weather of 65°F (18°C) so I decided to suck it up and head out. I thought it would be best to head towards Lee Hill and Left-hand Canyon, hoping that the trees might block the worst of the winds. The ride out to North Boulder was a tricky process of me trying not to be blown into oncoming traffic and avoiding being hit by flying debris. I finally made it to Lee Hill and started my day of climbing and noticed that it was slightly better heading up towards the canyon. Fortunately, my legs were agreeing with me and I was able to have moments of a slight tailwind versus the everlasting headwind I had for the first hour.
Making my way up towards Ward was not too bad, though Mother Nature would test me every once in awhile with a 40+ mph gust just to see if I was still awake! At one point I felt like Dorothy (minus Toto) being whipped around just waiting for the Wicked Witch to come flying past me. The winds calmed for a bit and I settled into a nice rhythm, trying to give my arms a rest from gripping too hard trying to stay upright and not be blown over – my abdominal muscles and arms got an amazing workout today too. I finally made it up to Ward where it was about 20 degrees cooler and the wind was much worse. If it wasn't for Justin Timberlake's song Sexy Back blasting in my ears I don't think I would've made it to the top.
I stood up to the beat of the music and thrust my little body out of the saddle and made it. It's silly how gratifying that moment was but there were so many times I had wanted to turn back around but I didn't, and I accomplished my goal of the day. I guess I'll have to wait and see this season if this type of training will "make me stronger." I do know for sure that my nerves are stronger when I had to descend back down the canyon with a 30-40 mph crosswind!
I survived the day and then made my way to Sportique Scooter Store to check out the Genuine buddy scooter (Genuine Scooters is an official Sponsor of the USWCDP). The guys working there were super nice and got me to take a little picture with one of the Genuine scooters I'll be pimping around town soon. I'm all smiles knowing soon I'll be chilling at home... out of the cold and wind.