Marco 'Pink' Pinotti
Photo ©: Fotoreporter Sirotti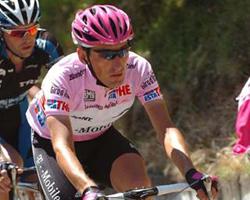 Time machine: The Marco Pinotti diary 2007
He may be an expert against the clock, but Marco Pinotti is also a handy rouleur, making him a valuable guy to have on any team. In 2007, the affable Bergamasco will be riding in the colours of T-Mobile, where he'll be pretty in pink. You can also learn more at Pino's personal website.
February 8, 2007
Racing starts in France
Hi guys,
The season has started and I have made my debut in magenta in Marseille. I think everybody looked forward to the race because you are not sure how your training has been until you compare your level at competition. Especially for me, because I have been training alone or only with one or two riders since the team's camp in Majorca.
I found the power meter very useful, it helps you to discover every little step ahead, but racing, it's really another thing. You can reach and experience high intensity zones that you think are difficult to touch only during your hard training days. That's why it's important to race; it helps to raise your level and improve your tolerance to fatigue.
Our hotel has very small rooms and it's a challenge any time you try to open your bag to search for some winter clothes, which we need many times here (it's raining outside at the moment...).
The race [in Marseille] was fast only in the first half, until a break with many teams [represented] formed. Then the peloton took it easy, saving energies for the following race, Bessèges.
In the end I like being back racing, since team spirit is good and aligned in the same view. We'll face many racing days. We are ready to enjoy the good ones and learn from the bad ones.
Stay connected.
Ciao,
Marco