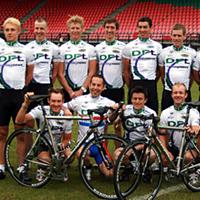 The 2007 team presentation in Holland
Photo ©: Malcolm Putman
Hitting the big time: The Team DFL-Cyclingnews-Litespeed diary 2007
With a bolstered squad including the acquisition of 2005 Gent Wevelgem winner Nico Mattan plus an upgrade to Professional Continental status, look out for the DFL-Cyclingnews-Litespeed boys pounding the pavé of the Belgian Classics and other high profile European races this season.
Follow all the adventures of Cameron Jennings and the gang as they battle against snow, cobbles and the lure of Belgian beer in their quest to reach the top tier of Continental road racing.
For further reading about the team, visit the DFL-Cyclingnews-Litespeed official site. To check out Team Cyclingnews during 2005 and earlier, visit the 2005 site.
Belgium, March 11, 2007
Season under way!
The full posse behind the DFL-Cyclingnews-Litespeed squad
Photo ©: Herbert Krabel

Well since arriving in Belgium it has been pretty busy with setting up the new the Litespeeds, our team presentation, photos and training. We have had some good team training to start the year which has been the best way to bond with the new members.
Some of the boys have already been trying to show what they are made of early in the year, which is normal amongst a competitive group of men! After the training sessions we have been lucky enough to have a shower and a great feed of pasta at the Supporter Clubs of Nico Mattan and Robby Meul. Very good work there boys, thanks heaps.
My first race was Le Samyn - a 190km jaunt through Belgium, classified 1.1. It was good to get the first race started - 180+ riders makes for a very nervous peloton. I didn't make the full race distance but completed the large lap and a few local laps of the finish town, clocking up 150km in total. Still, it was good to get some race kilometres in the legs, they all count in the early part of season. The next race will be on Wednesday, a pro kermesse, which are always fun.
...and what else could they want
Photo ©: Herbert Krabel

The team house should be pretty good this year with only six riders, compared to nine last year. There are some new members to the house which is always good and the longest living resident of the house, 'Worm', has parted from the Booiscot pad, a sad day for all. He has had trouble coming to terms with it himself, moving to Leuven (very nice).
The new team kit is good, with one word to describe the casual kit "GREEN!"
Everything else is going well except that every second day you will get rained on while training. I will be updating you all soon with the new nicknames for the team, they are coming along nicely!
Also a big congratulations to my best mate David 'Rhodesy' Rhodes - he has just won the K1 1000m National Champs. He was kind enough to have me in his house over the summer. Thanks, all the best.
Be good, I will write again soon.
Kane 'Munge' Oakley