DFL-Cyclingnews-Litespeed pictorial special, March 1, 2007
Preparing for Het Volk
Robby Meul showed his strength
Photo ©: Herbert Krabel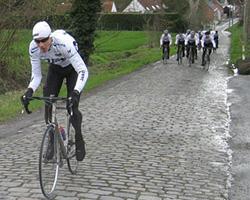 Team DFL-Cyclingnews-Litespeed hit the road for a training ride yesterday ahead of this weekend's Omloop Het Volk race in Belgium. With DFL-Cyclingnews-Litespeed riders Gert Vanderaerden and Hamish Haynes sidelined due to injury and final team rosters requiring confirmation three days prior to the event, a high priority of the day was to decide on replacements for the pair.
Director sportif Eric Vanderaerden left the team's house in Booischot with riders Evan Oliphant, Matti Helminen, Cameron Jennings, Kane Oakley, Dave Harrigan, Rhys Pollock, Dan Fleeman, Bernie Sulzberger and Jeremy Vennell to meet Robbie Meul and Nico Mattan in Kluisbergen. Starting out in Kluisbergen allowed Vanderaerden the opportunity to give his squad a firsthand view of the climbs and cobblestone sections of the Omloop Het Volk course.
The DFL-Cyclingnews-Litespeed squad took advantage of its highly experienced new signing of Nico Mattan on the ride. Mattan, a former Davitamon-Lotto rider, shared his knowledge with the squad's younger riders throughout the ride, ensuring they know what to expect and look out for this weekend.
British neo pro Dan Fleeman said after the ride that Mattan's experience and advice was helpful in boosting his confidence level ahead of this weekend's race.
"I was very nervous on the first section but then Nico talked to me and explained to me how I should position myself on the bike and what gear I should ride, and all of the sudden it went quite smoothly," explained Fleeman. "Nico also told me to not look down and just follow his line and that worked like a charm."
Fleeman clearly paid attention to the advice and impressed Mattan and Vanderaerden so much that he was given one of the vacant spots for the race. Australia's Bernie Sulzberger was selected for the second position after impressing Vanderaerden with his power and skills.
The squad were lucky enough to encounter good weather for the training and evaluation rider, with next to no rain seen all day.
DFL-Cyclingnews-Litespeed's roster for Omloop Het Volk:
Nico Mattan (Bel)
Jens Mouris (Ned)
Robbie Meul (Bel)
Matti Helminen (Fin)
Cam Jennings (Aus)
Dave Harrigan (Aus)
Dan Fleeman (GBr)
Bernie Sulzberger (Aus)
Team manager Eric Vanderaerden
Photo ©: Herbert Krabel

The outfit's Litespeeds all ready to go.
Photo ©: Herbert Krabel

The riders take off with 150km of cobbles,
Photo ©: Herbert Krabel

Nico Mattan gave the younger riders
Photo ©: Herbert Krabel

Robby Meul showed his strength
Photo ©: Herbert Krabel

The Omloop Het Volk course intersects
Photo ©: Herbert Krabel

Although the day was pretty much rain free,
Photo ©: Herbert Krabel

Jeremy Vennell had a smile
Photo ©: Herbert Krabel

Signs like this show the riders and tourists
Photo ©: Herbert Krabel

A very stunning windmill
Photo ©: Herbert Krabel

Nico Mattan checks in with director sportif
Photo ©: Herbert Krabel

There were plenty of cobblestone sections
Photo ©: Herbert Krabel

A unique sculpture crafted with bikes
Photo ©: Herbert Krabel

Bernie Sulzberger chased some water
Photo ©: Herbert Krabel

The ride nears its end
Photo ©: Herbert Krabel

The guys pose for local media
Photo ©: Herbert Krabel

Soigneur Raul gathers all the empty bottles
Photo ©: Herbert Krabel

After a shower the hungry cyclists
Photo ©: Herbert Krabel

...and what else could they want
Photo ©: Herbert Krabel