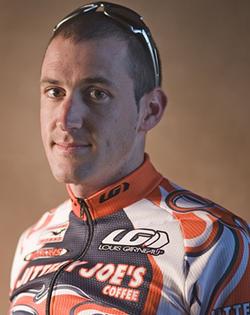 Photo ©: Jittery Joe's
Cody the Roadie: The Cody Stevenson diary 2007
After two seasons in Belgium with Team Cyclingnews.com, Cody Stevenson returned to his homeland last year to ride for the brand new Australian outfit, FRF Couriers-Caravello. Now it's all change once more as Cody packed up and headed Stateside in '07 with a clutch of other Aussies on the Jittery Joe's Continental team based in Athens, Georgia.
Follow Cody's adventures on the US domestic circuit as he gets to grips with a new style of racing and picks up some choice phrases along the way.
July 27, 2007
Mid season break, OVER!
I had a few days off the bike, and then began my preparation for the remainder of the season.
I thought a change of scenery would be the best way to kick start the motivation so I booked a flight to San Diego to hang out with my team mate Neil Shirley and his wife Cindy. We had planned a few races, a lot of training, some 'merican culture, and plenty of coffee drinking!
'merica (as George W. calls it) has some strange stuff on TV. Apart from all the reality shows, shopping channels, weather channels, court TV etc it also has.....drum roll please.....Scissors, Paper Rock world series....yep that's right....the stupid game you played when you were 10 at primary school or the trivial game you would play to decide the outcome of something just as trivial, is on ESPN....that's right folks.....ESPN the pay TV sports channel of the nation!. 'merica leaders of the free world!
Baseball, love it!
Photo ©: Cody Stevenson

While in LA Neil and I did two races, Manhattan Beach Gran Prix and La Mirada. We were using these races as part of a training block and were happy to pull a couple of top tens between us. That pretty much took care of the racing side of things. The training we did involved riding up continuous climbs multiple times, and being a sprinter I pretty much spent most days in the hurt box chasing my team mate around the desert!
My trip coincided with America's national holiday, Independence Day on the 4th of July which meant that I got to experienced some fire works, people doing stupid things (as only a mid week holiday seems to do) and a baseball game. I am quite a fan of most sports, but baseball is BORING! That's 3 hours of my life I will never get back!
Another major part of my trip was doing something that bike riders do best, drink a heap of coffee! Neil has a local brew shop called Cosmos in La Mesa, it has good coffee and Paul, the owner is a top bloke.(they don't have Jittery Joe's franchises in California yet so it's ok to get my coffee somewhere else!) We spent almost every afternoon there. Yes we are boring, but it beats 9 to 5.
On my return to Athens I was asked if I wanted to race a 2 day race in Rome, Georgia on the weekend. I was in two minds due to only returning from San Diego the day before and still being on west coast time. I packed my bags, or really I just didn't unpack my bags, and headed to Rome. The team did quite well. We won the Team Time Trial and I managed to win the criterium. First win for the year so I was happy.
Next stage I had the leaders jersey courtesy of my win in the criterium the previous stage. The stage was a 125 kilometre stage that included a 3 kilometers climb that was to be ridden three times; the final time would be to the finish. Perfect race for a sprinter such as myself, not!
Cody in action
Photo ©: Cody Stevenson
The fist two times over the climb I was able to heave, snivel and wheeze my way up with the front group which lead me to start to think that I may be able to hang onto the jersey for another day. The last time up the climb to the finish however, it all unravelled, Todd Hendrickson from AEG Toshiba, who was sitting in second overall, was able to get a small gap on me which eventually go bigger. This had me riding at my absolute limit trying to hold him within the time I had over him in the GC. In the end I crossed the line in fifth place, which I was happy with as it meant that I was climbing with the front group, although I am sure that it didn't look pretty, but unfortunately it wasn't enough to hold onto the jersey. If only the organisers had done the right thing had the finish at the bottom of the descent...everyone knows sprinters descend much faster than climbers and I would have been able to make up the 20 seconds or so that I needed. Oh well, at least I have got the all important first win of the season.
Now the real second half of the season begins, next week is Tour de Toona and then it is full gas until October. It would be nice to throw my hands in the air a few more times before the season is over.
Cody.
For a thumbnail gallery of these images, click here
Images by Cody Stevenson