Recently on Cyclingnews.com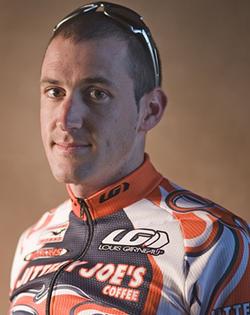 Photo ©: Jittery Joe's
Cody the Roadie: The Cody Stevenson diary 2007
After two seasons in Belgium with Team Cyclingnews.com, Cody Stevenson returned to his homeland last year to ride for the brand new Australian outfit, FRF Couriers-Caravello. Now it's all change once more as Cody packed up and headed Stateside in '07 with a clutch of other Aussies on the Jittery Joe's Continental team based in Athens, Georgia.
Follow Cody's adventures on the US domestic circuit as he gets to grips with a new style of racing and picks up some choice phrases along the way.
March 21, 2007
New kid in the 8th grade
The Jittery Joe's class of 2007.
Photo ©: Cody Stevenson

Chewin' the fat
Photo ©: Cody Stevenson

Getting set for a training ride
Photo ©: Cody Stevenson

Willo gets acquainted with his new TT rig.
Photo ©: Cody Stevenson

Training in the snow.
Photo ©: Cody Stevenson

You know the kid that comes to school halfway through year 8 from out of town? That is me this year - new team, new country, new culture etc.
So here I am, the U S of A. I'm sitting in San Diego, actually La Mesa, at my team mate Neil Shirley's home. The last few weeks have been a blur, I have flown half way around the world, had a training camp, met our sponsors, met my new team mates, met the staff, received my new bike and all my team clothes (I like to call it Christmas in February!), done a road trip of 6 hours (twice), competed in my first race for the new team, the Central Valley Classic and... oh yeah, managed to fit in a ride with Floyd Landis.
So where to start? The beginning is probably as good a place as any. I will try to make this brief. Take a deep breath. Ready?
Met Willo (Trent Wilson) at Sydney airport, boarded flight, got off flight in LAX, passed straight through customs (dual citizenship), waited for Willo to pass customs (1 hour), boarded flight to San Diego, almost threw up, got off plane, met my new DS Jesse Lawler, arrived at mansion on top of hill, met mechanic (Brian from "the Hub" bike shop), checked out my new rig: Louis Garneau Frame, SRAM components, Speedplay pedals, Profile bars, stem, seatpost, Cane Creek wheels shod with Maxxis rubber, Zero Gravity brakes (hope I got them all in there, "has anyone seen an outlet for my plug?"), found room in said mansion (thanks Steve Zoumaras), fell asleep... and then woke up on the same day! It's like time travel.The following week was taken up with training, getting my position adjusted, new shoes, and the most important thing, getting to know the team members. I will try to introduce each part of the team, including the management, as I get to know each person better, when they get a new nickname, or when they eventually do something really funny and it gives me a tangent to write about.
My room mate for the camp was Austin "Kingers" King, he is a cool guy, pretty laid back (as are most of the guys), he has raced in Belgium before so we had some common ground, and he laughed at me when I blocked a toilet and couldn't find a plunger! (He didn't help me, just took video to put on his blog, and laughed!)
The week-long training camp also consisted of meeting with sponsors from Profile, Speedplay, Louis Garneau, SRAM and Tom Palmer. We would usually go out to dinner, or they would come to the house we were hosted at, and in the case of Richard Bryne from Speedplay he came on a ride with us and brought his friend Floyd along!
Just as a side note, Hoppy managed to win the Superbowl with the Tennessee Titans, as head coach. The game is called NFL Head Coach, and Hoppy is the king of the hill. Just re-signed himself for $3.6 million and a new house. Sweet!
On the racing side of things, I was personally disappointed with my performance in the first race for the team. I just didn't have a great weekend, wasn't "feeling it". That said though, the team went quite well with Cesar Grajales 7th on GC and a feeling amongst the boys that we had all been riding together for more than a week. A sense of team and good cohesion on and off the bike. I am really pleased to be a part of this team.
The road trip from San Diego to Fresno (and return) was filled with shenanigans, laughter and a lot of Aussie slang! Perhaps a few of the new American riders on the team were a little freaked out by our antics, or maybe they couldn't understand us when we started to speak fast?!
Tonight we are having a BBQ at Neil Shirley's home, and we will probably have a few more over the coming week. Most of the guys are staying in San Diego until the end of the month to take advantage of the good weather, 20 degrees and sun, rip into our next races, San Dimas and Redlands and then the Aussie contingent and Cesar, our resident Colombian, will be heading back east to Nashville and Athens. This will be the first time I will actually get to completely unpack my suitcase, as I am currently just living on the road, "stinking up the joint".
I'll try to get some more of the low down from my team mates in the coming weeks, until then, as Willo would say "Just ride you bike!"
Cody