Recently on Cyclingnews.com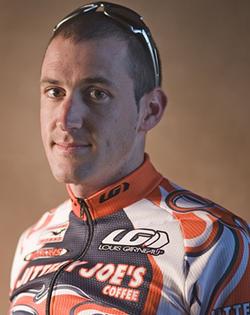 Photo ©: Jittery Joe's
Cody the Roadie: The Cody Stevenson diary 2007
After two seasons in Belgium with Team Cyclingnews.com, Cody Stevenson returned to his homeland last year to ride for the brand new Australian outfit, FRF Couriers-Caravello. Now it's all change once more as Cody packed up and headed Stateside in '07 with a clutch of other Aussies on the Jittery Joe's Continental team based in Athens, Georgia.
Follow Cody's adventures on the US domestic circuit as he gets to grips with a new style of racing and picks up some choice phrases along the way.
February 5, 2007
Packing bags
It's that time of year again when I pack the bags and head O/S. As most of you know, I am heading to Jittery Joe's, Athens, Georgia in the US of A. I will hopefully shizzle my fizzle nizzle and roll on some phat chrome! Snap! (I will also hopefully find out what that means!) I thought they spoke English.
Pre season training:
Photo ©: Cody Stevenson

The past few months have been full of the obvious, training. But I have also enjoyed spending time with my family and friends. My Dad had his 60th last week so that was a good night, and I have been spending alot of time with my sister, her husband, and their little boy - my nephew, Tomas. He has taken a liking to being on the bike, but he doesn't like sitting on the baby seat at the back. He prefers to sit on the front, ring the bell and make motorbike noises.....and fall asleep! If he is getting a little rowdy I take him out on the bike, do a couple of laps of the block, and by the time we get back he is about to fall asleep. I think it's great, because then I can have an arvo nap!
I have been training well, and am feeling that my training is coming together nicely and I can notice the improvement in the areas I have been working on. I have been very structured with my training over the summer and it is all heading nicely towards the beginning of the season. I started the year off by doing the Bay Series and it was nice to ride for Mark Renshaw who was obviously flying. (He managed to win the overall) It was also good to start the season with my team mates Willo, Hoppy and Tommy on the Skilled team. I also had my first touchdown (it is Superbowl Sunday), crash, so I have hopefully got it out of the way for the year! I followed on with the Aussie Titles, I should have just headed home, 'nuff said. I have been filling my time with a few crits, including the Hector Salas Memorial at Penrith and also the Joseph Sunde Memorial at Heffron Park.
My next diary will be from the Jittery Joe's training camp in San Diego. Then it will be into the season proper. I am really looking forward to racing, as there are only so many five and six hour rides you can do on the same stretch of road...by yourself! Nobody seems too interested in heading up the Blue Mountains!
Well, I am going to go check out that stretch of road again. Who knows something might have changed?! Doubt it!
Cody