Recently on Cyclingnews.com
An interview with Jesús Manzano, June 10, 2006
"Everyone clean"
Spanish ex-professional Jesús Manzano made a name for himself just over two years ago when, in a series of interviews with AS, he accused his former team Kelme of dangerous doping practices. All the allegations made by Manzano were subsequently dismissed by a Spanish court due to lack of evidence, but now they are coming back to the table, thanks to 'Operacion Puerto'. Cyclingnews spoke to Manzano about the current affair and his own thoughts on it.
Ex-professional Jesús Manzano
Photo ©: AFP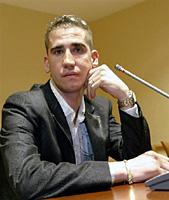 'Operacion Puerto' is being conducted by the Central Operating Unit (UCO), the anti-drug trafficking arm of the Spanish Civil Guard, and has been in progress for four months, but made headlines on May 23 when five men, Eufemiano Fuentes, Jose Luis Merino, Jose Ignacio Labarta, Manolo Saiz and Alberto Leon, were arrested in Madrid by the UCO. The guard had found hormones and steroids, 200 packets of blood, products to manipulate it, machines to freeze it and material to perform transfusions in flats belonging to Eufemiano Fuentes and the clinic of José Merino Batres. In addition, the UCO also found a list of 200 names of athletes, including many riders and other top Spanish sportsmen. The whole case puts Manzano's 2004 accusations in new light.
Cyclingnews: What is your opinion about 'Operacion Puerto'?
Jesús Manzano: 'Operacion Puerto' is a satisfaction, because in the end what I announced on March 2004 became a reality. There are still some doctors over there free, but well, we will see. It is real what was said [back then], and a verification. It has been checked and it shows what I said in 2004 has happened again now. In this case, for me, it is satisfactory; for others it is not nice.
CN: So, what you had said two years ago, apparently it can be proved to have happened?
JM: If you have followed what the operation was, what the press has said, and everything that has happened, everything that was seized, and everything that was said, well... If you compare the public accusation that I made with the operation that has been carried out, you can imagine. It is more or less the same.
CN: Do you know riders and athletes who are involved in this?
"First, pressure from the sponsor, second, the director, third, the doctors, and in the last step, fourth, the rider."
- Jesús Manzano explains the four steps that lead to doping
JM: Yes, I know people. I have seen athletes; indeed I have seen athletes and some soccer players.
CN: In your opinion, what is the solution to doping?
JM: First of all, the union between all the riders. The union of the whole cycling world. To say 'look, we are going to begin from the bottom. With zero tolerance. We are trying to have a bit of honesty, right?' And later, also to remove the four or five 'cancers' of doctors that can live in the national [Spanish] peloton. And also in the international, because in the international peloton there will certainly be [such doctors]. I know that from the experience I had in Spain when I raced the seasons between 2000 and 2004 with Kelme.
What can I say to you? It is a problem, but it is not all the doctors or all the directors. Because I also met a director who was a director [not concerned with medical matters]. He was the assistant director of the Kelme team like Jose Luis Laguia. He was a director who didn't actually care at all about medicine. He was a director who [thought] that if you perform well, you perform well; if you don't perform well, you don't and that's it. He is not like others who are a bit grumpy at the time of giving medicine, who are always medicine, medicine, medicine, medicine, medicine, medicine, and then it is that that leads to doping. First, pressure from the sponsor, second, the director, third, the doctors, and in the last step, fourth, the rider.
Manzano has hope for cycling
Photo ©: AFP

First, all of the riders must be unified, because we, the riders, are like it is at a race. The strongest is the one who wins the most. We are the same [in this situation]. Everything is like that here. The most [guilty] are the doctors who are the ones who contribute to doping, but not all of them. We can not generalise. There are doctors who are not [in favour of] everything that is doping. Then, there are others, as I told you before, who are a 'cancer'. It is a cancer to cycling, or a gangrene, as you like to call it. And [those doctors] are going to obtain the maximum performance for the greatest financial benefit. [The task for the rider] is resist, resist, resist until the body says 'stop'.
CN: Is it possible to ride a Grand Tour without any enhancement?
JM: It is possible to ride a Grand Tour without an enhancement at one speed - not at the speed that is ridden these days, no. But, at a much lower speed with fewer kilometres. The Tour arranged many 200, 200, 200, 200, 200 [kilometres per stage]. We must have far fewer kilometres. And of course, everyone in the same conditions. You know what I mean? Everyone clean, everyone clean! Because if one starts with something, and other with another thing, cycling goes wild and we are all again inside the mess. So, everyone clean. A zero tolerance and that's it.
"It is possible to ride a Grand Tour without an enhancement at one speed - not at the speed that is ridden these days, no."
- Manzano believes that things need to change within the peloton to stop doping
The first thing they should do among those who investigate blood controls, surprise controls, for example, in the laboratories that the UCI have in Lausanne, is to have the best doctors or scientists available in the fight against doping. If not, if the [best] doctors are the ones who dope, then...the ones who investigate are the worst. Then, cheating will always exist. You understand what I mean? It will be the cheater, the cheater, the cheater [who leads] and the one who investigates, always from behind. The one who investigates should always be up front and the cheater behind!
CN: If this affair proves to be right, could your case be the key to dismantling the whole doping net?
JM: If 'Operacion Puerto' follows its path. Considering the things that have been seized, that those doctors have been named, those assistants, and everything that's going on. I believe 200 blood packets were found, as I read in the press. Because I know, I follow all the steps through the press. So, if everything comes into light, then many names are going to come out. Riders' names, athletes' names, soccer players' names. I think that it will go until the end.
Then, you know that there are political pressures, and all that stuff...as it happened in my case. The people's dismissals. For example, Guillermo Jimenez, who opened a research commission that was later closed. A commission was formed and later it was rejected. I don't know why. He put all his energy to investigate, to see, to give credibility and to see how it was, and a few days later he was dismissed from his position, set aside. Let's see if this time the sports' State secretary [Spain's Jaime Lissavetzky] and all the authorities go on with this. Let's see if it comes to an end. I think it should go until the end. Not for my satisfaction, but for the satisfaction of saying, 'Let's start from zero. Let's have a whole new life in cycling'. And it [cycling] will be even better. Now is the time when cycling is absolutely corrupted and rotten.
CN: Are the death threats you received in 2004 are part of the past? Are you calm now?
Manzano is calm now
Photo ©: AFP

JM: Yes, I have no problem. I am afraid of nothing as I said in 2004. I commented about them [the death threats] to the civil guard. I know that if anything happens to me, they know who to go for. It's very simple. I didn't have a problem with anybody in my whole life. And the ones I had problems were with the ones involved in my accusation in AS, and the ones the accusation damaged were a sporting group, Kelme. If anything happens to me, they know who to go for. I don't think they scare or will scare me.
CN: How was your life during the last two years?
JM: I was working for a while in a building company. Then I applied for the unemployed insurance. I still cash the unemployed insurance, and not very much.
CN: Do you miss professional cycling?
JM: I don't miss professional cycling, because to be inside a world so dark and so rotten as cycling has been...But the kind of cycling like going for a mountain bike ride, for example, I do miss it. In fact, I had problems with my knee and I couldn't ride. If I did, I had to be two days in hospital to have a liquid extraction that comes out of the knee. To spend more time unable to walk, and with pain, than riding a bicycle, I'd rather do nothing.
I gained 25 kilos. It's all done. When the time comes that I ruin my knee completely and I cannot even walk or work or do anything, I cannot carry weights either, I have to cope with this because of the stubbornness of a doctor and of a director. It's better to say a director than a doctor, and deal with this.
What else can I do? And everything [medical assistance] is private, everything is paying, everything is paying and money runs out. People think that I cashed 200 or 300 million pesetas [€1.2-1.8 million] and 50 million [€300,000] as the mass media said. There were mass media that said that I had cashed 50 million and I don't know what else more, that I did it for money. I'm giving interviews and I haven't cashed a cent!
CN: Did you testify in 'Operacion Puerto'?
JM: No, I haven't testified anything. I don't know what my lawyer is thinking of doing, because now there is a summary secret. I don't know how he will like to go with this. I know I have meetings, I have a meeting with him tomorrow. I have meetings with my lawyers, who are many. One for the social matters, another for the penal matters, and others for other questions.
It's not that I don't want to tell you [if he testifies - ed.], it's that I don't know what he has in mind. I wouldn't tell it to you by phone because nowadays anyone can hear others' phone conversations, and you know phones are like guns, they say the devil charges them.
Also see: 2004 Jesús Manzano interview: The vicious circle
May 18, 2009 - Valverde to start Catalunya
May 15, 2009 - Valverde not welcome in Denmark
May 14, 2009 - Spanish federation wants proof in Valverde case
May 13, 2009 - Spanish Olympic Committee defends Valverde
May 12, 2009 - Valverde responds to sanction
May 11, 2009 - Italian tribunal delivers Valverde two-year suspension
May 8, 2009 - Valverde case: Italian Olympic Committee defends Torri
May 7, 2009 - Valverde to take legal action against CONI prosecutor
May 5, 2009 - WADA and Spanish federation join CONI and UCI on Valverde
May 1, 2009 - International Cycling Union joins in on Valverde's hearing in Italy