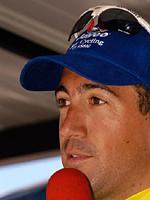 Photo: © Shane Goss
Moving on up: The Trent Wilson Journal 2006
After four years as a pro in Europe, "Willo" is heading Stateside, joining Jittery Joe's-Zero Gravity. . With a leadership role at the Athens, Georgia-based team, 2006 will no doubt provide exciting times for the likeable boy from Sydney's west. Trent also his own web site at www.trentwilson78.com where you can find out even more about this Sydney rider.
USA, August 24, 2006
Out for the count
G'day,
Nothing like a six hour lay over at an airport to catch up on emails and a Cyclingnews diary entry. Thanks to the terrorist threat the flights in the States have gone haywire.
Before the start at Gastown.
Photo ©: Trent Wilson

That's not the only thing that's been out of control lately. The weather here has been ridiculously hot. I had summers in Sydney, Melbourne, Adelaide, Venice, Milan and Gent (well, they call it summer there, more like a Sydney spring) but I have never trained in heat like this. The Nashville, Tennessee heat is bad; the humidity is through the roof so the 36 degrees turns into low 40s. Doing five hours training is a tough ask and when I get home I'm out for the count for hours.
There's a lot of crits on here in the States at the moment but I personally still have some long road races left including Montreal to Quebec (255km), The Grafton-Inverell (230km) and the Goulburn-Sydney (180km) so I still need to get the miles in while racing these crits.
Since I last wrote I have done only four criteriums, but the travel, heat and training has done some damage. First up was the Gastown crit in Vancouver, which was only three days after Cascade Tour and a fair drive. Hoppy and I went on our own and had our work cut out with a few big teams there with plenty of riders. I managed ninth after losing Hop in the run to the line. Vancouver is a great town and I won't be complaining if I go back there again.
Just doing what the sign says.
Photo ©: Trent Wilson

Hop and I then headed to Boise, Idaho. We stayed with some great hosts, Jim and Shannon. Boise was a nice town, but its the only place hotter than Nashville. You walk outside and you're drenched in sweat after 60 seconds. The race was cool with a big crowd but I had the worst legs ever. Luckily Hoppy held it together for this two-man team and finished fifth.
After getting back to Nashie for a whole 24 hours, it was time to hit the road again and head south to Athens. I had a few things to do down there where our team is based and was also keen for some different scenery out training. I stay with my team-mate Ando, who is never shy of a laugh or a joke. I did a big block of miles down there and even got a mountain bike ride in. Glad I provided some amusement for Hatto but I'm happy my skin was intact. I also went to a Willy Nelson concert of all things. Very funny I reckon, but it was a good night.
Finally I got back to Nashie, and it was time to unpack the bags properly as it's only weekend trips from here on out. I pretty much relaxed and had a recovery week. I didn't realise how much the travelling, racing and training had taken out of me, until I went out training and couldn't pull the skin off a rice custard.
Racing in the pouring rain
Photo ©: Jon Devich

Last weekend we headed to Charlotte to hook back up with the team and do a $100,000, 80km criterium. With that in mind I was keen for my form to turn around. On the Friday night, in a more low key criterium (but still hard) Hoppy was third after the team did a great job to bring an earlier break back. I felt a lot better for the big one, on Saturday night, and was looking forward to getting amongst the action on the closing laps until it rained and I went to water (excuse the pun). Hatto saved the day and finished sixth. There were more guys circulating with skin off, than skin on, by the end.
After that it was back to Nashie again for a bit of training before heading to the Montreal to Quebec road race, which brings me to my situation now. It's been an entertaining week of jokes and shenanigans with Jonny Sunte stinkin our lounge up for the week.
Geez, they called my name, gotta board,
Cheers Willo