Joe Papp contemplates this latest twist
Photo ©: Joe Papp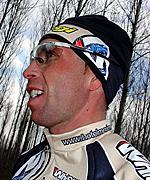 Papillon: The Joe Papp Diary 2006
Joe Papp, a UCI Elite rider and self-confessed cycling gypsy is now riding the Italian granfondo circuit with Team Whistle. Before moving to Tuscany, he was a double stage winner at the 2003 Vuelta a Cuba (UCI 2.5) and has finished in the top-10 three times at the UCI Pan Am Continental Championships (2005, 2004, 1996). Joe's writing is good enough to make boring racing intriguing and intriguing races captivating. Learn more about him and his adventures on the bike at www.joepapp.com.
Talking Turkey: Part II
International Presidency Tour of Turkey, April 30-May 7, 2006
April 30 - Stage 1: Prologue, Izmir Raris Pisti
Street scene in Izmir
Photo ©: Joe Papp

For the second time in little more than a month, and the fourth time in my career, I raced my bicycle on an auto track. Today's International Presidency Tour of Turkey commenced with a very short 2km prologue on a windy circuit outside of Izmir on the Aegean coast in Asia Minor. Besides this race, I've ridden the prologue of the Volta de Ciclismo Internacional do Estado de São Paulo on the famous Interlagos circuit in March, while in 1993 I raced a stage of Superweek on the Road America course. In 1994, I competed in a circuit race that included part of a NASCAR track in Pennsylvania.
Despite feeling terrible this morning during our team ride and getting dropped on one of the long climbs, I was much better in the afternoon and finished in a tie for 8th at five seconds back from the winner! I might have gone even faster if I hadn't been under-geared at the start and then tapped the brakes in the penultimate curve. But better to have lost a second or two than to have fallen on the first day because of a technical error.
Tomorrow's stage from Izmir to Kusadasi is short and relatively flat. It suits me, and as such, the team is going to be riding for me 100%. I'm excited at the possibility that I could wear the leader's jersey if I win and will be carrying two lucky rabbits' feet during the race.
May 1 - Stage 2: Izmir - Kusadasi
The author Joe Papp zips up
Photo ©: Joe Papp

Whoaaaaa! I won! And the rabbits' feet were a good idea, because I narrowly missed falling in a crash that brought down my teammate Andrea Gurayev with 40km to go. As the field was ramping up for the only intermediate sprint of the day, he and I moved up on the left side of the road and worked our way into the front of the bunch, directly behind the red and white train of the Turkish A and B national teams. With less than a kilometer to go to the line, one of the Turks got cute and tried to "sweep" us off the wheel of their designated sprinter, but instead he touched wheels with his teammate and went down like a bucket of crap - directly in front of Andrea.
The roads here in Turkey on which we're racing are paved with bastardized macadam whose top layer is composed of jumbo marble-size stones that don't facilitate your sliding across them smoothly after crashing. So Andrea basically augured into the ground at 50kph and stuck. He looked like chopped liver but amazingly finished the stage.
The mishap came just before the day's only serious climb, and after we passed over the top the Whistle boys started riding tempo on the front in order to keep things in check. Gabriel Moureu, Juan Torres and Alfonso Falzarano rotated at the front while we kept Igor Pugaci in reserve for the final run-in to the finish. No one challenged us until the last 3km, when there was a surprise climb not featured on the stage profile. The Iranian Ghader Mizbani (who normally rides for the Giant-Asia continental team) launched a savage attack that shattered the field and left only 10 of us in the front group. Several riders reconnected on the technical descent that followed, but I only had Puga with me.
But Igor has the strength of 10 men and he's like the Leatherman Wave® multi-tool that you remember is in your backpack when your old VW breaks down on the way to Virginia. That is, he's verrrrry useful. Without having to say much other than "Puga, estoy aqui," he started the lead-out inside the final kilometer and took me all the way to the 300m to go sign. With the palm tree-lined road curving gently to the left, Puga eased over to the right just a hair to let me pass.
I had already dropped into the 11 and simply stood on the pedals and wrenched the bike underneath me, all the time calmly sticking to the left shoulder. From the first instance I started my sprint I knew I would win barring a spectator's stepping into the road in front of me - I just felt that good.
Still, I didn't dare raise an arms before the line, though when I crossed it the winner I let out a triumphant "yes!" that came from deep within. Finally, a victory that I felt good about, that I knew no one had given me.
But it wasn't mine and mine alone! It belonged to all of Team Whistle, and I'm not stupid enough to think otherwise. While it's one thing to theorize about how you could win a stage and take the race lead, it's something else entirely actually doing it, and doing it with style. I searched in vain for champagne at the race hotel so that the boys and I could drink a toast to each other but there was none to be found.
Still, I was really jazzed to take the stage and the jersey, and savored the act of pinning my numbers (all four of them!) onto a yellow jersey for tomorrow. I dedicated the win to my wife Yuliet, who I haven't seen since February, and who I hope to be permanently reunited with before the end of the summer. Now that would be a real victory.
As for tomorrow, we'll again go for the stage win AND try to defend the jersey. It might not stay on my shoulders, but with the time gaps so small (I lead by two seconds), there are many possibilities. After all, how many times do you get to ride to protect a lead, instead of having to chase it?
May 2 - Stage 3: Kusadasi - Bodrum
Team Whistle's Juan Torres (L)
Photo ©: Joe Papp

Oooooooooooooooooo, this was a tough one. The stage profile resembled a saw blade, with the last 20km being especially hard. I struggled on the first GPM, but came back up to the leaders on the descent, and then parked myself as the sixth rider in line while my five teammates rolled at the front. I enjoyed the ride and savored not having to fight for a wheel in the crosswinds for once (a rare treat for me, as I've only led a handful of multi-day races in my career). In fact, everything was good until (amazingly enough) the 20km to go mark when Mizbani's Kocaeli Brisa team launched a series of attacks. It's no secret that he wants to win this race, and Mizbani is one of the strongest riders in the field on one of the most competent teams.
When the action had cooled slightly, there were no more than 15 of us left, including Puga, Juan Torres and me. We took turns covering the attacks and counterattacks, but on the penultimate climb Mizbani got away with his compatriot Hossein Askari, and I couldn't follow. I knew it was too good to last, but at least Juan and Igor will still there. Torres was the strongest at that particular moment, so he bridged across to the two Iranians and started to work with them after we radioed for him to ride.
In a situation like that, two riders from the same country who know each other well versus a foreigner, the odd man out often counts himself lucky if he can take second. Juan was no different, and after the expected attacks, he acquiesced. I'm sure he wasn't happy seeing Mizbani scoot up the road on the way to a 15-second lead (not including the time bonus), but second place is better than third, or worse - getting dropped.
Two riders fell off the pace of our chase group before the end, leaving a group of 10 to sprint for fourth. Puga again set me up for the (downhill) finish, this time by jumping early on the right. I let the others run him down before I attacked on the left and easily took the sprint.
Juan is now in third on GC, I am fourth and Igor is seventh.
Tonight the race hotel in Bodrum overlooks an amazingly beautiful inlet that is ringed by steep hills and small mountains. I sat outside and watched the sunset from one of the balconies on our small villa and tried to imagine what it would be like to be a normal guy here on vacation with his family.
May 3 - Stage 4: Bodrum - Marmaris
Stage 3 sunset near Bodrum.
Photo ©: Joe Papp

My recovery is not so good right now and I really suffered today on the big climbs. Long day in the second group and I was happy just to finish. Igor, however, is storming and he recorded a stage win of his own! Now Puga is third on GC and Juan sixth. Alfonso Falzarano ("Falza") took over the KOM jersey too. What a team!
The hotel was mercifully close to the finish line so we had but a short pedal through Marmaris after coming in.
I was shattered today, but not too tired to fail to notice that we are riding through some of the most fragrant areas that I've even been in! Turkey has almost as many species of wild flowers as the rest of Europe combined; of the over 9000 species so far identified more than one third are native to the country, many found nowhere else on earth. It makes being dropped and cruising in the laughing group all the more sweet.
May 4 - Stage 5: Marmaris - Fethiye
How about bananas?
Photo ©: Joe Papp

Last night Igor told me that I should pay attention and ride hard because I could win today's stage. I didn't believe him, but it almost came true! In fact, when I crossed the finish line I thought I had won. My team gave me a solid lead-out in a difficult finish, and I handily beat Mahdi Sohrabi (Iran), the first rider behind me. Unfortunately, math was never my strongest subject and I counted two breakaways up the road with 15km to go, instead of three. So after we swallowed up first an Irishman and then a Ukrainian in the last few kilometers, I thought I was riding for the win.
I didn't understand why Moureu and Gurayev were so pissed after the finish. I was just about to ask them about the long faces after another win for la Whistle, when the Greek rider who was the third and final escapee - and who we did not catch - rode by and congratulated me on my second place finish. Doh. It's a really good thing that I didn't throw my arms up on the line.
May 5 - Stage 6: Fethiye - Finike
Pugaci drafts a local
Photo ©: Joe Papp

Can you say "gruppetto?" I can, and that's where I finished today's stage. Ok, in reality I finished in the dreaded "second" group (which became the third group after the lead pack split up on the massive GPM at the 150km mark), but as far as I'm concerned, once you're dropped by the leaders and more than a few minutes in arrears, you have to laugh and smell the flowers in order to stay sane. Otherwise it's a mentally tiresome trip to the finish.
Some guys don't see it that way, however. The majority of the 20 rider group that I finished with (13 minutes behind the leaders) rode the last 40km as if we were the breakaway! I'm willing to acknowledge that I'm in a slightly different position than most of these guys, in that I'm expected to contest the finish tomorrow if it comes to a sprint. I have a job to do, in effect, and need to save as much energy as possible. But why would you kill yourself and attack a group that was so far back as to not even have an official car traveling with it?
While my fellow travelers hammered one another at the front and took turns putting each other into the gutter, I drifted to the back and marveled at the scenery... miles of golden sandy beaches, crystal blue and turquoise water and beautiful rocky coves along the Mediterranean coast. Up ahead, where the real racing was taking place, Pugaci finished third on the stage and maintained his GC position, while Falza came fifth and augmented his lead in the KOM competition.
May 6 - Stage 7: Finike - Antalya
Riding to the start
Photo ©: Joe Papp

I thought that after proclaiming yesterday that Gabriel and I were the designated leaders for today's stage (since he and I are the fastest finishers) my teammates had a lot of balls to attack and drop both of us on today's only GPM, which commenced after only 20km of racing. It was cold and raining when we started the climb and a stiff crosswind was blowing across the exposed upper slopes of the mountain. The fact that Andrea, Pugaci, Torres and Falza were drilling the front group while Gabby and I tried desperately to get across left me shaking my head and alternately cursing the boys for making us suffer and marveling at their audacity.
When we finally made it back to the front, I started to lay-in to Gurayev. We'd just spent 12km grinding up a mountain in the rain, and then another 15km coming perilously close to crashing numerous times on the treacherous descent (covered with the same brutal, Paris-Roubaix like tarmac that has featured throughout the tour). But he was as nonchalant as could be and shrugged it off. "We knew you could get back across," he stated dryly. Che palle!
Even worse was that he was right.
After an uneventful intermediate sprint at 79km, the next burst of action came from my Irish compatriot Tim Barry, who attacked with about 30km to go. After he was caught the first time, he went again, which provided the impetus for a series of attacks from the Greek team that came as we were passing through two tunnels on the twisty coastal road above Antalya.
The course profiles shown in the race bible don't quite match the reality of the actual roads, and sometimes the journey is easier than one expects but sometimes it is more arduous. I think that was the case today, because the strongest Greek rider, who made a beautiful counterattack off of his teammates' efforts, was brought to a grinding halt by a short, steep uphill into a headwind on a dead stretch of pavement that appeared to be flat in the official program. Ouch.
Tim Barry knew what was up, though, or so he thought! He made the day's best attack and motored away on his own with 10km to the line. Unfortunately for Tim, he was under the mistaken impression that the last 5km would take us through urban Antalya, on a maze of city streets that would favor a solo rider over a chasing pack. In reality, the last 8km followed the same coastal road that we'd been on since coming off the descent of the GPM, and we simply let him dangle 15-seconds off the front.
Puga took a huge 3km turn at the front that cruelly sealed Tim's fate, and when we caught him the boys just kept rolling. For a change of pace, I offered the lead-out to Gabriel, and he hungrily accepted. He dropped onto my wheel while the other four Whistle riders continued setting the pace ahead of us. I guess it was a casino behind me because with still more than 1km to the line Moureu was screaming for Falzarano to start the sprint. The Iranians were trying to get their rider into position behind me, and Gabriel was being chopped, hooked, pushed and even head-butted as he tried to hang on.
For a moment, as riders started to swarm on the right despite the crosswind, I thought Gabriel would be swallowed in the surge. But Falza quickly accelerated, and pulled until 500m to go, when Juan jumped. Torres had barely reached the 300m marker when I passed him on the left, with Gabriel tucked up behind me and Alireza Haghi (2nd in stage two) on his wheel. My intention was to sprint all-out until about 40m from the line when I would ease slightly and allow my Argentine teammate to squeak by on the left and take the win, while I still placed on the podium. But then Gabriel did something that by his own account was very, very stupid - he tried to come around me on the right, bearing the full brunt of the wind coming off of the choppy sea.
I twitched a bit to my left in hopes of breaking Haghi's rhythm and forcing him to hesitate, but even then Gabriel wasn't breaking through the wind and going fast enough to pass us both. With a bitter taste in my mouth I redoubled my efforts and accelerated a second time over the final 100m. While I maintained my advantage to the line and took the win, I was sad for Gabriel. Haghi took second and Moureu third.
We were driven a long distance into Antalya for the prize presentation. The rain returned just before we were called up to the stage to receive our awards, making for the shortest podium ceremony I've ever attended.
Pugaci is still in third overall, Falza has sewn-up the KOM classification and Mizbani stills holds the yellow jersey that he took off my shoulders in Bodrum.
May 7 - Stage 8: Antalya - Alanya
One of the ancient towers in San Gimignano
Photo ©: Joe Papp

I woke up feeling a bit homesick today, and managed some time on the internet before breakfast. I surfed over to my friend Peter Hymas' blog, "Bobke Strut"(http://www.unc.edu/~hymas/blogger.html) and almost shot milk out of my nose because I laughed so hard when I read his Amstel Gold haiku. He writes,
"While my prose will likely never be equated to the rhetorical gifts of Honest Abe, ladies and gentlemen, I give you the 2nd annual distillation of Amstel Gold into haiku form. There's no need to read those lengthy Cyclingnews, VeloNews, pezcycling, etc. reports, when everything you need to know has been condensed into 68 finely crafted syllables:
Frank Schleck
Anonymous Lux
All those pre-race favorites
Can't catch me, bitches!
Steffen Wesemann
Effervescent watts
Sweet... I ripped the field to shreds
What the... ? Who's Frank Schleck?
Michael Boogerd
Waiting for Oscar
Phil, Bobke mock my tactics
Once more, I blew it...
Chris Horner
Sole Yank at Amstel
Tour of Georgia?... Full of scrubs
Give me a man's race
Thanks Peter. That made my day.
I wanted to make Gabriel's day by leading him out in today's dead-flat 135km final stage to Alanya, but the fickle hand of fate put paid to that notion. I won again, but only because Gabriel was knocked out of the sprint with 1500m to go when an overzealous Turk drove his front wheel into Moureu's rear derailleur and sheared it off. The true Argentine seeped out of Gabriel as he was coasting to a halt in the middle of the road, cursing out the guilty rider in inventive, invective Spanish.
My heart went out to my teammate, but there was still a job to be done and after alerting Pugaci and Torres, who were pulling in front of me, I readied myself to jump. Puga swung off with 500m to go after a short turn and Juan took me to just past the 300m sign, where I made my move. It was a slightly downhill run-in and I touched 71kph at my fastest. An Iranian finished second behind me again, and Turkey finally made the podium by placing a national team rider in third.
In the overall, Igor finished third and Alfonso ninth. Falza also won the KOM. Whistle was third in the team classification behind Mizbani's Kocaeli Brisaspor squad and the Iranian National team. For our efforts in the team competition, we were awarded a huge bushel of bananas.
I bonked on the ride back to the hotel (that's what happens when you don't have a recovery drink after the stage because you go straight to the podium and then horse around taking pictures with your bananas) but I recovered enough by the evening to go out on the town with Gabriel and Juan. We found a multi-level salsa bar appropriately named "Havana Club," that, while touristy to a fault, still played great music and had a running special on Cuba libres.
May 14: Back in Italy...
The author (L) poses with Andrea Tafi,
Photo ©: Joe Papp

Cycling is a small, small world. I've always said this, and my belief was confirmed today at the start of the GF Vernaccia in San Gimignano in central Tuscany. While chatting with Pugaci on the line before we got underway, I heard someone calling my name in English and looked behind me to my left. San Gimignano is like a medieval Manhattan, with 13 ancient stone towers that give the walled city a surreal, metropolis-like look. And lined up in the 'Piazza del Duomo', the site of the race partenza, I couldn't have ignored the fact that I was in what was originally an Etruscan village, even if I'd wanted to.
So imagine my total and complete surprise when I realized that it was Ryan Mele of Washington, Pennsylvania, USA (about as far from San Gimignano in look and feel as you can get) who was calling my name! I've know Ryan and his dad John forever, and we raced together for the same club in Pittsburgh. Ryan and I also raced together in Korea a few years ago, but we haven't had much contact since then. I had no idea he was in Italy and having just returned from Turkey myself, was amazed by chance encounter.
The brief reunion was one of only two highlights today, as I pedaled squares during the race and abandoned after 100km. After doubling back towards San Gimignano, I stopped at one of the rifornimento stations to grab a snack. And who did I see also stopping for a bite to eat in the company of my friend Federico Grassi? None other than Andrea Tafi, bad boy of the cobbles. I finally had the chance to rectify the terrible, out-of-focus picture taken of Tafi and me in the early-1990's by Tim O'Toole, and quickly passed my camera phone to Grassi, who obligingly snapped the photo. Alas, this minor personal triumph would do little to placate my team in light of my abandonment. It's a weird situation that sometimes verges on passive-aggressive. No one holds a gun to your head and orders you to get results, nor do they relentlessly drive us to lose weight or train harder or bed down at 9:30PM. But there is an inherent expectation that you're going to perform and that you must be "hard." So while someone might tell you that it's ok to be tired and to take some rest, when every other rider on the team is heading out for a six hour training session, you feel obligated.
This may just be personal neurosis, and at my age I should know how to train and when to rest, be disciplined, and have enough confidence to tell the team when I need some time off or that riding for three hours instead of six is what's most appropriate for me at that particular moment. Sometimes there is an old-school vibe, however, and I feel like I should be doing 200km rides with just one prosciutto sandwich and then not eating afterwards.
I know I'm not the only one in the two teams (Bianchi and Whistle) who feels this way. One night after dinner, one of the younger guys was complaining to me of some serious fatigue and saying that the best thing for him would be to ride an hour in zone 1 the next day in order to recover. Sounded good to me, but the next day (still fatigued, based on his report before breakfast) he was off for a light 120km pedal.
But what can you do? I want to be here, I'm lucky to be here, and since I'm sometimes out-of-my depth on the longer climbs and not always able to contribute to the squad as strongly as some of the other guys, I need to make positive impressions whenever I can. And unfortunately, you sometimes get judged for your training as much as for your race results.
May 23, 2006
Heading to dinner in Capalbio
Photo ©: Joe Papp

It's only two days before my 31st birthday (ohmygod I'm old!) and I'm still looking for my form and wondering whether I will be smart enough to stop playing Peter Pan on my own, or whether there will be some semi-dramatic - or perhaps even mundane - event that brings to a close my elite cycling career regardless of my wishes. I often wonder about what I'm going to do after I stop racing, but that question is most decidedly the elephant in the corner that I continually ignore and for which I have no suitable answer. As I wrote today in an email to a long-lost friend with whom I just reestablished contact after many years, "while my life now is very fun, at some point I have to come out of the clouds and actually embark upon a non-athlete enterprise to provide for myself and my family. This is where I'm stuck, as being a cyclist has become something which my identity is dependent upon and I'm absolutely terrified and flummoxed (in equal turns) by the question of what to do next." At least I have a college education, that necessary license for entry into the middle class in America.
I'm continually amazed that I've gotten this far in cycling, because I habitually underrate my talent as a rider and chalk up a lot of my success to luck, or being in the right place at the right time. That's obviously not entirely true, but now, two weeks back from the Tour of Turkey and struggling with residual fatigue, I'm starting to get down on myself. This sport is brutal and without a good support network it will grind you up like so much raw meat.
Well, that was what I was thinking this morning while getting dropped by my teammates on the long climb of San Baronto near Vinci, home to Leonardo Da Vinci. Then, this afternoon, I happened to check the top-10 UCI race wins per rider by country on the very comprehensive site www.cyclingbase.com, and what did I see? Check it out:
Etats-Unis

Floyd Landis            (Etats-Unis - Phonak Hearing Systems)              5 victoires.
Joe Papp                (Etats-Unis - Partizan-Whistle)                    3 victoires.
Kirk O'Bee              (Etats-Unis - Health Net - Maxxis)                 2 victoires.
George Hincapie         (Etats-Unis - Discovery Channel Pro Cycling Team)  2 victoires.
Roman Kilun             (Etats-Unis - Health Net - Maxxis)                 1 victoires.
Ben Raby                (Etats-Unis - )                                    1 victoires.
Christopher Horner      (Etats-Unis - Davitamon - Lotto)                   1 victoires.
Tom Danielson           (Etats-Unis - Discovery Channel Pro Cycling Team)  1 victoires.
Fred Rodriguez          (Etats-Unis - Davitamon - Lotto)                   1 victoires.
Charles Bradley Huff    (Etats-Unis - Team TIAA-CREF)                      1 victoires.

That's too classic, eh? Does Floyd Landis even know who I am? I doubt it. I'm sure Hincapie does not, nor does O'Bee, though Roman Kilun once let me win a prime at Superweek (I think). Ben Raby is a nice guy who speaks Spanish, and I had the pleasure of first being dropped by Chris Horner in 1994. I met Tom Danielson when he was riding for Mercury thanks to an intro from Larry Perera, and I raced against Fred Rodriguez in the elite national championships in Ohio in 1993 (Hincapie was there, too, and I was just a junior, blah blah). I guess out of all the tenuously-connected-to-me names on that list, Brad Huff is the only guy I've had the chance to spend any time with (at the 2005 Pan Am Championships) and he was a genuinely nice, down-to-earth guy. It's great to see him advancing so rapidly in the sport.
Tomorrow is the 17th anniversary of my dad's death from liver cancer and about a month ago I came up with the idea of getting some signed euro-pro jerseys from riders from Lampre or Saunier Duval or perhaps another squad, auctioning them off, and then donating the proceeds to a cancer charity in his memory. But of course it fell through because of schedule conflicts and racing and traveling and trying to recover. I still want to do this so keep your eye on this space and my website www.joepapp.com and hopefully I'll have something for after the Giro. Take care everyone, and thanks for reading. Ciao ciao! Ciao!
Photography
For a thumbnail gallery of these images, click here
Images by Joe Papp
Email Joe at joe@cyclingnews.com