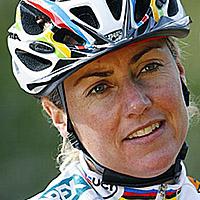 Photo ©: Multivan Merida
On top of the world: The Gunn-Rita Dahle diary 2006
Norwegian cross-country mountain bike racer Gunn-Rita Dahle is probably the best female rider this relatively young branch of the sport has ever seen. World champion in 2002, 2004 and 2005, Olympic champion in 2004 and rarely beaten in the World Cup in 2003, 2004 and 2005, she has a breath-taking palmares.
Dahle says her success is due to an unrelenting focus - she describes herself as a '24-hour athlete' - and the constant support of her husband and coach Kenneth Flesjċ. Follow her exploits on Cyclingnews as she works to stay at the top of her game in 2006. Or, for more Gunn-Rita, see her personal website: www.gunnrita.com
Germany, April 27, 2006
Time to travel again
Riding at Sea Otter
Photo ©: Rob Jones

A brand new 'round-the-world' ticket is lying in my suitcase, and we're very much looking forward to the upcoming exciting period of competing and racing. After a good week on Norwegian soil with relaxing days at home in Stavanger, we are now looking forward to nine weeks of travel again.
Sunday evening has arrived here in our little sitting-room, in a town called Heubach-Lautern, south of Stuttgart in Germany. My body is feeling strangely knackered and very relaxed as we sit here in the little nook on the sofa after another day on our bikes. I've taken part in the Bundesliga in Münsingen today. The results were way above what we had expected, and we simply won the race. It's great to feel that my body is beginning to work normally and properly again.
Necessary rest period
Riding the TT at Sea Otter
Photo ©: Rob O'Dea

We've had some tough days since we got back from USA almost two weeks ago. The trip from Curacao to Monterey in California was long and tiring, and we were stressed out at the Sea Otter Classic. It was very demanding to take part in four races after a difficult world cup in the Caribbean. But with a strong focus on restitution, and with Kenneth's good help, we did surprisingly well.
It was naturally very nice to get home for Easter and enjoy some quiet and relaxing days in Stavanger. We were also able to do some good work for some of our personal sponsors, Shell and Coop, with various talks in both Stavanger and Trondheim. Apart from that, our days were filled with exercise, rest, massage, and cleaning clothes…metres upon metres of dirty, smelly clothes!
Early on Friday morning, we flew to Stuttgart and were fetched at the airport by the pro team's physical therapist, Oliver. We were then driven to Müsingen, where we took part in the race. My teammate, Nina Göhl, came in sixth while our male teammates had a best finish of fifth (Jose Hermida).
Ready for new challenges
Feeling good
Photo ©: Steve Medcroft

I can summarise my own condition by saying that my system received the necessary jolt which seems to have proven that my body has recovered well and that we're ready for a new, demanding period of competing here in Europe.
We're back in the same apartment as last year, and will have this place as our base for the next two weeks. We're looking forward to tough and effective days of training with lots of focus on rest and recovery. Everything will now revolve around optimal training according to our programme and various areas of focus - for both Kenneth and me.
Right now, Italian pasta, a tasty salad, and a lovely glass of red medicine are waiting for me. On Friday we're crossing the border into Italy and travelling to the town of Nals, where we'll take part in the Sunshine Cup this coming Sunday. I'm sure it'll be an exciting experience.
I wish you all a wonderful week of exercise and physical activity, with lots of healthy food on your menu. You'll be hearing from us again in a good week.
Cyclist's greetings from Gunn-Rita and Kenneth.
[Translation: Crispen T. P. de Lange]