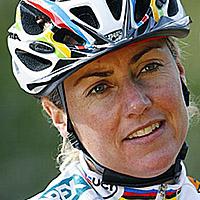 Photo ©: Multivan Merida
On top of the world: The Gunn-Rita Dahle diary 2006
Norwegian cross-country mountain bike racer Gunn-Rita Dahle is probably the best female rider this relatively young branch of the sport has ever seen. World champion in 2002, 2004 and 2005, Olympic champion in 2004 and rarely beaten in the World Cup in 2003, 2004 and 2005, she has a breath-taking palmares.
Dahle says her success is due to an unrelenting focus - she describes herself as a '24-hour athlete' - and the constant support of her husband and coach Kenneth FlesjŚ. Follow her exploits on Cyclingnews as she works to stay at the top of her game in 2006. Or, for more Gunn-Rita, see her personal website: www.gunnrita.com
Curacao, April 6, 2006
A fantastic day in the Caribbean
Winning in Curacao
Photo ©: Rob Jones
It was a wonderful experience to win the first world cup race of the season in Curacao - the hot weather, the extreme humidity, and the parcours itself reminded me a lot of the race in Athens during the Olympics. The world's elite mountainbikers had gathered there and it was a very tough day for most of us.
The happiest aspect of it all for Kenneth and me is to look back on the process that has led up to the weekend's triumph. We've been at training camp more or less non-stop since January 1. What happened yesterday confirms that we've made very few mistakes in our preparations during the last months.
The elite of women's cycling was there at the start, and I probably wasn't the only one with an extra high adrenaline level and rather too many visits to the toilet beforehand. As usual, we started out hard and intense, with a certain amount of jostling along the lines in order to get as far forward as possible before the first single-track started, with masses of bends and turns and no possibility of passing anybody.
Dealing with the heat
Photo ©: Rob Jones

I managed to create a gap of a few seconds back to my closest competitor before the first single-track started, but could still hear them at my heels. After the first lap I had 14 seconds back to Germany's Sabine Spitz, with Spain's Margarita Fullana in third place. Early in the race I felt my body boiling with heat, and I realised that this race would also be a struggle against the high temperature.
We did a short start loop and then five laps. I managed to drink a good 0.5 litres per round, each of which lasted 20 minutes. So in total I managed to drink almost three litres of liquid in 1 hour and 45 minutes. I should have drunk even more, because I felt I was running dry at times and also experienced goose-bumps at regular intervals throughout the race. But there is a limit to how much one can actually manage to get down. During the final lap the liquid started coming up again, and when that happens, there's little one can do to actually take in enough liquid, no matter how much one tries to guzzle!
Each round found me a few more seconds ahead of my closest competitors - but still so short a distance ahead that I had to reach incredibly deep to access the very last dregs of energy – which were luckily enough for me to win. It was an indescribable experience to win a new world cup race and grasp the first threads of the leader's jersey. I'd like to take this opportunity to congratulate our employer, Merida, the sponsor of the team, and our personal sponsors back in Norway, with the first victory of the season.
It was tough
Photo ©: Rob Jones

It was very nice to see that the UCI is, for the first time in history, providing a leader's jersey for women in the U-23 class, a so-called junior jersey. This has always been the norm for the men in the same class. It's very important for the young talents in the women's class to receive this well-earned token, and it provides them with an exciting motivation factor. The first step towards the young women's jersey was taken by Germany's Adelheid Morath.
At the organisational level, the arrangements here on Curacao have been very good. Kenneth and I have been here for almost two weeks, and seen part of the island, enjoying every single day here. We've already been invited back for a holiday in the autumn, so we'll see what's possible after the season is over.
The only thing I reacted against during the first world cup race of the season was that there were absolutely no anti-doping tests at all. I have never before taken part in a World Cup race where there were no such controls. I don't know who is responsible for the lack of controls at the race, but no matter what, it's very unfortunate that there weren't any.
On the way to victory
Photo ©: Rob Jones

Today a slow paced cycle ride awaits me, combined with various photo shoots on the beach, and a refreshing swim in the sea in the afternoon. Yesterday evening our little Merida family celebrated many good results for the team with a tasty Mexican feast served on a long table out on the patio where we live. We'll be flying onto USA and California, with the next stop being Monterey and the Sea Otter Classic, a four-day off road stage race which will undoubtedly provide us with lots of excitement and great experiences.
I expect that next time I write to you all, I'll be back in Stavanger on the sunny coast of Norway, celebrating Easter holiday at home…and without a backpack on my back and skis on my feet. We might indulge in some hot cocoa, oranges and KitKat on the veranda at Tjensvoll!
Cyclist's greetings from Gunn-Rita and Kenneth,
Multivan Merida Biking Team
[Translation: Crispen T. P. de Lange]