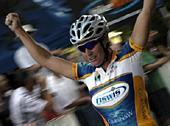 Photo: © Shane Goss
Speedy Gilmore: The 2005 Rochelle Gilmore Journal
Rochelle Gilmore - super sprinter and scratch race silver medallist at the 2002 world track championships - is a woman of ambition. After proving her prowess on the track, she's aiming to forge a successful career on the road. In 2004, she rode for Denmark-based Team S.A.T.S but in 2005, Rochelle joins the one of the longest-named teams in women's cycling, G.S. Safi-Pasta Zara Manhattan, where she'll team up with Britain's Nicole Cooke to make a formidable duo for the finale of any major race. Follow Rochelle as she continues her rise to the top of the tree in 2005 with her regular diary updates.
Ready to race!
The Advertiser Women's Criterium Series Race 2, Goolwa, South Australia, January 20, 2005
Well I am nearly too frustrated with myself to write. I had great legs again today but I just watched the race happen up the road during the final laps. No one to blame but myself!
Today's race was very fast and aggressive around a very short 680m circuit. The wind was rather strong along the front straight, with most of the early attacks never staying away for more than a couple of laps before being brought back to the bunch.
The Bates sisters and their team clearly dominated again by always having a rider up the road. I am sure the race unfolded exactly as they had planned. It looked as though the race was being set up for Kate who had looked after herself very tactfully until clearing out on the final few laps.
I have always admired the way Kate reads a race; she obviously attacked at just the right time today and had the strength to make the break successful. She crossed the line comfortably ahead of the string of riders who were attempting to real her in.
Kate Nichols was 2nd with Emma Richards following her in for 3rd. Candice Sullivan finished alone for 4th and I led the main bunch across the line for 5th.
I am extremely happy with my form at the moment, but very disappointed with my racing tactics and mentality. I am here racing alone and somewhat frustrated that I am out numbered by two very strong teams, TVB and QLD. Still, it is no excuse and I must overcome this poor mental attitude before Saturday's race.
As result of today's finish, I have won the leader's Yellow Jersey going into Saturday's crit, the last of the series. I am so determined to improve on my mental strategies and to fulfil my potential with my current form that I really wish we were racing again this evening!
Ready to race!
Rochelle