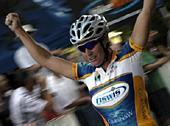 Photo: © Shane Goss
Speedy Gilmore: The 2005 Rochelle Gilmore Journal
Rochelle Gilmore - super sprinter and scratch race silver medallist at the 2002 world track championships - is a woman of ambition. After proving her prowess on the track, she's aiming to forge a successful career on the road. In 2004, she rode for Denmark-based Team S.A.T.S but in 2005, Rochelle joins the one of the longest-named teams in women's cycling, G.S. Safi-Pasta Zara Manhattan, where she'll team up with Britain's Nicole Cooke to make a formidable duo for the finale of any major race. Follow Rochelle as she continues her rise to the top of the tree in 2005 with her regular diary updates.
Jayco Bay Classic - Round 5: The form is coming
Docklands, Australia, January 9, 2005
The weather for the last day of the Bay Classic Series was nice and hot. Once we arrived at the Docklands course and received team placing information we grouped the NSWIS girls together and assessed the situation. We came to the consensus that the main objective of the day should be to get an NSWIS rider across the line first.
The race started hard and fast, with attacks coming regularly. Everyone was having a go and it seemed like all the teams wanted to end the series on a high note. Our plan was to attack for the first three quarters of the race and try to get one of our younger riders into a break. However, Oenone was watching everything and pulled them back in for a bunch sprint.
As the race came down to the final lap, I never managed to get myself into a good position for the sprint and basically I had run out of legs.
Even through I didn't pick up the results that I wanted from this week, the season has started off well and it is great to be back racing at an elite level. At this stage of the season I am happy with the way that my training is going and where my fitness is at. Making it through this week injury and illness free has been a major plus and something that I can continue to build on as the rest of the year unfolds.