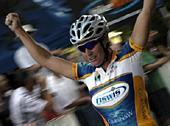 Photo: © Shane Goss
Speedy Gilmore: The 2005 Rochelle Gilmore Journal
Rochelle Gilmore - super sprinter and scratch race silver medallist at the 2002 world track championships - is a woman of ambition. After proving her prowess on the track, she's aiming to forge a successful career on the road. In 2004, she rode for Denmark-based Team S.A.T.S but in 2005, Rochelle joins the one of the longest-named teams in women's cycling, G.S. Safi-Pasta Zara Manhattan, where she'll team up with Britain's Nicole Cooke to make a formidable duo for the finale of any major race. Follow Rochelle as she continues her rise to the top of the tree in 2005 with her regular diary updates.
Jayco Bay Classic - Round 4: All the right moves
Geelong, Australia, January 8, 2005
It was the strong Victorian rider, Jenny McPherson who took the win today. A well deserved win after running places all week and working hard in the break. Jenny out-sprinted Oenone Wood, one of the fastest sprinters in the world tonight, a fine achievement.
The first promising break of the evening included Emma Rickards, Oenone Wood and Katie Brown but unfortunately for us it was brought back quickly.
The winning break of five formed shortly after the half way point and we were fortunate enough to have Amanda Spratt (Junior World Champ) in the break. I was confident to leave Amanda out there for us; she has had strong legs all week and deserved an opportunity to have her go. Things did not go her way in the end when she was jumped in the sprint and had to settle for 5th, I rolled in for 6th ahead of the main bunch.
We NSWIS have just one more day (opportunity) to pull it together!