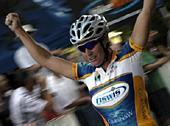 Photo: © Shane Goss
Speedy Gilmore: The 2005 Rochelle Gilmore Journal
Rochelle Gilmore - super sprinter and scratch race silver medallist at the 2002 world track championships - is a woman of ambition. After proving her prowess on the track, she's aiming to forge a successful career on the road. In 2004, she rode for Denmark-based Team S.A.T.S but in 2005, Rochelle joins the one of the longest-named teams in women's cycling, G.S. Safi-Pasta Zara Manhattan, where she'll team up with Britain's Nicole Cooke to make a formidable duo for the finale of any major race. Follow Rochelle as she continues her rise to the top of the tree in 2005 with her regular diary updates.
Jayco Bay Classic - Round 3: So close...
Geelong, Australia, January 7, 2005
Finally we had race on dry roads! It was actually very nice conditions out there this evening for the 3rd round of the Bay Classic, which was also the Australian National Criterium Championship. It was great to see the entire peloton having a go, I think the fact that it was a National Title made all the difference, everyone gave themselves every opportunity to get onto the podium.
Anyone could have predicted the way this evening's race went, Oenone was always going to be the strongest and the one to beat. The only way I could have beaten her was to arrive at the sprint with fresher legs than her, she had a tough ride today and covered every single attack. All the riders gave it everything to catch Oenone napping but Oenone did not miss one move, she closed everything down immediately.
I was giving myself the best opportunity to win the title tonight by following Oenone, I was doing my job well until the last lap. Crossing through the line with one lap to go I found myself in a terrible position. I was on the outside of the bunch coming into the 2nd last hairpin and I got stuck between a rider and the fence just as 10 or more riders ducked under me to go through the turn. I came out of that turn more than 10 riders back and realised I had to sprint 100% up the back straight to reach the front riders who had already started their lead-outs.
Entering the last turn I was still flying up the inside with four riders still in front, I took a risk that I now regret as it may have caused riders to wobble and fall in the last corner. I took the inside line in third position next to a rider that fell on my outside, when I exited the last corner I had lost 15m on Oenone and she would be impossible to catch, but there was another rider, Emma Rickards who I managed to run down to take second.
I am disappointed with my result tonight but extremely happy with the way I felt, I was just floating around tonight feeling fitter than my competitors. Itís not a feeling that we will often experience but when you have a race like that it can do wonders for your confidence.
I am looking forward to tomorrow's race in the Botanic Gardens.
Night.