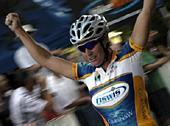 Photo: © Shane Goss
Speedy Gilmore: The 2005 Rochelle Gilmore Journal
Rochelle Gilmore - super sprinter and scratch race silver medallist at the 2002 world track championships - is a woman of ambition. After proving her prowess on the track, she's aiming to forge a successful career on the road. In 2004, she rode for Denmark-based Team S.A.T.S but in 2005, Rochelle joins the one of the longest-named teams in women's cycling, G.S. Safi-Pasta Zara Manhattan, where she'll team up with Britain's Nicole Cooke to make a formidable duo for the finale of any major race. Follow Rochelle as she continues her rise to the top of the tree in 2005 with her regular diary updates.
Jayco Bay Classic - Round 2: Portarlington
Portarlington, Australia, January 6, 2005
It was another dangerous, rainy day at the Bay Classic.
Oenone Wood proved her dominance on the toughest of all the Bay Classic circuits. A small group of five riders broke away from the main bunch after just 10 minutes. It was once again Sky-Lee Armstrong who initiated the break dragging along with her Oenone Wood, Bridget Evans, Kate Nichols and a strong Victorian rider - Jenny MacPherson (Jayco VIS).
Oenone Wood drove the bunch so hard that no riders could hang on for the distance. First it was Sky-Lee who decided to drop back to the bunch; following her shortly after was Bridget Evans.
With 20 minutes to go Oenone had just two more riders to offload, it was Kate Nichols and Jenny MacPherson who were still hanging on until Kate slid out in a tight wet corner. While Kate was taking her two free laps out Oenone hit nitro and dropped the Victorian rider which meant that Kate had to rejoin with the second rider, leaving Oenone out in front solo.
The two riders endeavoured to chase Oenone down without success. Oenone was a class act out there today proving that no other Australian here can match her when she is on a mission.
Kate rolled in solo for second with the Jenny outsprinting my tired legs for 3rd.