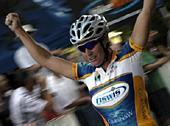 Photo: © Shane Goss
Speedy Gilmore: The 2005 Rochelle Gilmore Journal
Rochelle Gilmore - super sprinter and scratch race silver medallist at the 2002 world track championships - is a woman of ambition. After proving her prowess on the track, she's aiming to forge a successful career on the road. In 2004, she rode for Denmark-based Team S.A.T.S but in 2005, Rochelle joins the one of the longest-named teams in women's cycling, G.S. Safi-Pasta Zara Manhattan, where she'll team up with Britain's Nicole Cooke to make a formidable duo for the finale of any major race. Follow Rochelle as she continues her rise to the top of the tree in 2005 with her regular diary updates.
Jayco Bay Classic - Round 1: Williamstown
Williamstown, Australia, January 5, 2005
It was a great day in the office for NSWIS; we finished 1st, 3rd, 4th and 5th. Unfortunately the winner Sky-Lee Armstrong was not entered with the NSWIS team for this series so we can't technically claim her stage win as ours.
The race was delayed due to extremely heavy rain. Race organisers decided to neutralise the first 5 laps hoping to avoid crashes in the very wet and slippery conditions.
Sky-Lee attacked immediately after the end of the 5 laps neutral and continued to increase her lead over the bunch for the first half of the race, while being out there alone she also took maximum points in the first intermediate sprint. Another NSWIS rider - Katie Nichols attacked with Oenone Wood just after the half way point and managed to catch Sky with 5 laps to go. During the 2nd half of the race NSWIS controlled the pace of the bunch.
Oenone and Sky are riding on the same team and I believe there was some confusion up front about who would work for whom leading into the sprint. Both Sky and Kate are NSWIS riders but this time Sky is riding with Oenone's team - Mercure. Sky led out the sprint after riding solo for most of the race, she displayed awesome strength and speed to hold off Oenone and Kate to take the win.
Emma James, also an NSWIS rider jumped away from the bunch in the final laps to take out 4th, I won the bunch sprint for 5th.
The main bunch was very controlled today so apart from those who were in the breaks, there should be a lot of fresh legs ready to get stuck into tomorrow's tough circuit.
More tomorrow.