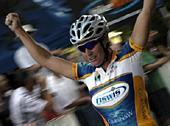 Photo: © Shane Goss
Speedy Gilmore: The 2005 Rochelle Gilmore Journal
Rochelle Gilmore - super sprinter and scratch race silver medallist at the 2002 world track championships - is a woman of ambition. After proving her prowess on the track, she's aiming to forge a successful career on the road. In 2004, she rode for Denmark-based Team S.A.T.S but in 2005, Rochelle joins the one of the longest-named teams in women's cycling, G.S. Safi-Pasta Zara Manhattan, where she'll team up with Britain's Nicole Cooke to make a formidable duo for the finale of any major race. Follow Rochelle as she continues her rise to the top of the tree in 2005 with her regular diary updates.
Devonport 2 Day Carnival
Tasmania, Australia, December 29-30, 2004
I once again enjoyed the racing and atmosphere at the 2 day Devonport carnival! The crowd really gets behind the competitors. Thank you to the organisers for putting a lot of effort into the Women's events this year. The racing and prize money is really appreciated by all the women and hence the reason why we are down in Tassie racing during the Christmas New Year period.
The Devonport carnival still only managed to two 2 races for us during each 5 hour carnival, a handicap and a short scratch race.
My lack of form last night was rather disappointing but at the same time somewhat expected. I did not manage to get up from the scratch mark in either of the handicaps and I was outclassed in the scratch races. I can only hope that the 3 hour morning rides are going to pay off next week heading into the Bay Crits!
Today (Friday) is a scheduled REST day for me and one that I have really been looking forward to. However, now I hear there is a Women's crit in Burnie tonight! Even though I am suffering from hay fever, fatigued and am staying 2 hours away from Burnie - I don't think I could miss a crit!
Devonport Day 1 Results
Devonport Day 2 Results