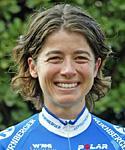 Photo: © Nurnberger
The Olivia Gollan - Nürnberger Diary 2005
A stalwart of the AIS women's team for the last few years, Olivia Gollan turned pro in 2005 with the top German Nürnberger Versicherung team, which has also signed fellow Aussie Oenone Wood. Follow Oliva's escapades through her exclusive diary on Cyclingnews.
Tour de L'Aude Feminin, France, May 13-22, 2005
One second could mean second
I had a t-shirt once that said this and I always thought I was so cool when I wore it. Thought it was a great statement about guts and "he who hesitates", and if you give everything you will not be disappointed. Yesterday proved me wrong - I am now glad I don't own that t-shirt anymore. All it means is that one second really can mean second!
Trixi Worrack (Nurnberger)
Photo ©: Philippe Volle

Yesterday marked the finish of Tour d L'Aude - 10 days of tense racing where Nurnberger won four stages, the points jersey and in a brutal finish, saw Trixi Worrack come second on GC by less than one second. In a mountain top finish, Trixi had to put a minute and 12 seconds into Beutenport-FlexPoint rider Amber Neben to win the tour. She fell across the line with 1 minute and 11 seconds' advantage...
Life can throw some very low punches. After descending like a demon off the penultimate climb, Trixi climbed with everything she had to the finish, but with Mirjiam Melchers helping Amber, Trixi was just off the mark for the tour win. But it was a very impressive stage win!
Of course, the blue corner had an elaborate plan that we executed as best we could to help Trixi. The disappointment of yesterday was almost offset by the laughing and crying that Anche Wichman, Oenone Wood, Tina Liebig and I did as we crept up the two 15km climbs that marked the end of the tour. After giving all that we had left to set a decent pace into the final climbs we were all in a deep hole. Claudia Stumpf had a great day and managed to set the pace for Trixi for longer - this meant she didn't get to join our laughing bunch party. I am definitely sure we were not setting a cracking pace - but the suffering that was going on in the closing stages of our race was fairly comical considering poor Trixi put half an hour into us.
Oenone Wood (Nurnberger)
Photo ©: Philippe Volle

I must say that it has been a week of ups and downs for me personally. Good days and bad days - days where I had to explain the meaning of tits on a bull to my Euro team and days where I was floating. Surely some consistency is on its way? Tour de L'Aude is such a great race and it has been a game of poker this week. There were three very impressive stage wins from Oenone - who stole the yellow jersey for a day early in the piece. There was also another incredible time trial display from the Univega crew. Karin Thurig and Christian Soeder are very, very, very good in a chrono! The Americans were on form and Kristin Armstrong impressed me very much with her third place on GC - their team was instrumental in setting a cracking pace up the first climb yesterday.
So last night we celebrated at the traditional Banquet that the organiser puts on for riders, staff, volunteers and the other hangers. During the night I was very proud of Trixi for how much fun she had and how much smiling and laughing she did. The few glasses of wine probably helped but it was a mark of good sportmanship after such a tremendous disappointment. You can only try and give everything you have and whatever comes will come. Petra and Jens were great through the week, particularly yesterday when Petra knew every kilometre to help Trix get to the finish. Also our mechanic, Martin, and swanny, Julia, have a lot to be thanked for. Two weeks on the road with a group of demanding females is not easy.
This is starting to sound like an Oscars speech now so I'll sign off. Big congratulations to Amber and her team, it was an awesome race. I'm off to Montreal for the next World Cup on Sunday. Can the blue corner steal back the World Cup, Triko?
More soon,
Liv.