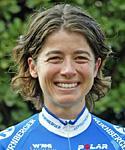 Photo: © Nurnberger
The Olivia Gollan - Nürnberger Diary 2005
A stalwart of the AIS women's team for the last few years, Olivia Gollan turned pro in 2005 with the top German Nürnberger Versicherung team, which has also signed fellow Aussie Oenone Wood. Follow Oliva's escapades through her exclusive diary on Cyclingnews.
Australian Open Road Championships - CN, Australia, January 12-15, 2005
Race 1 - January 12: Elite Women's TT, 30km
A rude awakening
Waking up to the visions of savage bush fires sweeping across South Australia - fires that had claimed lives, homes and precious belongings made the National Championship TT seem a bit trivial. But the race went on in a forgivingly cooler Echunga and in truly predictable style, Oenone Wood took the gold 40 seconds in front of Sara Carrigan and about a minute in front of bronze medallist Amy Gillett. Nice work for the Nurnberger newcomer!
Behind Gillett was the Natalie Bates of old - stomping home in front of Kathy Watt and proving that she is a force not to be discounted. In 6th place was Tasmanian Louise Yaxley, who spent some valuable time in Europe with the AIS crew in 2004 and looks set to be racing with the group in 2005. On the out and back course it was easy to see the front-runners playing catch-up with each other. Warren Macdonald encouraging enthusiastically from the sidelines was a great incentive to keep plugging away, despite the head games that would have been playing with everyone's race.
Me - well that is a slightly sad tale of finishing over two minutes behind Oenone and feeling very shocked at what it feels like to have your heart rate that high for over 43 minutes. But as I said yesterday, you have to start racing at some point in time, and I am pleased to have ridden a solid race and though the result is not what I would want, I feel like I am on track. I am looking forward to Friday's road race and getting back into a solid training block before the international racing begins.
The funniest story to come out of today was Nat and I getting ready for the race without our usual entourage of assistance. No mechanic, no director and only a very entrepreneurial young local to look after our bikes while we raced. (For $5, this 12 year-old has promised to keep our car space free until Friday.) Thankfully, we had Jude and Rob Bates to follow cars and do some very helpful number-pinning and helmet-finding. Pumping tyres, fixing gears, taping disc wheels up and packing cars made us both realise what it used to be like and made me appreciate even more the effort that goes into getting a whole team of riders ready for a time trial. I even washed bidons and packed my own esky today!
Oenone was quoted in a major newspaper earlier this week as saying that I would be a demon on the bike if I started the time trial. I reckon she is the one to fear on Friday. She is to be totally commended for these back-to-back time trial titles and to put so much time into the rest of us on a relatively flat course deserves great applause!! Thank the stars she is my Nurnberger team-mate!
In the meantime, my thoughts are with those people of SA who have lost so much in the past 36 hours.
More after Friday,
Liv.