Recently on Cyclingnews.com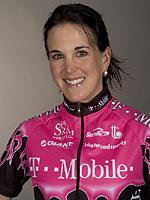 Photo: © Jeff Tse
All American Gal: The Kimberly Baldwin Diary 2005
Last year wasn't one of her best. After a close call with cancer at the end of 2003, newlywed Kim Baldwin (nee Bruckner) was hoping to come back and represent her country at the Athens Games, but apart from a podium finish at the Tour de L'Aude, 2004 didn't quite live up to expectations. However, cycling's all-American gal is looking to the future with new objectives and a new-look T-Mobile cycling team. Let's see how she goes...
2005 Redlands diary Part 1
Redlands Bicycle Classic - March 31 - April 4, 2005
Prologue and Stage 1 - Mixed fortunes
Prologue
In the 5 years that I have raced Redlands, I have actually never TRULY seen Redlands. I'm talking about how the pollution usually mucks up the skies here. Last June, when we finished the Olympic Trials Road Race here in Redlands, it looked like we had just finished a very muddy mountain bike race. And we had never even left the pavement! But this year, with all the rain, the skies are blue, the air is clear, and I can now see how beautiful this area actually is. I've been staying in Redlands with great host housing over 10 days now. I arrived here the night the San Dimas stage race ended. I've stayed with our hosts for the last two years in their beautiful home. It's very cool how these families open their homes and their lives to us cyclists. I hope I can return the favor some day.
Kimberly Baldwin (T-Mobile)
Photo ©: Rob Karman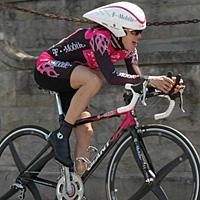 Oh my...today was just one of those days I REALLY wanted to win. I mean, I want to win all the time, but today was one of those days where I wanted to be able to call my husband and tell him I was in the leader's jersey. But alas, I can't. There was a lot on the line in today's short prologue. The Pan American Championships are coming up next month in Argentina - the US is bringing a road team and within that road team, two time trial slots were up for grabs. The winner of today's prologue (well, the winner out of the named 'long team') would automatically qualify for one of the Pan American time trial slots. So winning today wouldn't have just meant winning a stage and being the first leader of the Redlands Classic, it also meant riding the time trial at Pan Ams...a lot of goodies for one excellent ride! I felt really fit, my legs felt strong, and although I was nervous, it wasn't an uncontrollable nervousness. Unfortunately for me, three riders were faster today. Although nine seconds was all that separated the four of us, it made a difference. Congratulations to Christine Thorburn for battling the windy elements the best and being the only woman to go under 10 minutes. My own teammate, Kristin Armstrong, finished second in 10:04, Genevieve Jeanson in 10:06 and then me in 10:08. Ah, the ups and downs of racing.
It became quite an interesting race though, as the Santa Ana winds really picked up this morning. On our ride over from host housing to Mt. Rubidoux, we were almost scared right off our bikes as we saw a shed get ripped up off the ground by the wind and then see the roof going flying down the neighborhood! Luckily it blew the other way!
The winds were whipping around the course as we wound up the bike path to the top of Mount Roubidoux. I was actually really glad I had chosen to ride my road bike with clip on bars. Except at one point, I hit a pothole and my hands came flying off my bars. Luckily, instead of completely biting it, my hands somehow miraculously flew right back to a very tense grip. Thank goodness. I felt bad for anyone who had chosen to ride a rear disc. I think if I had ridden a disc, I would have seriously ended up getting blown off the side of the mountain. Well, it's not exactly a 'mountain', but you get the idea. One of the greatest performances of the day, in my own opinion of course, was by our teammate, Ina Teutenberg. Ina's been really sick the last few weeks, unable to train properly, and had lost quite a bit of weight. She's been really unsure of how she'd perform here. But the girl flew up the mountain to finish in eighth overall, beating several strong climbers. Now she'll be a rider to watch tomorrow as well.
We were planning on riding back to our host house after the prologue. But once we realized that we'd be in a headwind the entire time, we packed it up instead and rode home in the team van. I'd rather race in cold rain than wind. But I don't think I'm going to have much of a choice in the matter!
Stage 2: Oak Glen - 124km
Although Ina loves to race in wind, I was keeping my fingers crossed that it would be calm. We woke up early this morning to sun and still trees. But by the time the women's peloton lined up at the start, the Santa Ana winds were in full force again. It was going to be a very long day.
The women's race begins after the men's peloton passes by our start line. From then on, both men and women race the same course. So along the way, we sometimes see the very unfortunate men that have come off the back of their own race. That's got to suck!
Within today's 124 kilometers, there were three sprints and three climber's competitions, helping to lighten up the action. Also in the mix of the women's peloton are some of the top mountain bikers in the world...riders like Sue Haywood, Katerina, Hanusova, and Kelli Emmett. The mountain bikers often come here to race on composite teams and use the fitness to set them up for a successful Sea Otter. I was fortunate enough to recently meet Sue Haywood while on a training trip in Tucson, Arizona. Sue had raced with T-mobile at a few races last year, and I knew the girls absolutely loved her. I had always been racing in Europe at the time, so had never been able to meet her. It was great watching her beat up the men on the local Tucson 'Shootout' ride the weekend before her winning performance at the recent NORBA in Arizona. With riders like that here at Redlands, we never know who's going to be in the mix heading up the Oak Glen climb.
The women's race gets rolling
Photo ©: Rob Karman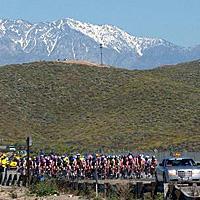 At about the 10km mark of our race, we were riding through the men's first feed zone. I heard Kori riding by all the men's team's support asking for water. 'Kori, this isn't our feed zone' I told her. I knew Kori drank a lot of water, but I couldn't believe she needed more water after just 10km! But to her credit, she told me later that her bottles had flown out of her cages because the road was so rough. Speaking of rough roads, I thought my race was going to end very prematurely when at about 20km, we were flying downhill in a tailwind at approximately 40mph. I hit a pothole and knew it didn't sound good. About 200 meters later, I started to feel the bump, bump, bump of a flat front wheel. Because we were going so fast, I was too scared to let go of the handlebars and tell my team in the radio that I had a flat. I was more concerned with holding the bike up! Luckily, Kristin noticed my predicament as she flew by me and immediately started yelling in the radio, 'Kimberly has a flat! Kimberly has a flat!' But for some odd reason, no one else heard her. They just kept going! I heard our director in the radio yelling for Kori and Mari to come back for me, but I was quickly losing sight of the peloton. When I was finally able to pull it over, Steve quickly exchanged the wheel and sent me on my way. At least I didn't pull a Lara Kroepsch.
Apparently, at the recent Fresno race, Lara got a flat tire. But when she pulled over, she took off her rear wheel to hand to the mechanic, when in actuality, she had a front flat!
I stayed pretty calm as I knew there was only so much I could do to try and get back on. Unbeknownst to me at the time, right when I flatted was exactly when Ina attacked. It wasn't her fault...she didn't know. Apparently our radios have a VERY short range! Andrzej was finally able to get through to Kori and Mari and they both came back for me. With the three of us rotating, we came flying through the caravan trying to get back on. I noticed that several girls had already come off the back of the group, and were trying to get on our train. But once we had it rolling, no one was able to get on. I owe Mari and Kori my race; without their help, I would have never gotten back onto the peloton. That was a definite wake up to the heart! When we got back on, I looked around and noticed that Ina was missing. By this time, she had about a 30 second gap with her solo break. I know we had a long way to go at that point, but if anyone could ride 100km solo in the wind and still win, it'd be Ina. She rode really tough and I think had up to a two minute gap at one point. But as we approached the third sprint of the day, teams were really motivated to bring her back, and her gap was quickly reduced to nothing. Damn...I would have loved to see her win Oak Glen!
With about 30km to go, Mari initiated a break that formed with a good representation of teams; T-Mobile, Webcor, Victory Brewing, Quark, and Basis-Ford. With most of the big teams there, the peloton was content to let it go. But with Webcor in the jersey, they stayed at the front, keeping tempo in the strong headwind so that the break wouldn't get too far up the road. When the break reached a gap of up to two minutes, Genevieve Jeanson's composite team, The Bicycle Store, went up to the front and also worked to try and close the gap. The headwind sucked. It felt like we were going so slowly, but as soon as I stuck my head out in the wind, I realized exactly WHY we were going so slow. It was a long trudge to the base of Oak Glen. In past years, the race has taken three hours, maybe up to 3:15. But at three hours, we were still a long way from the finish.
When the field FINALLY made the left hand turn onto the Oak Glen climb at 10km to go, the break had a gap of about 1:30. The 'field' was quickly narrowed down to five...Erinne Willock and Thorburn of Webcor, Annette Buetler from Quark, and Kristin and I. Erinne did an amazing job pulling us up to the remnants of the break that was quickly disintegrating. Tina Pic was the final one out of the break and we caught her with about 3km to go. There was a short downhill after we caught her, and I used that momentum to attack our group. We had to try something. Erinne chased me down and as soon as she reached me, Kristin attacked. When the group caught her, Thorburn attacked, and it was down to her, Buetler, and myself. By this time we had just one more painful kilometre to ride - Beutler attacked and neither Christine nor I had the legs to go with her. Oh the pain! With 300 metres to go, I made one more effort and was just able to hold off Christine for second. Willock came in next for fourth, and Kristin finished fifth. I haven't seen the results yet for the rest of GC, so I'm not sure what drama was going on behind us.
With Buetler's climber points, she's now in the red climber's jersey. Helen Kelly from Quark won the sprint competition today for the points jersey, and Christine rode a great race to hold onto the leader's jersey. Tomorrow's criterium is always a great show. And with so many great sprinters in this race, it'll be interesting to see what happens. Stay tuned!
Prologue results
Stage 1 results