Redlands Classic - 2.2
California, USA, March 31-April 3, 2005
Prologue - March 31: Mt. Rubidoux Time Trial, 5km
Health Net dominates Redlands prologue
By Eddie Monnier
Chris Wherry (Health Net)
Photo ©: Mitch Clinton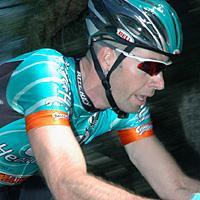 Health Net presented by Maxxis riders occupy three of the top five and four of the top 10 spots on GC at the Poolgel Redlands Classic after Thursday's Mt. Rubidoux Prologue Time Trial (5km). Warm weather with strong winds first hindered and later helped the riders, as the crosswinds turned to a tailwind the last kilometer or so.
Chris Wherry (Health Net) took the top honors by 11 seconds over teammate Scott Moninger. Just two seconds further back, Ben-Jacques Maynes (Kodak Gallery/Sierra Nevada) demonstrated that he is no worse for wear from his busy cyclocross schedule and Eric Wohlberg (Symmetrics) reminded everyone that age is no excuse, at least for some.
Neil Shirley of Team Seasilver achieved his goal of top 20 by placing just outside of the top 10 with his 9:11 effort and told Cyclingnews, "Health Net will be dominant tomorrow, but there are some riders who could be a thorn in their side."
Health Net's John Lieswyn told Cyclingnews, "The team rode to our personal expectations today, though I'm a little disappointed in my own result. I always come to this race to win, but I had a stomach bug and I'm still feeling its effects. I'm confident that I'll be able to contribute to the team's effort tomorrow." While the field is certainly stronger than the one Health Net faced while dominating the recent San Dimas Stage Race, Lieswyn has full confidence in the team but warns, "Colavita and Jelly Belly both have lots of experience and will have to be watched carefully." Jelly Belly and Health Net both have supporting clubs in the area, so both teams will look to shine on what each claims as its own 'home' turf. Jelly Belly has the additional pressure of having Pool Gel, one of its sponsors, as the event's title sponsor.
Christine Thorburn (Webcor)
Photo ©: Mitch Clinton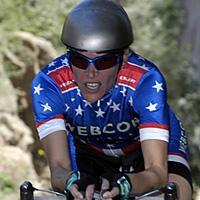 The women's race is set up to be a battle royale between Webcor and T-Mobile. Christine Thorburn (Webcor) just edged Kristen Armstrong (T-Mobile) by four seconds and Genevieve Jeanson (Bicycle Store) by seven seconds to capture the first leader's jersey. Both Webcor and T-Mobile have three riders among the top 10. T-Mobile's Ina-Yoko Teutenberg had been sick recently and told Cyclingnews that she, "really went for it... I just wanted to test myself to see how I stand." Given the circumstances, she was pleased with her eighth place finish, just 32 seconds back.
This year's race has one less road stage than recent editions, so the pressure is on those riders hoping to make their mark on the race. Although the forecast indicates the wind should ease some, there will be enough crosswinds to give the riders plenty to worry about before they arrive at the Oak Glen Climb topmorrow. The last 30km are basically uphill, but it's the last 13km that sorts the riders, with its average gradient of about 6 percent.
Photography
For a thumbnail gallery of these images, click here
Images by Mitch Clinton/www.clintonphoto.com
Images by

Images by Beth Seliga/

Results
Men

1 Chris Wherry (USA) Health Net pb Maxxis                           8.49.99
2 Scott Moninger (USA) Health Net pb Maxxis                         0.10.77
3 Ben Jacques-Maynes (USA) Kodak gallery/Sierra Nevada              0.11.27
4 Eric Wohlberg (Can) Symmetrics                                    0.11.46
5 Mike Jones (USA) Health Net pb Maxxis                             0.12.00
6 Cheechi Giancarlo (USA) Team Monex                                0.13.50
7 Brian Sheedy (USA) Advantage Benefits/Endeavour                   0.13.88
8 John Lieswyn (USA) Health Net pb Maxxis                           0.16.53
9 Todd Herriott (USA) Colavita/Sutter Home                          0.16.65
10 Ryan Trebon (USA) Aerospace Enginering                           0.18.42
11 Liam Kileen (GBr) California Giant-Village Peddlar               0.19.32
12 Trent Lowe (Aus) Jittery Joe's/Kalahari                          0.19.47
13 Mark McCormack (USA) Colavita/Sutter Home                        0.20.23
14 Ivan Stevic (SCG) Aerospace Enginering                           0.20.94
15 Danny Pate (USA) Jelly Belly - Pool Gel                          0.21.44
16 Justin England (USA) Health Net pb Maxxis                        0.21.48
17 Neil Shirley (USA) Team Seasilver                                0.21.53
18 Glen Mitchell (USA) Kodak gallery/Sierra Nevada                  0.22.09
19 Andrew Bajadali (USA) Vitamin Cottage                            0.22.19
20 Jonathan Baker (USA) Vitamin Cottage                             0.22.31
21 John Kelly (USA) Webcor Builders                                 0.22.97
22 Jake Erker (Can) Symmetrics                                      0.24.44
23 Tyler Wren (USA) Colavita/Sutter Home                            0.25.40
24 Aaron Olson (USA) Colavita/Sutter Home                           0.25.78
25 Stefano Barberi (USA) Team TIAA-CREF                             0.25.81
26 Davide Frattini (USA) Colavita/Sutter Home                       0.27.31
27 Matty Rice (Aus) Jelly Belly - Pool Gel                          0.28.14
28 Doug Ollerenshaw (USA) Health Net pb Maxxis                      0.28.28
29 Ben Brooks (Aus) Jelly Belly - Pool Gel                          0.28.59
30 Svein Tuft (Can) Symmetrics                                      0.28.81
31 Michael Lange (USA) Team TIAA-CREF                               0.29.63
32 Nick Reistad (USA) Advantage Benefits/Endeavour                  0.31.06
33 Thad Dulin (USA) Jittery Joe's/Kalahari                          0.31.53
34 Sid Taberly (Aus) California Giant-Village Peddlar               0.31.96
35 Hugh Moran (USA) Aerospace Enginering                            0.32.26
36 Garrett Peltonen (USA) Advantage Benefits/Endeavour              0.33.27
37 Johnny Sundt (USA) Jittery Joe's/Kalahari                        0.33.32
38 Richard England (Aus) Advantage Benefits/Endeavour               0.33.59
39 Gustavo Artacho (USA) Colavita/Sutter Home                       0.33.80
40 James Mattis (USA) Webcor Builders                               0.34.63
41 Juan Jose Haedo (Arg) Colavita/Sutter Home                       0.34.78
42 Derek Wilkerson (USA) Colavita/Sutter Home                       0.35.43
43 Bernard van Ulden (USA) Webcor Builders                          0.35.63
44 Zach Walker (USA) McGuire-Langdale                               0.36.41
45 Cameron Hughes (Aus) Subway                                      0.36.51
46 Mike Sayers (USA) Health Net pb Maxxis                           0.36.67
47 Cody Peterson (USA) Texas Roadhouse                              0.36.69
48 Tim Larkin (USA) Kodak gallery/Sierra Nevada                     0.37.14
49 Brice Jones (USA) Jelly Belly - Pool Gel                         0.38.11
50 Edward King (USA) Louis Garneau/Sakonnet/Mercy Fitness           0.38.21
51 Frank Pipp (USA) Advantage Benefits/Endeavour                    0.38.66
52 Anthony Colby (USA) Texas Roadhouse                              0.38.76
53 Jason Van Marle (USA) Healthy Choice/Goble Knee                  0.39.13
54 Stephen Tilford (USA) California Giant-Village Peddlar           0.39.40
55 Alex Candeloria (USA) Jelly Belly - Pool Gel                     0.39.93
56 Burke Swindlehurst (USA) Team Seasilver                          0.40.00
57 Tim Johnson (USA) Jittery Joe's/Kalahari                         0.40.07
58 David Clinger (USA) Webcor Builders                              0.40.47
59 Dominique Perras (Can) Kodak gallery/Sierra Nevada               0.40.63
60 John Hunt (USA) California Giant-Village Peddlar                 0.40.73
61 Derek McMaster (Can) Canadian national                           0.41.74
62 Curtis Gunn (USA) Team Seasilver                                 0.41.75
63 Jason Bausch (USA) Team Seasilver                                0.41.81
64 Craig Lewis (USA) Team TIAA-CREF                                 0.41.92
65 Karl Menzies (Aus) Advantage Benefits/Endeavour                  0.42.02
66 Christian Meier (Can) Symmetrics                                 0.43.04
67 Dustin MacBurnie (Can) Canadian national                         0.43.06
68 Ian MacGregor (USA) Team TIAA-CREF                               0.44.22
69 Adam Livingston (USA) Team Seasilver                             0.44.65
70 Eric Saunders (USA) McGuire-Langdale                             0.45.47
71 Lucas Euser (USA) Webcor Builders                                0.45.60
72 Brian Jensen (USA) California Giant-Village Peddlar              0.46.25
73 Jackson Stewart (USA) Kodak gallery/Sierra Nevada                0.46.27
74 Godfrey Hayden (NZl) Kodak gallery/Sierra Nevada                 0.46.31
75 Kyle Gritters (USA) Team Seasilver                               0.46.70
76 Darby Thomas (USA) USA national                                  0.46.94
77 Alan Obye (USA) USA national                                     0.46.98
78 Ben Haldeman (USA) Webcor Builders                               0.47.49
79 Zachary Grabowski (USA) Team TIAA-CREF                           0.47.64
80 Chris Greene (USA) California Giant-Village Peddlar              0.49.49
81 Marsh Cooper (Can) Symmetrics                                    0.50.23
82 Cory Lange (Can) Symmetrics                                      0.50.25
83 Bradley Fairall (Can) Canadian national                          0.51.08
84 Andrew Pinfold (Can) Symmetrics                                  0.51.73
85 Ryan Roth (Can) Canadian national                                0.52.25
86 Josh Dillon (USA) Louis Garneau/Sakonnet/Mercy Fitness           0.52.46
87 Andrew Edwards (USA) Vitamin Cottage                             0.54.77
88 Michael Hernandez (USA) Team Spine                               0.54.83
89 Chris Walker (USA) PaulTracy.com                                 0.55.03
90 Cameron Brenneman (USA) Kahala LaGrange                          0.55.12
91 Scott Zwizanski (USA) Kodak gallery/Sierra Nevada                0.55.64
92 Robbie King (USA) Louis Garneau/Sakonnet/Mercy Fitness           0.56.24
93 Chris Deluise (USA) Aerospace Enginering                         0.56.29
94 Kyle Barbary (USA) Team Spine                                    0.56.87
95 Luke Stockwell (Aus) Texas Roadhouse                             0.57.09
96 Jake Rytlewski (USA) Advantage Benefits/Endeavour                0.57.39
97 Jean-Sebastiaen Maheu (Can) Canadian national                    0.57.43
98 Phil Abbott (Can) Canadian national                              0.58.52
99 Jeff Sherstobitoff (Can) Canadian national                       0.58.63
100 Dave Harward (USA) Healthy Choice/Goble Knee                    0.58.89
101 Roman Kilun (Uzb) McGuire-Langdale                              0.59.23
102 Brian Dziewa (USA) Louis Garneau/Sakonnet/Mercy Fitness         0.59.53
103 Ryan McKenzie (Can) Subway                                      1.00.31
104 Craig Wilcox (USA) Jittery Joe's/Kalahari                       1.00.37
105 Jose Garcia (USA) Kahala LaGrange                               1.01.08
106 David Richter (USA) Subway                                      1.01.60
107 Marc Colland (USA) Webcor Builders                              1.01.78
108 Chris Jones (USA) Team Spine                                    1.01.91
109 Will Routley (Can) Symmetrics                                   1.02.74
110 Chris Brennan (USA) Vitamin Cottage                             1.03.30
111 Remi McManus (USA) Subway                                       1.04.86
112 Chris McDonald (USA) Team Spine                                 1.05.09
113 Carlos Vargas (USA) Team Monex                                  1.06.04
114 Sam Jurekovic (USA) USA national                                1.06.60
115 Marco Rios (Mex) Kahala LaGrange                                1.07.33
116 Lance Doherty (USA) Team Spine                                  1.07.61
117 Lee Rosenthal (USA) Louis Garneau/Sakonnet/Mercy Fitness        1.07.66
118 Geoff Rapaport (USA) McGuire-Langdale                           1.07.66
119 Andy Guptill (USA) Louis Garneau/Sakonnet/Mercy Fitness         1.07.96
120 Jon Tarkington (USA) Vitamin Cottage                            1.08.50
121 Todd Cornelius (USA) Subway                                     1.08.50
122 Josh Horowitz (USA) Kahala LaGrange                             1.08.77
123 Stuart Gillespie (USA) Team TIAA-CREF                           1.08.96
124 Jesse Gordon (USA) Healthy Choice/Goble Knee                    1.09.17
125 Eugene Boronow (USA) Team Six                                   1.09.18
126 Charles Dionne (Can) Webcor Builders                            1.10.14
127 Michael Brown (USA) Team Spine                                  1.10.46
128 Nathan Mitchell (USA) Team TIAA-CREF                            1.11.23
129 Pete Lopinto (USA) Team Seasilver                               1.12.37
130 Nick Waite (USA) USA national                                   1.12.91
131 Mike Zagorski (GBr) Texas Roadhouse                             1.13.33
132 Chad Beyer (USA) Vitamin Cottage                                1.13.93
133 Mitch Moreman (USA) Texas Roadhouse                             1.14.20
134 Mike Wilk (USA) Vitamin Cottage                                 1.14.41
135 Matt Dubberly (USA) McGuire-Langdale                            1.14.46
136 Evan Elken (USA) Jittery Joe's/Kalahari                         1.16.70
137 Eddy Hilger (USA) Advantage Benefits/Endeavour                  1.17.39
138 Adam Switters (USA) Team Spine                                  1.18.22
139 Mike Sheppard (USA) Kahala LaGrange                             1.18.73
140 Andy Brown (USA) PaulTracy.com                                  1.19.11
141 Emile Abraham (USA) Team Monex                                  1.21.54
142 Pat Dunaway (USA) McGuire-Langdale                              1.21.55
143 Arquimedes Lam Zamora (Mex) Kahala LaGrange                     1.21.97
144 Marc Anderson (USA) Texas Roadhouse                             1.22.13
145 Colin Beordsley (USA) McGuire-Langdale                          1.23.05
146 Juan Carlo Hernandez (Mex) Louis Garneau/Sakonnet/Mercy Fitn    1.23.33
147 Sheldon Deeny (USA) Team TIAA-CREF                              1.24.19
148 Nicholas Trusty (USA) PaulTracy.com                             1.26.25
149 Bart Fidelus (USA) Team Six                                     1.26.91
150 Daniel Holt (USA) Healthy Choice/Goble Knee                     1.27.68
151 Chris Frederick (USA) Aerospace Enginering                      1.28.07
152 Michael Henson (USA) Team Spine                                 1.28.61
153 Omer Kem (USA) Subway                                           1.29.02
154 David Gustafson (USA) PaulTracy.com                             1.29.93
155 Mathew Moon (USA) Louis Garneau/Sakonnet/Mercy Fitness          1.30.04
156 Sam Schultz (USA) USA national                                  1.31.01
157 Zach Bolian (USA) USA national                                  1.31.87
158 Glenn Fant (USA) Team Monex                                     1.31.88
159 Peter Anderson (USA) PaulTracy.com                              1.32.43
160 Chris Zukowski (USA) Kahala LaGrange                            1.33.37
161 Chris Foster (USA) Jittery Joe's/Kalahari                       1.33.54
162 Alex Welch (USA) USA national                                   1.34.47
163 Russell Hamby (USA) Kodak gallery/Sierra Nevada                 1.34.53
164 Luke Pennington (USA) USA national                              1.35.42
165 Nathon Miller (USA) Team Monex                                  1.35.44
166 Sterling Magmell (USA) Team Monex                               1.35.53
167 Dan Schmatz (USA) Team Seasilver                                1.35.76
168 Victor Ayala (Mex) Kahala LaGrange                              1.37.85
169 Mark Yap (USA) Healthy Choice/Goble Knee                        1.39.27
170 Patricks Briggs (USA) California Giant-Village Peddlar          1.40.54
171 Louie Amelburu (USA) PaulTracy.com                              1.42.17
172 Jeff Smith (USA) Vitamin Cottage                                1.44.11
173 Kirk Albers (USA) Jelly Belly - Pool Gel                        1.44.33
174 Perry Paolini (USA) PaulTracy.com                               1.45.16
175 Ryan V. Barrett (USA) Healthy Choice/Goble Knee                 1.45.25
176 Gordon Fraser (Can) Health Net pb Maxxis                        1.46.54
177 Josh Goodwin (USA) Team Monex                                   1.47.47
178 Victor Laza (SCG) Aerospace Enginering                          1.48.71
179 Arjuna Flenner (USA) Team Six                                   1.48.89
180 Jermy Powers (Aus) Jelly Belly - Pool Gel                       1.50.71
181 Alex Moore (USA) Healthy Choice/Goble Knee                      1.51.08
182 Jose Quintero (USA) Team Six                                    1.51.65
183 Jay Hawranik (Can) Canadian national                            1.52.01
184 Mike Hoffman (USA) California Giant-Village Peddlar             1.54.14
185 Jeff Hopkins (Aus) Jittery Joe's/Kalahari                       1.54.71
186 Chris Trembly (USA) Texas Roadhouse                             1.56.08
187 Andrew Padilla (USA) Team Six                                   1.58.45
188 Dor Dvire (Isr) Aerospace Enginering                            2.00.02
189 Robert Yost Jr. (USA) Subway                                    2.00.98
190 Glenn Murray (USA) Team Six                                     2.05.04
191 Rahsaan Bahati (USA) McGuire-Langdale                           2.10.43
192 Nate Loyal (USA) Healthy Choice/Goble Knee                      2.14.66
193 Kevin Attkisson (USA) Texas Roadhouse                           2.20.22
194 Scott Kasin (USA) Team Six                                      2.25.39
195 Michael Anderson (USA) PaulTracy.com                            2.41.21
196 Jacques Benoit (USA) Team Six                                   3.14.27
197 Dave McCook (USA) Jelly Belly - Pool Gel                        3.17.97
 
Women
 
1 Christine Thorburn (USA) Webcor Builders Cycling Team             9.59.09
2 Kristin Armstrong (USA) T-Mobile Professional Cycling             0.04.67
3 Genevieve Jeanson (Can) The Bicyclew Store                        0.07.15
4 Kimberly Baldwin (USA) T-Mobile Professional Cycling              0.09.03
5 Erinne Willock (Can) Webcor Builders Cycling Team                 0.22.57
6 Lynn Gaggioli (USA) Monex                                         0.26.54
7 Annette Beutler (Swi) Quark                                       0.26.83
8 Ina Yoko Teutenberg (USA) T-Mobile Professional Cycling           0.32.08
9 Tina Pic (USA) Quark                                              0.32.87
10 Felicia Greer (Can) Webcor Builders Cycling Team                 0.35.94
11 Chrissy Ruiter (USA) Ford - Basis                                0.38.48
12 Grace Fleury (USA) Quark                                         0.42.59
13 Amy Moore (Can) Victory Brewing                                  0.43.24
14 Kimberly Anderson (USA) Colavita/Cooking Light                   0.43.32
15 Mari Holder (USA) T-Mobile Professional Cycling                  0.44.07
16 Sue Palmer-Komar (Can) Colavita/Cooking Light                    0.45.01
17 Sandy Espeseth (Can) Victory Brewing                             0.48.29
18 Dara Marks-Marino (USA) Ford                                     0.48.80
19 Kelli Emmett (USA) Ford                                          0.50.59
20 Katheryn Curi (USA) Webcor Builders Cycling Team                 0.51.77
21 Laura Van Gilder (USA) Quark                                     0.53.72
22 Dotsie Cowden (USA) Colavita/Cooking Light                       0.54.28
23 Andrea Ratkovic (USA) The Bicyclew Store                         0.54.75
24 Kele J. Hulser (USA) Ford - Basis                                0.55.84
25 Jill McLaughlin (USA) Exte Ondo                                  0.56.96
26 Kori Seehafer (USA) T-Mobile Professional Cycling                0.58.42
27 Stefanie Graeter (USA) Webcor Builders Cycling Team              0.58.99
28 Katerina Hanusova (Cze) Vitamin Cottage                          0.59.21
29 Megan Esmonde (USA) Colavita/Cooking Light                       1.02.10
30 Catherine Malone (USA) Webcor Builders Cycling Team              1.02.93
31 Nicole Demars (USA) Victory Brewing                              1.05.16
32 Leigh Hobson (Can) Diet Cheerwine                                1.06.10
33 Darcie Murphy (USA) Velo Girls                                   1.06.26
34 Suzanne Weldon (USA) Subway                                      1.06.43
35 Sue Haywood (USA) Monex                                          1.06.87
36 Belem Guerrero Mendez (Mex) Mexican national                     1.07.21
37 Sima Trapp (USA) Subway                                          1.08.11
38 Alisha Lion (USA) Ford - Basis                                   1.09.52
39 Beverly Harper (GBr) Touchstone Climbing                         1.10.67
40 Julia Whiteside (USA) Paramount Racing                           1.11.01
41 Kristin J. Danielson (USA) Ford - Basis                          1.11.62
42 Gabriela Gonzalez-Ferrat (Mex) Velo Bella                        1.11.66
43 Penny Avril (GBr) Touchstone Climbing                            1.11.94
44 Helen Kelly (Aus) Quark                                          1.12.17
45 Maureen Devlin (USA) Touchstone Climbing                         1.13.08
46 Nichole Wangsgard (USA) Subway                                   1.20.20
47 Lauren Franges (USA) Victory Brewing                             1.20.60
48 Kate Sherwin (USA) Victory Brewing                               1.21.30
49 Jennifer Chapman (USA) Velo Bella                                1.25.28
50 Michelle Hyland (NZl) TDS                                        1.25.68
51 Karen Dodge (USA) Exte Ondo                                      1.26.19
52 Christine Peick (Den) Monex                                      1.26.55
53 Magen Long (USA) The Bicyclew Store                              1.26.74
54 Melissa Sanborn (USA) Subway                                     1.29.09
55 Rebecca Larson (USA) Colavita/Cooking Light                      1.29.63
56 Kristen LaSasso (USA) CRCA/Team Lipton                           1.30.05
57 Liza Rachetto (USA) Subway                                       1.30.06
58 Audrey Lemieux (Can) Quark                                       1.30.50
59 Laura Yoisten (Can) Diet Cheerwine                               1.31.80
60 Lara Kroepsch (USA) T-Mobile Professional Cycling                1.32.19
61 Zoe Owers (USA) CRCA/Team Lipton                                 1.32.71
62 Sara Bresnick-Zocchi (USA) Ford                                  1.34.15
63 Aimee Vasse (USA) Velo Bella                                     1.34.69
64 Gina Grain (Can) Victory Brewing                                 1.35.07
65 Pamela Hinton (USA) Velo Girls                                   1.35.52
66 Anna Milkowski (USA) CRCA/Team Lipton                            1.37.64
67 Allyson Brandt (USA) Monex                                       1.37.69
68 Catherine Power (USA) TDS                                        1.38.31
69 Elizabeth Begosh (USA) Velo Bella                                1.38.44
70 Michelle Beltran (USA) Colavita/Cooking Light                    1.41.27
71 Rhonda Stickle (Can) Diet Cheerwine                              1.41.80
72 Juliane Mortello (USA) Monex                                     1.43.01
73 Lauren Gaffney (USA) Ford                                        1.43.59
74 Shannon Koch (USA) The Bicyclew Store                            1.44.31
75 Renee Eastman (USA) Vitamin Cottage                              1.45.96
76 Melodie Metzger (USA) Velo Bella                                 1.46.79
77 Betsy Galenti (USA) Paramount Racing                             1.48.62
78 Sarah Bamberger (USA) Touchstone Climbing                        1.48.98
79 Nicole L. Freedman (USA) Ford - Basis                            1.49.68
80 Becky Broeder (USA) TDS                                          1.54.18
81 Brenda Lyons (USA) Velo Bella                                    1.54.27
82 Megan Elliott (USA) Ford                                         1.55.00
83 Pat Ross (USA) Touchstone Climbing                               1.56.15
84 Melinda Johnson (USA) Paramount Racing                           1.56.39
85 Tara Ross (Can) Diet Cheerwine                                   1.57.64
86 Summer Calder (USA) Exte Ondo                                    1.58.51
87 Carla Figueroa (USA) Paramount Racing                            1.59.18
88 Jenifer Yeaso (USA) Vitamin Cottage                              2.00.01
89 Katherine Lambden (USA) CRCA/Team Lipton                         2.01.84
90 Elizabeth Fisk (USA) Vitamin Cottage                             2.04.35
91 Lana Atchley (USA) Paramount Racing                              2.04.93
92 Crystal Yap (USA) Subway                                         2.05.07
93 Shawn Heidlen (USA) TDS                                          2.05.37
94 Sharon Allpress (USA) Vitamin Cottage                            2.06.01
95 Marisa Asplund (USA) Ford - Basis                                2.06.73
96 Kelly Benjemin (USA) The Bicyclew Store                          2.06.95
97 Lauren Trull (USA) Diet Cheerwine                                2.08.59
98 Erin Alders (USA) Mexican national                               2.14.90
99 Catherine Walberg (USA) Velo Girls                               2.17.67
100 Lindsay Wetzel (USA) Velo Girls                                 2.18.28
101 Sherri Stedje (USA) The Bicyclew Store                          2.24.67
102 Maribel Diaza Esquivel (Mex) Mexican national                   2.24.67
103 Laurel Green (USA) Velo Girls                                   2.27.05
104 Claire House (USA) Touchstone Climbing                          2.33.70
105 Carol Neal (USA) Paramount Racing                               2.35.44
106 Eliza Gagnon (Can) CRCA/Team Lipton                             2.35.54
107 Marisol Ponciano Flores (Mex) Mexican national                  2.36.37
108 Julie Belanger (Can) Diet Cheerwine                             2.41.99
109 Maria Luzia Bello (Bra) Monex                                   2.45.09
110 Troy Watson (USA) Exte Ondo                                     2.53.10
111 Kirsten Kotval (USA) Exte Ondo                                  2.54.71
112 Lori Cox (USA) Velo Girls                                       3.23.49