Queen of the galaxy
Photo ©: Shiela Moon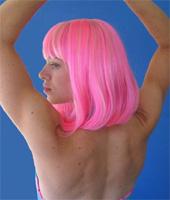 Barbarella: The Barbara Howe diary
Just as Barbarella bumps through the universe, comically oblivious to the dangers and threats being thrust at her, Barbara Howe has had a few misadventures of her own. But with a stable team and strong results in recent years, the 29 year-old Velo Bella rider looks set to navigate her way to the top of the US 'cross tree, where she hopes to be crowned 'Queen of the 'cross Galaxy'.
Follow the fortunes of this free-spirited individual here on Cyclingnews.
Climatic extremes
November 02, 2005
Barbara Howe (Velo Bella)
Photo ©: Steve Medcroft

The week between races while on the road is fun; it always makes me feel like a real pro. Generally I spend five days a week at work but while traveling I get to sit around and watch TV. And during that week we ran a training ride on Tuesday (October 25th) in 40 degree weather and pouring rain (little did I know that it would be good acclimatization for the weekend). Wednesday was sunny and pleasant and Josh and I rode to a park to make use of the open space for 'cross technique practice. We were joined by several hundred high school students running cross country and the workout finished just as a few football teams arrived for practice. We never made it to the old boat in Philly. In fact, our longest walk was only about 15 minutes. Thursday's drive to Gloucester was uneventful and we arrived at our host house with enough time for a spin on the trainer.
Our host house was awesome, there is space for most of the team and entourage. Our host Mom, Nancy, makes incredible masks and has filled the house with amazing beaded, feathered, and painted masks and other artwork. Walking into the basement is like walking into a personal craft store. There are drawers full of glue guns, beads, feathers, sparkly things, and puff paint. Friday evening Melodie, Erin and myself spent quality time in the craft room decorating our helmets.
Friday's pre-ride provided absolutely no indication of what the course would be like on Saturday. As is usual for the Stage Fort Park racecourse in Gloucester, Mass., we were routed through the sand volleyball pit. I thank the promoters and course workers for draining the six inches of standing water from the pit.
Michelob ULTRA Gran Prix of Gloucester # 1 - C2 (Crank Bros USGP #3), Gloucester, MA, USA, October 29, 2005
On Saturday at dawn, the sky was overcast and it was snowing. Yes, snowing. Snowing but not below freezing so as to have the maximum amount of water on the ground while being cold enough to chill you to the bone. Essex County Velo had trainers set up for us to use in a tent; thank goodness because this was not a day for warming up on the road. I was wearing most of the clothing I owned to warm up and applied liberal amounts of hot sauce to my legs. My biggest mistake was to not wear arm warmers under the long sleeve skinsuit; one thin layer of Lycra is just about as good as not wearing anything at all.
"You know conditions are brutal when men admit to crying after the race"
- Conditions at the USGP race in Gloucester, Massachassetts were less than ideal
The promoters were kind enough to start us quickly and with no fanfare; no one wanted to stand around long with the temperature hovering just above freezing. We started up a hill, down the other side then made a sweeping right turn onto mud. I had a fantastic start and was fourth or so gong onto the dirt. Lyne (Bessette) slid out and a few women got around her.
I got onto her wheel and was ecstatic to be in the best position yet this year. This didn't last too long as she eventually pulled away. Snow started falling more thickly as the race went on. Visibility decreased as the snow stuck to our glasses. My hands were so cold that I had to look while I was shifting to be sure that I was pressing the correct part of the lever.
Barbara Howe negotiates the run up
Photo ©: Breton Hornblower

In weather like this, your feet turn into blocks of ice and sometimes it's hard to know if they're clipped in or not. The off-camber turns were unridable and I found myself doing downhill dismounts and plenty of running. Things sorted out with Wendy Simms and I riding around together. Perhaps it was all the blood draining from my brain and heading for the core of my body in the early stages of hypothermia, perhaps it was just animal instinct to get out of the cold, but somehow I maintained a five bikelength lead over Wendy for the entire last lap and I pedaled up the finishing hill in a state of near panic to cross the line in second place.
One of our army of volunteer helpers was at the finish line waiting with a coat. My skinsuit was soaked through and I tried to take off my wet gloves but couldn't. Someone grabbed the glove to help and touched the fingers inside and I screamed. The lone thought in my brain was to go somewhere warm and out of the snow. I ran over to the van only to find the doors locked. After nearly breaking into hysterical crying the keys showed up and I jumped in and turned on the heat. Melodie jumped into the van next holding her hands up and screaming. At this point I was done screaming and crying from the pain in my feet and could help Melodie remove her shoes. Erin came in next and was so cold her lips were blue. One of her shoe buckles was seized with mud and ice and wouldn't open, as she pried her foot out of the shoe her leg cramped. The three of us spent a long time sitting in the van slowly warming up.
Conditions continued to deteriorate for the men's race. Snow was now sticking to the pavement as well as the grass. I spent most of the men's race sitting inside the van absorbing heat. You know conditions are brutal when men admit to crying after the race. I think nearly everyone cried from the pain of thawing extremities.
The best part of Saturday was the feast prepared by out hosts. Not only was there pasta, salad and soup, but also chocolate fondue with fresh fruit and homemade crème brulée. Top that off with a cozy fire and the pain of earlier was all but forgotten.
Michelob ULTRA Gran Prix of Gloucester # 2 - C2 (Crank Bros USGP #4), Gloucester, MA, USA, October 30, 2005
CN diarist Barbara Howe
Photo ©: Steve Medcroft

Sunday was about as different as possible. We awoke to clear sunny skies and melting snow. Most of the course dried to a perfect tackiness but there were mud puddles and some standing water. Saturday's cold had taken the spring out of my legs and no amount of spinning and warming up could make them happy. At the start, Melodie (Metzger) came shooting past me and I was tenth or so going onto the dirt. By the time the legs got going enough to move me forward Lyne, Ann and Wendy were long gone. I found myself riding around with Melissa Thomas and we sprinted at the end with Melissa making the good move of drifting me towards the boards (she finished fourth and I was fifth). This race was one of the hardest I have ever raced; you had to pedal all-out the entire race.
I'm in Pittsburgh now (Tuesday, November 1st) hanging out with my family after a long, long drive yesterday. Driving on the East Coast in the fall is a treat. Josh and I got to enjoy the colorful deciduous forests of MA, Connecticut, New York, New Jersey and Pennsylvania. We have a few days to recover and enjoy all Pittsburgh has to offer before heading out to Camp Hill, PA for more racing.
Barb