Michelob ULTRA Gran Prix of Gloucester # 2 - C2
(Crank Bros USGP #4)
Gloucester, MA, USA, October 30, 2005
Trebon and Bessette power to wins in Gloucester
By Steve Medcroft
Ryan Trebon (Kona)
Photo ©: Steve Medcroft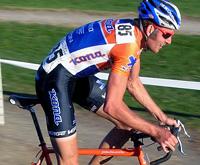 In only twenty-four hours, Gloucester, Massachusetts completely changed. USGP of Cyclocross racers who suffered though a cold, wet blizzard on Saturday were rewarded with clear skies and mild temperatures on Sunday and on a dry and wide open course, Lyne Bessette (Louis Garneau / cyclocrossworld.com) and Ryan Trebon (Kona) powered to solo wins.
A Kona chaser
In the women's race, Bessette simply did what she's been doing every race she's entered this year; taking the lead in the first lap and building a gap no-one can bridge. Bessette powered away from a field including the Kona trio of Georgia Gould, Canadian National Cyclocross Champion Wendy Simms and Ann Knapp and rode a time trial to the finish.
Behind, Knapp and Simms, who had broken away from Velo Bella rider Barbara Howe and others, showed the closest thing to the kind of form that might bring Bessette back. Of the pair, Knapp was the real surprise. The Seattle-based former national champion finished ninth in yesterday's race and hadn't earned a podium spot in any early-season 'cross race. She had even announced her retirement last season so it was remarkable to see her driving the chase.
Ann Knapp
Photo ©: Steve Medcroft
"All summer I was pretending I was retired," Knapp said about her season so far. "And then it got cold out and I'm like 'oh, cyclocross is here.' I just had to race. So I rode a little bit of mountain bike, just for fun, but I didn't have a lot of training. Our first race was October 1st, and that was the first time I got my 'cross bike out. I figure I'll just have to ride my way into shape."
Sunday's performance may be an indication that Knapp may have returned to her old form faster than she expected but she insists her second-place showing had more to do with a desire to erase her poor performances in races up to this point. "You get tired of being mad about how you race, you just have to do something about it sometimes," she said
With one solid performance in the books, Knapp is officially out of retirement and looking to make the most out of the rest of the season. "I have some preparation to do before nationals and I hope to do the entire USGP. It's been fun and I just can't get upset about how I've done. You get out of 'cross what you put into it so I just need to put a little more in."
A protégé of Mark McCormack
Photo ©: Steve Medcroft

Yin and Yang
In the men's race, Kona's twin towers (Barry Wicks and Ryan Trebon) seemed to have a plan to prevent a repeat of yesterday's runaway win by hometown favorite Tim Johnson (Louis Garnea / cyclocrossworld.com). Trebon and Wicks took the hole shot and while Trebon motored off the front, Wicks dropped his tempo just enough to disrupt the rhythm of Johnson, Jesse Anthony (Team Clif Bar) and yesterday's second-place finisher Adam Craig (Giant).
"I wanted to go out hard and I was feeling really good on the first lap," Trebon said after the race adding that the tactic Wicks employed to help open up the gap was more the pair taking advantage of an opportunity than a specific strategy. "We have an approach to these races; me and Barry are both pretty fast starting out so we go hard and if we get a good gap, we try to make everybody else chase and then counter attack when they catch us."
The four chasers
Photo ©: Steve Medcroft

Tactically, the pair executed the strategy perfectly. But in the intensity of a 'cross race, some of the field missed the significance of the move altogether. "I was unaware that the other Kona guy was out front for the first three laps," Adam Craig said after the race. "I was just riding tempo waiting for things to sort out then I realized that the rider in front of me was Barry and not Ryan and I was like 'oh, no wonder he's riding so slow when he gets to the front.'"
A frustrated Johnson tried to attack but was marked every time. Craig said that none of the attacks seemed to have legs. "I made the observation that if we just rode steady, we would bring any attack back." So after a little pressing and covering, Wicks, Johnson, Anthony and Craig were all stuck together until two laps to go. "I took the point through one of the descents and just railed my turns fast," Craig said. "I kept my momentum steady and that's what got Wicks and I off the front; not really attacking, just riding a good steady pace."
Trebon says he was comfortable but was feeling the effects of a cold. "I felt good for about the first ten minutes. In the next twenty minutes or so I was worried that I was starting to fade a little bit but I was able to keep it consistent."
"Ryan was riding much faster than the rest of us," Craig, who beat Wicks to the line in a two-up sprint, said. "Even on our fastest laps, he was still putting five seconds on us."
The rest of the series
Bessette rode a backwards no hander
Photo ©: Steve Medcroft

With the win, Trebon took back the series leader's jersey he lost yesterday to Johnson. Trebon won't be the USGP series winner though; the lanky Oregonian plans to race in Europe during the month of November and won't be at the final two USGP races (Watsonville, November 19th and San Francisco, November 20th ).
Bessette pretty much just needs to show up in Northern California to secure the women's series. Before then, she'll race the Canadian National Championships (November 6th in Aurora, Ontario). After USGP, the organizers of the Providence, Rhode Island U.S. National Championships have invited Bessette to race in the men's field in the Pro Elite Liberty Cup race on December 11 th .
Photography
For a thumbnail gallery of these images, click here
Images by Steve medcroft/Cyclingnews
Results
Elite men 
 
1 Ryan Trebon (USA) Kona                                                 59.09
2 Adam Craig (USA) Giant                                                  1.30
3 Barry Wicks (USA) Kona                                                  1.32
4 Tim Johnson (USA)                                                       1.56
5 Jesse Anthony (USA) Clif Bar                                            1.59
6 Mark McCormack (USA) Team CLIF Bar                                      3.11
7 Matt Shriver (USA) Kona/Easton                                          3.21
8 Jonathan Baker (USA) Primus Mootry Racing                               3.27
9 Carl Decker (USA) Giant                                                 3.39
10 Erik Tonkin (USA) Kona                                                 3.41
11 Shannon Skerritt (USA) VANILLA BICYCLES                                3.54
12 Matt White (USA) FiordiFrutta Elite Cycling Team                           
13 Matt Kelly (USA) Alan Factory                                          4.15
14 Matt Kraus (USA) Alan Factory Team                                     4.25
15 Troy Wells (USA) TIAA-CREF/CLIF BAR                                    4.40
16 Peter Wedge (Can) Kona/Les Gets                                        4.49
17 Justin Spinelli (USA) RGM Watches/Richard Sachs                        4.52
18 Ryan Leech (USA) Fort-GPOA !                                           4.55
19 Tristan Schouten (USA) Trek/VW                                         5.12
20 Sten Reymakers (Bel)                                                       
21 Michael Gallagher (USA) U S Armed Forces                                   
22 Christian Meier (Can) Symmetrics Cycling                                   
23 Ben Turner (USA) TIAA-CREF/CLIF BAR                                    5.26
24 Andy Jacques-Maynes (USA) California Giant Strawberries/Specialized    5.31
25 Justin Robinson (USA) California Giant Strawberries/Specialized        5.50
26 Ryan O'Connor (USA) 1K2GO/S&W SPORTS CYCLING TEAM                      5.56
27 Brandon Dwight (USA) TIAA-CREF/CLIF BAR                                5.57
28 Chris McGovern (USA) Alan / Bamba                                      6.08
29 Alan Obye (USA) Focus                                                  6.13
30 Noah Taylor (USA) RGM Watches/Richard Sachs                            6.18
31 Benoit Simard (Can) Specialized Canada/Périgny                         6.28
32 Johannes Huseby (USA) FiordiFrutta Elite Cycling Team                  6.31
33 Christopher Peck (USA) Fiordifrutta                                    6.33
34 Molly Cameron (USA) Vanilla bicycles                                       
35 Joshua Snead (USA) Rock Lobster                                        6.40
36 Adam Hodges Myerson (USA) Team Nerac.com p/b Banknorth                 6.52
37 Russ Tiles (USA) Slingshot Bikes                                           
38 Thomas Spannring (Aut) Alan Bikes/1-800 Contacts                       6.59
39 Clint Muhlfeld (USA) Big Mountain, Montana                             7.11
40 Simon Vickers (USA) Rocklobster/TraugottGuitars                        7.41
41 Alec Donahue (USA) Louis Garneau                                       8.12
42 Stuart Gillespie (USA) TIAA-CREF/CLIF BAR                              8.15
43 Mitchell Peterson (USA) Balance Bar/Devo                                   
44 Brady Kappius (USA) TIAA-CREF/CLIF BAR                                 8.56
 
One lap behind                                                           
 
45 Charlie Storm (USA) Inland Construction-Back To Dirt                       
46 Andy Applegate (USA) Easton / Kona                                         
47 Will Dugan (USA) BCA / VoMax                                               
48 Aaron Molloy (USA) 1K2GO/S&W SPORTS CYCLING TEAM                           
49 Ryan Belliveau (Can) Giant Bikes                                           
50 Mike Hall (USA) Carolina Cyclocross Association                            
51 Brooke Boocock (Can) Cycle Logik Racing                                    
52 Daniel Coady (USA) NCC / Bikereg.com                                       
53 Brian Matter (USA) pcwcycling.org                                          
54 David Gagnon (Can) SPORTIF BROMONT                                         
55 Jon Bruno (USA) Independent Fabrications                                   
56 Michael Cody (USA) FiordiFrutta Elite Cycling Team                         
57 Adam McGrath (USA) Redline                                                 
58 Eric Jellum (USA) Ford/Giant                                               
59 Andrew Freye (USA) Bikeman.com / Oakley                                    
60 James Holmes (USA) All9Yards.com/Ralph Henderson Racing                    
61 Daniel Neyens (USA) RAD Racing NW                                          
62 Keith Jennings (USA) Louis Garneau                                         
63 NA (USA)                                                                   
64 Charles Toby Marzot (USA) Dartmouth College Cycling Team                   
65 Logan Hodson (USA) Independent Fabrications                                
66 Ryan Fleming (USA) ALAN Factory Team                                       
67 Skip Brown (USA) Seven Cycles                                              
68 David Robinson (USA) TIAA-CREF/CLIF BAR                                    
69 Kyle Douglas (Can) 3 Rox Racing                                            
70 Tom Gosselin (USA) Mechanical Services/Cycle Mania                         
71 Brad Sheehan (USA) 1K2GO/S&W SPORTS CYCLING TEAM                           
72 Weston Schempf (USA) Fort-GPOA !                                           
73 John Burns (USA) Bikeman.com                                               
74 Steve Wallace (USA)                                                        
75 Morgan Macleod (USA) Mechanical Services/Cycle Mania                       
76 Brian Keegan (USA) La Festa Brick and Brew                                 
77 Matt Demeis (USA) BIKEMAN.COM                                              
78 Matt Wilson (USA) NAV/Pedros                                               
79 Peter Ozdins (USA) Spokepost.com                                           
80 John Meehan (USA) Iowa City Cycling Club                                   
                                                                              
Under 23
                                                                              
1 Jesse Anthony (USA) Clif Bar                                         1.01.08
2 Troy Wells (USA) TIAA-CREF/CLIF BAR                                     2.41
3 Christian Meier (Can) Symmetrics Cycling                                3.13
4 Mitchell Peterson (USA) Balance Bar/Devo                                6.16
5 Brady Kappius (USA) TIAA-CREF/CLIF BAR                                  6.57
 
One lap behind                                                           
 
6 Will Dugan (USA) BCA / VoMax                                                
7 Ryan Belliveau (Can) Giant Bikes                                            
8 Brooke Boocock (Can) Cycle Logik Racing                                     
9 Adam McGrath (USA) Redline                                                  
10 Andrew Freye (USA) Bikeman.com / Oakley                                    
11 Daniel Neyens (USA) RAD Racing NW                                          
12 Keith Jennings (USA) Louis Garneau                                         
13 Charles Toby Marzot (USA) Dartmouth College Cycling Team                   
14 Kyle Douglas (Can) 3 Rox Racing                                            
15 Tom Gosselin (USA) Mechanical Services/Cycle Mania                         
16 Morgan Macleod (USA) Mechanical Services/Cycle Mania                       
                                                                              
Elite women
                                                                              
1 Lyne Bessette (Can) Cyclocrossworld.com-Louis Garneau                  43.46
2 Ann Knapp (USA) KONA                                                    0.26
3 Wendy Simms (Can) Kona                                                  0.45
4 Melissa Thomas (USA) Tokyo Joes/GoLite                                  1.33
5 Barbara Howe (USA) Velo Bella                                               
6 Rhonda Mazza (USA) Team S&M/Vanilla Bicycles                            1.46
7 Stacey Spencer (Can) Cycle-Smart/Javelin                                1.55
8 Melodie Metzger (USA) VeloBella                                         2.28
9 Christine Vardaros (USA) Velo Bella                                     2.43
10 Allison Baumhefner (USA) NorCal Velo                                   3.08
11 Georgia Gould (USA) Kona                                               3.25
12 Maureen Bruno Roy (USA) Independent Fabrication                        3.45
13 Rebecca Wellons (USA) Gearworks/Spin Arts Cycling                      4.02
14 Mackenzie Dickey (USA) Team Bicycle Alley                                  
15 Mandy Lozano (USA) CCA/Kona                                            4.12
16 Hillary Daniels (USA) NorCal Velo                                      4.16
17 Megan Monroe (USA) Lemond / PCW                                            
18 Lauren Costantini (USA) Sycip Racing                                   4.29
19 Josie Beggs (USA) Starbucks / Giants                                       
20 Cara McCauley (USA) CCA/Kona                                           5.01
21 Hollie McGovern (USA) sierra express                                   5.03
22 Brigette Stoick (USA) Veloshop / Rivercity Bicycles                    5.09
23 Amy Wallace (USA) Verizon Wireless Wheelworks                          5.11
24 Alicia Hamblen (USA) RGM Watches/Richard Sachs                         5.26
25 Marianne Stover (USA) Independent Fabrication                          5.53
26 Pauline Frascone (USA) Independent Fabrication/Kempner                 6.14
27 Anna Milkowski (USA) Gearworks SpinArts                                6.19
28 Karri Tremblay (USA) Gearworks SpinArts                                6.48
29 Stephanie White (USA) Gearworks/Spin Arts                              7.04
30 Kathryn Roszko (USA) NCC / BikeReg.com                                 7.26
31 Heidi Von Teitenberg (USA) ALAN Mid-Atlantic                           7.34
32 Perri Mertens (Aus) harriscycleryracing.com                                
33 Catherine Johnson (USA) Pro Peloton                                    7.48
34 Joanie Caron (Can) Élicycle Sports-Experts                                 
35 Anne Schwartz (USA) Flying Rhinos C.C.                                     
36 Marci Titus Hall (USA) Power Bar                                       8.10
37 Rebecca Cooke (USA)                                                        
38 Kerry Litka (USA) Dansko Wheelworks                                    8.28
39 Erin Kassoy (USA) Velo Bella                                           8.31
40 Kathy Sarvary (USA) Gearwork                                           8.36
41 Amanda Laueree (USA) Verducci                                          8.40
42 Arielle Filberti (USA) Team Bike Alley / Hot Tubes                     8.55
43 Tiffany Pezzulo (USA) Team Biogen-Idec                                     
44 Brenda Bahnson (USA) Independent Fabrication                           9.14
45 Natalie Dumont (USA) Gearworks SpinArts                               10.29
46 Tammy Ebersole (USA) Evolution Racing                                 10.36
47 Janet Olney (USA) Alan Mid-Atlantic                                   11.08
 
One lap behind                                                           
 
48 Megan Bilodeau (USA) NCC / BikeReg.com                                     
49 Caroline Lavoie (Can) Biogen Idec                                          
50 Linda Moran (USA) Flying Rhinos C.C.                                       
51 Martha Wilson (USA) Gear Works/Spin Arts Cycling Team                      
52 Jennifer Rhodes (USA) Dansko Wheelworks                                    
                                                                              
Juniors
                                                                              
1 Bjorn Selander (USA) ALAN Factory                                      42.11
2 Danny Summerhill (USA) TIAA-CREF/CLIF BAR                               1.10
3 Alex Howes (USA) TIAA-CREF/CLIF BAR                                         
4 Tejay Van Garderen (USA) TIAA-CREF/CLIF BAR                                 
5 Chance Noble (USA) Scary Fast junior development team                   1.50
6 Stephen De Lisle (USA) Hilton Cycling Club/Team Contes                  2.23
7 Tucker Olander (USA) Team Rio Grande                                    2.49
8 Ethan Gilmour (USA) Coyote Hill/ K2bike                                 3.18
9 Nicholas Keough (USA) Corner Cycle Cycling Club                         3.56
10 Walker Savidge (USA) TIAA-CREF/CLIF BAR                                4.14
11 Jerome Townsend (USA) Team Bike Alley                                  4.17
12 Robert Schmidt (USA) Vortex Racing- CBRC                               5.10
13 Duncan McGovern (USA) Putney/West Hill                                 5.19
14 Ryan Barlow (USA) CUEVAS                                               6.17
15 Chris Peterson (USA) Balance Bar - Devo                                7.11
16 Dylan O'Sullivan (USA) Team Bicycle Alley                              7.37
17 Nathan Belcher (USA) Union Velo                                        8.15
 
B Men
 
1 Pascal Bussières (Biogen idec, Auberge La Goéliche)                    43.42
2 Dan Vaillancourt (Giant/Adidas)                                         0.24
3 Matt Boober (SRAM)                                                      1.04
4 Jordan Moore (Onion River Sports)                                       0.23
5 Talbott Ingram (Team Harborside Cycle)                                      
6 Kevin Wolfson (Dartmouth College)                                       1.17
7 Jamie Belchak (NAV/Pedros)                                                  
8 Coley Bryan (Team Harborside Cycle)                                     1.22
9 Stephen Weller (Cycle Smart)                                                
10 Ed Meyer (Dartmouth College)                                           1.20
11 Alex Whitmore (harriscycleryracing.com)                                    
12 Neil Ross (McMaster University)                                        1.56
13 Matt Hersey (bikeman.com)                                              2.02
14 Sean Capizzo (Squadra Castorama)                                       2.16
15 Paolo Zenoni (Westwood Velo)                                               
16 Ryan Rumsey (Bikeman.com)                                              2.29
17 Peter Rubijono (HarrisCycleryRacing.com)                               2.35
18 Donald Snoop Jr. (Verge Test Pilot)                                    2.39
19 Kurt Schmid (Landry's)                                                 2.42
20 Jeff Butch (Yorktown Cycles)                                               
21 David Rose (harriscycleryracing.com)                                   3.01
22 Jackson Weber (Essex County Velo)                                      3.06
23 Michael Cole (Minuteman Road Club)                                     3.09
24 Sean Cavanaugn (Essex County Velo)                                     3.12
25 Leo Patrode (Team Harborside Cycle)                                    3.16
26 Brant Hornberger (NCC / BikeReg.com)                                   3.22
27 Justin Ziemba (NHCC/Team NH)                                           3.24
28 Joel Biederman (NCC/BikeReg.com)                                       3.29
29 Adam Szczepanski (Bike & Blade - Serfs)                                    
30 Dusty Labarr (Alan Mid-Atlantic)                                       3.33
31 Jim Wirtanen (harriscycleryracing.com)                                 3.40
32 Roger Goulart (Scottee's Westport Bicycle)                             3.43
33 Paul Rhodes (Ciclismo Sportivo Ardagna)                                    
34 Brion Hughes (Vortex Racing)                                           3.59
35 Scott Hannan (Spokesport)                                              4.03
36 Francis Groleau (Team Xcluziv)                                             
37 Keith Gauvin (Benidorm)                                                4.18
38 Ryan Kelly (UNH)                                                       4.23
39 Pete Smith                                                             4.26
40 Jeremy Dunn (harriscycleryracing.com)                                  4.31
41 Matthew Roy (Essex County Velo)                                            
42 Robert Poole (Bikebarnracing.com)                                      4.20
43 Tom Giordano (NEBC/Cycle Loft)                                         4.44
44 Steven Morse (BIKEMAN.COM)                                             4.57
45 Scott Brooks (NEBC/Cycle Loft)                                         5.01
46 David Baxter (team casterama)                                          5.15
47 Bruce Pierce (Trailblazer - CCCC)                                          
48 Erik Osborn (Bikeman.com)                                              5.25
49 Joe Cruz (North Atlantic Velo / Soul Cycles)                               
50 Christopher Evans (NCC / BikeReg.com)                                      
51 Brendan Cornett (Maine Cycling Club/Rainbow Bike)                          
52 Adam Sullivan (Caster's/Majik Coffee p/b Apex Tech Group)                  
53 Chuck Nguyen (Providence Velo Club)                                        
54 Art Trapotsis (HUP United)                                             5.45
55 Gary Keblish (Cycle Smart)                                             5.49
56 Matthew McGregor-Mento (Black Cross Cycle Club)                        5.53
57 Cary Fridrich (Minuteman Road Club)                                        
58 Joe Jankovsky (Boston Road Club/ATA Cycles)                                
59 Chris Gagnon (MTBMind.com)                                             5.22
60 Corey Masson (Washington Tavern)                                       6.03
61 Paul Nyberg (Benidrom)                                                     
62 Todd Crisafulli (North Atlantic Velo/Mercury Web Solutions)            6.12
63 Matt Budd                                                                  
64 Scott Livingston (Team Horst Engineering)                              6.17
65 Charles Chichester (CRC OF A)                                              
66 Matt Rossman (Dartmouth College)                                           
67 Eric Lowenstein (Highland Park Hermes)                                 6.23
68 Paul Everard (WWW.INTERNATIONALBIKE.COM)                               6.19
69 Charles Learch                                                         6.32
70 Craig Labadie (Boston Velo/Pepsi)                                      6.40
71 Andrew Parsons (BRC/Vintage)                                               
72 Richard Brown (NHCC/Team NH)                                           6.53
73 Jeff Guy (Fort / GPOA)                                                 6.55
74 Alex Duggen (Scottee's Westport Bicycle)                               7.00
75 Darren Crupi (Heart Of New England/Peerless)                           7.11
76 John Genovese (Essex County Velo)                                      7.14
77 Craig Callan (Highland Park Hermes)                                    7.18
78 Jason White (Salem Cycle)                                              7.21
79 Joshua Liberles (Colavita-Cooking Light Taos)                              
80 Emerson Loustau                                                        7.33
81 Greg Martin (Independent Fabrication)                                  7.40
82 Eben Weiss (GS Gotham)                                                 7.51
83 John Linvill (MLC - BiKyle)                                            7.57
84 Paul Niehoff (Southern Maine Cycling Club)                             7.59
85 Peter Stetson (Portland Velo Club)                                     8.07
86 Tim Shea                                                               8.35
87 Eric Wemhoff                                                           8.41
88 NA                                                                         
89 Zachary Sager (BIKEMAN/Boston University)                              9.06
90 Juston Manville (North Atlantic Velo)                                  9.27
91 Mark Romanovsky                                                        9.35
92 Christopher Teifke (Vermont Law School)                               10.24
93 Leyton Murray (CRCA/VisitBritian)                                     11.21
 
One lap behind                                                           
 
94 NA                                                                         
95 Peter Hutchins (NCC / BikeReg.com)                                         
96 Nate Simms (NAV/Mercury Web Solutions)                                     
 
Juniors 15-16
 
1 Alex Coelho (Redline/Excel)                                            44.16
2 Luke Keough (Corner Cycle Cycling Club)                                 5.56
3 Silas Anthony (Essex County Velo)                                       6.35
4 Steve Simads (SMCC)                                                     7.11
5 Gavin Mannion (CCB/Volkswagen)                                          7.25
6 Morgan Gerlack (ALAN Factory)                                           9.07
 
One lap behind                                                           
 
7 Manny Goguen (Union Velo)                                                   
8 Ben Senning (Essex County Velo)                                             
 
Cub Juniors
 
1 Spencer Pero (BCA/Vomax)                                               23.19
2 Shawn Hudlin (BCA/Vomax)                                                0.06
3 Jeff Bahnson (Henry's Bikes)                                            0.44
4 Jesse Keough (Corner Cycle Cycling Club)                                1.42
5 Adam Hugabone                                                           2.19
6 Ryan Packard (Quad Cycles)                                              2.38
7 Elizabeth White (NEBC)                                                  2.45
8 Tommy Goguen (Union Velo)                                                   
9 Jimmy Mucci (berkshire cycling association)                             3.50
10 Nate Morse (MBRC)                                                      4.43
11 Peter Goguen (Union Velo)                                              4.46
12 Drew Beyer (Daisey)                                                    9.03
 
Masters 35+
 
1 Christopher Peck (Fiordifrutta)                                        42.43
2 Roger Aspholm (Westwoodvelo)                                            0.02
3 Dale Knapp (Kona)                                                       0.11
4 Andy Applegate (Easton / Kona)                                          0.16
5 Jonny Bold (Corner Cycle)                                               0.29
6 Jon Gallagher (Cole Sport)                                              1.02
7 Jesse Scatton (Bullseye / East SAC)                                     1.14
8 Rob Hult (FiordiFrutta)                                                 1.17
9 John Verheul (TIAA-CREF/CLIF BAR)                                       1.23
10 Kristopher Auer (Alan / Mid-Atlantic)                                  1.32
11 Sam Morse (Bicycle Link/MBRC)                                          1.43
12 Gannon Myall (California Giant Strawberries/ Specialized)              1.51
13 Mark Gunsalus (Bike Barn Racing)                                           
14 Todd Watters (Union Velo)                                              2.00
15 Todd Cassan (Rocinante)                                                1.22
16 Mark Stotz (Gearworks -- Spinarts)                                     2.17
17 John McCaffrey (Bicycleattorney.com)                                   2.19
18 Greg Ferguson (Fort/GPOA!)                                             2.24
19 John McKone (CCB / Volkswagen)                                         2.18
20 Henry Kramer (California Giant Strawberries / Specialized)             2.35
21 Brad Roberts (putney/westhill)                                         2.19
22 Colman O'Connor (MBRC - Bicycle Link)                                  2.38
23 Robert Campos (HVC/Jessies)                                            2.51
24 Evan Adams (Rock Lobster)                                              2.59
25 Todd Rowell (NCC / BikeReg.com)                                        3.20
26 Mike Yozell (FORT-GPOA!)                                               3.26
27 Arik Jon Holm (Union Velo)                                                 
28 Christopher Long (Independent Fabrication/Gotham)                      3.32
29 Matthew Howard (CRCA/Blue Ribbon)                                      3.34
30 Steve Roszko (NCC / BikeReg.com)                                       3.42
31 Luc Proulx (XPREZO)                                                    3.49
32 Peter Brennan (Trek/VW New England)                                        
33 Brian Cantele (Benidorm Bikes)                                             
34 Kevin Hines                                                            4.00
35 Bradley Patches (BCA/VOmax)                                            4.04
36 Aaron Millett (Essex County Velo)                                          
37 Alan Starrett (Bikeman.com)                                            4.10
38 Eric Bowker (Gary Fisher Bicycles)                                     4.13
39 Keith Gauvin (Benidorm property research corp)                         4.16
40 Tim Groesbeck (CCB)                                                    4.20
41 Christopher White (BOB Cycling)                                            
42 William Sawyer (Gearworks - Spinarts)                                  4.23
43 Christopher Cyr (Bikeman.com)                                          4.49
44 Wade Summers (Benidorm - Property Research Corp)                       4.21
45 Jay Busse (Union Velo)                                                     
46 Gray Eldridge (Corner Cycle)                                               
47 James Tordella                                                             
48 Todd Wheelden (BIKEMAN.com)                                                
49 David Belknap (Bike Link/MBRC)                                         5.03
50 Eric Marro (BOB/Nault's Cyclery)                                       5.11
51 Paul Nyberg (Benidorm-Property Research Corp.)                             
52 John Mosher (Bicycle Link/MBRC)                                        5.23
53 Matthew Domnarski (Benidorm-Property Research Corp.)                   5.32
54 John Meerse (Hurricane Mountain Multisport)                            5.36
55 Paul Curley                                                                
56 Christopher Burke (Providence Velo)                                    5.41
57 Christopher Smith                                                      6.13
58 Chris Milliman (HUP United)                                            6.25
59 Jeff Hane (FWR/Wrong Way)                                              6.31
60 Jeff Murray (Team Berlin Bike)                                         6.41
61 Rick Koten (Union Velo)                                                6.51
62 Andrew Durham (CCB/Volkswagon)                                         7.01
63 Jeffrey Craft                                                          7.09
64 Paul Thoresen (ALAN Factory Team)                                      7.12
65 David Fredrickson                                                          
66 Mike Bohn                                                              7.16
67 Paul Lynch (Bicyclelink MBRC)                                          7.22
68 Jim Burke (NEBC/CycleLoft)                                             7.28
69 Alan Buday (rotations racing)                                          7.36
70 Timothy Shea (BOB / Nault's Cyclery)                                   7.46
71 Sean Wittmer                                                               
72 Paul Weiss (Portland Velo Club)                                        7.50
73 Jim Mills (MBRC)                                                       7.21
74 Kirk Olson (Alan Factory Team)                                         7.59
75 John Meehan (Iowa City Cycling Club)                                   8.03
76 Rob Kramer (MBRC - Bicycle Link)                                       8.08
77 John Buser (putney/westhill)                                           8.15
78 Paul Cooke (Alan racing)                                               8.21
79 David Schachte (Union Velo)                                            8.24
80 Paul Niehoff (Southern Maine Cycling Club)                                 
81 Wayne Cunningham (NEBC/Cycle Loft)                                         
82 John Grenier (Maine Cycling Club)                                      8.35
83 Richard Morin (Union Velo)                                                 
84 Tim Crowley (Vortex Racing)                                            8.43
85 Bruce Bell (GMBC/Catamount)                                            8.49
86 Sean Ford (Bicycle Link)                                               9.19
87 Steven Bonadio (Arc-en-Ciel)                                               
88 Mike Hoover (Bikeman.com)                                             10.42
89 Mark Robson (Team Bicycle Alley)                                           
90 Scott Mares (SIBEX/Jackson Racing)                                         
91 Mike Troisi (Gear Works / Spin Arts)                                       
 
C Men
 
1 Andrew Brown (Daway/Taylors)                                           39.01
2 Nathaniel Cook (harriscycleryracing.com)                                0.27
3 Chris Northeott (Putney/West Hill)                                      0.34
4 Scott Rosenthal (HUP United)                                            1.03
5 Deke Andrew (Portland Velo Club)                                            
6 Nathaniel Smith (Maine Cycling Club)                                        
7 Glenn Cook (Team Fred)                                                  2.14
8 James English (Minuteman Road Club)                                         
9 David Chiu (NEBC/CycleLoft)                                             2.34
10 Tim Snow (Vortex)                                                      2.46
11 Zachary Wills (Alan factory Team)                                      2.57
12 Kenny Ambach                                                           3.07
13 John Wilde (Harvard)                                                   3.10
14 Sol McLellan                                                           3.13
15 Brian Robinson                                                         3.15
16 Christopher Bailey                                                     3.27
17 Nathan Miller                                                              
18 Tom Fritschka (NHCC)                                                       
19 Tom West                                                               3.47
20 Juan Swjesus                                                           3.55
21 Christian Porter (Portland Velo Club)                                  4.01
22 Theo McDonald (Alan Factory Team)                                      4.42
23 Jeffrey Nebolini (Hjolamenn)                                           4.51
24 Esteban Velasquez                                                          
25 Phil Brubaker (Putney/West Hill)                                       5.00
26 Tom Noble (SMCC)                                                           
27 Ben Corbalis (union velo)                                                  
28 Winston Chang                                                              
29 Patrick Smith (Salem Cycle)                                            5.16
30 Gregory Fung (NEBC/CycleLoft)                                          5.01
31 John Davenport                                                         5.23
32 Michael Lowry (MRC)                                                    5.32
33 Kenneth Hamel (AFD/OSVC)                                               5.03
34 Terrence Fina (THF)                                                        
35 Oscar Jimenez (NEBC/CycleLoft)                                         5.53
36 Ted Philip                                                                 
37 Mike Romanovsky (HVVC)                                                 6.02
38 John Hinman (Bethel Cycle Center)                                      6.52
39 Julian Hjortshoj (NEBC/CycleLoft)                                      7.11
40 Sean Carmickle                                                         7.26
41 Luke Burnett                                                           7.52
42 Gary Larigne (Southern Maine Cycling Club)                             8.12
43 Ron Menner                                                                 
44 John Torrey (MTBMind.com)                                              8.37
45 Chris Dever                                                            9.26
46 Edward Hickey                                                          9.53
47 Sean Wilson (Bike Barn)                                               10.01
48 Todd Chewning (LSV)                                                   10.07
49 Christopher McQueen (Cio Vindice)                                     10.36
50 Jorin Reilly (BRC)                                                    11.59
51 Michael Whitfield                                                          
 
One lap behind                                                           
 
52 Chris Johnson                                                              
53 Paul Masi                                                                  
54 Adam Schwartz (North Atlantic Velo)                                        
 
B Women
 
1 Rhonda Morin (Portland Velo Club)                                      46.38
2 Erin Canniff (Team Harborside)                                          0.35
3 Rebecca Menke (Dansko Wheelworks)                                       0.48
4 Jessica Ingram (Team Harborside Cycle)                                  0.27
5 Celeste Drumm (Hup United / IF)                                         1.17
6 Jenna Shoemaker (Vortex Racing)                                         1.24
7 Natalie Stoil (UNH)                                                     2.03
8 Robin Shea (EECT)                                                           
9 Jennifer Johnson (Littleton Land Sharks)                                2.37
10 Colleen Flaherty (BCA/VOMax)                                               
11 Heidi Wakeman (Team Harborside Cycle)                                  2.46
12 Jane Hayes (Independent Fabrications)                                  2.57
13 Tammy Meehan (ICCC)                                                    2.59
14 Jennifer Cloud (MBRC)                                                  3.21
15 Callie McDowey (Bikeman.com)                                           3.29
16 Nicole Kesselring                                                      3.23
17 C Bassingthwaighte                                                     3.27
18 Sarah Greene                                                           4.22
19 Sandy Noble (SMCC)                                                         
20 Kate Scheider (Williams College Cycling)                               4.50
 
One lap behind                                                           
 
21 Janet Sestokas (NEBC Cycle Loft)                                           
22 Jess Truslow (NEBC Cycle Loft)                                             
23 Lana Courtney                                                              
24 Samantha Barlow (Cuevas)                                                   
25 Julia Lowd (Cornell Univ. Cycling)                                         
26 Amy Robson (Team Bicycle Alley)                                            
27 Stephanie Swinerton (Diet Cheerwine)                                       
28 Cindy Joiner (CCB/Volkswagen)                                              
29 Beth Mills (MRBC)                                                          
30 Donna Lacasse (BCA/VOMax)                                                  
31 Kathleen Fite (Alan Factory)                                               
32 Kelly Vonruden (MTBMind)                                                   
33 Kerry Combs (Hup United / IF)                                              
34 Jennifer Muto                                                              
35 Linda Hood (NEBC Cycle Loft)                                               
 
B Masters
 
1 Erik Olson (Bicyle Alley)                                              39.53
2 Douglas Dicks (CRCA/BENNETTS BICYCLES/FDNY)                             0.09
3 Dominique Desmonts (Tokeneke Road Club)                                     
4 Doug Aspinwall (NCC / BikeReg.com)                                      0.35
5 Chris Jordan (Bikeworks/Blowout/SVS)                                    0.11
6 Robert Bauer (Minuteman Road Club)                                      1.34
7 Marvin Wang (www.internationalbike.com)                                 1.42
8 Jeffrey R. Guy (FORT/GPOA)                                              1.50
9 John Baker (putney/westhill)                                            1.54
10 Chip Baker (Sycip Racing)                                              2.05
11 Anthony Laskaris (NENC / Cycle Loft)                                   2.23
12 Brian Poochigian (City Bikes)                                              
13 Todd Savage (Minuteman Road Club)                                          
14 Jason Pfeifer (Bicycleattorney.com)                                    2.31
15 Stephen Kelley (Vortex Racing)                                         3.07
16 Theo Kindermans (cyclocrossworld.com)                                  3.12
17 James McDonald (NCC/Bikereg.com)                                       3.19
18 Peter Collins (COW / CBRacing)                                             
19 Michael Tucker (BCA / VOMax)                                               
20 Paul Crowley                                                               
21 Mark Suprenant (CCB/Volkswagen)                                        3.34
22 Walter Conley (CCB/Volkswagen)                                         3.39
23 John Plump                                                                 
24 Thomas Ball (MRC)                                                          
25 Chris Borrello (bikeworks)                                             3.50
26 Michael Olbrys (NEBC/Cycle loft)                                           
27 Fran Boudreau (Gate City Velo)                                         3.59
28 Robert Tutwiler                                                            
29 Jay Bartlett (Boston Road Club/ATA Cycles)                             4.08
30 Stuart Boyd (Essex County Velo)                                            
31 Tim Lucia (NEBC/CycleLoft)                                                 
32 Bill Doonan (NEBC/Cycleloft)                                           4.22
33 John Beaudoin (Southern Maine Cycling Club)                            4.09
34 Stuart Beaulieu (Essex County Velo)                                    4.31
35 Jeffrey Bousfield (Mystic Velo Club)                                   4.44
36 Oscar Rosales (CRCA/Renaissance)                                       4.11
37 Michael Keogh (Corner Cycle Cycling Club)                                  
38 Ralph Gulemmo (East End Kreb Cycle)                                        
39 Gary Wolff                                                             4.59
40 Kurt Loell (Union Velo Cycling Club)                                   5.34
41 Adam Brodsky (Missing Link/ MBRC)                                      5.10
42 Garabed Minasian (BOB)                                                 5.40
43 Richard Costa                                                              
44 Arnold T. Kalmbach (Bicycle Link /Mass Bay Road Club)                  5.46
45 Ken Coleman (Housatonic Wheel Club)                                    6.09
46 Mike Jinks (BIKEWORKS)                                                 6.26
47 Doug Hamilton (airborne)                                               6.12
48 Robert Naesen                                                              
49 Robert Luebbers (Onion River Sports)                                   7.20
50 Jim Quinn (Bicycle Link)                                                   
51 Tom Thomson (Union velo)                                               7.29
52 Gregory Prodanas (essex county velo)                                   8.05
53 Mako Saito (HUP United)                                                8.30
54 Lee Strout (Maine Cycling Club)                                        8.38
55 Nolan Watts (ATA Bike)                                                 8.48
56 Duane Skofield (BOB)                                                   9.04
57 Jerry White                                                            9.52
58 Michael Karn (NAV)                                                    10.11
59 Patrick Leonard (evolution racing)                                    12.13
 
One lap behind                                                           
 
60 Dave Drumm (HUP United)                                                    
61 Jesus Vazquez (MRBC / Bicycle Link)                                        
 
55+
 
1 David Rath (GMBC/Catamount)                                            41.12
2 James Themig (Mystic Velo Club)                                         4.41
3 Thomas Downey (Bicycle Link/MBRC)                                       5.33
4 Joe Hepp (Southern Maine Cycling Club)                                  5.41
5 Jeep Barrett (Magic Cycles)                                             6.50
6 John Shee (East End)                                                    8.33
7 Gary Stewart                                                            8.40
 
One lap behind                                                           
 
8 Vincent Donohue (Worcester Cycling Club)                                    
9 Karl Dittebrandt (kissena cycling club)