An interview with Ryan Trebon, December 7, 2004
Rising star of 'cross
23 year-old Ryan Trebon has dominated this year's U.S. 'cross season, taking an impressive overall victory in the US Gran Prix of 'Cross, the country's national series. He now goes into this weekend's national championships as one of the top favourites and could be the one to surprise Jonathan Page. He is also a pretty handy mountain biker too, enjoying success in the NORBA series this year. Cyclingnews' Steve Medcroft found out a little more about this young and imposing rider.
Standing six-foot five, Ryan Trebon has been getting attention lately for more than just his height, he's been storming cyclo-cross courses in the U.S. and getting to the podium in every race he enters.
At 23, Trebon is a surprising up-and-comer. As a junior, he was a passionate racer but didn't perform well on the national stage - in an era where Adam Craig was sweeping every championship available to the U23 set. But something changed this year. Trebon got a coach, had some eye opening good luck, and began to race at the front of the field. But even his breakthrough mountain bike season was no precursor to what would happen in cyclo-cross.
Ryan Trebon
Born: March 5 1981, Loma Linda CA
Currently resides: Corvallis OR
Racing disciplines: Mountain bike and cyclo-cross
Teams (since you turned pro): 2002 Highlands Cycling, 2003 Krystals, 2004 Kona/Clarks/LesGets
Current Sponsors: Kona Bicycles
Coach: Jim Lehman CTS
Best food after a long training ride: Turkey and Pepper Jack on a Bagel
Favorite Music: Punk, and Hardcore
Off-season sports: Snowboarding (actually I never really get an off-season)
Cyclo-cross race bike: Kona Major Jake
Cross Country race bike: Kona Kula, Kona King Kikapu
Your first bike: Trek 850
2004 Cyclo-cross racing goals: National Championships
Best race you can remember: Winning Gloucester this year in a sprint with Geoff Kabush
Worst day on the bike: Any race I don't win
A kind of race you'd like to do but haven't yet tried: Cyclo-cross World Cups
Reason you race: To win
2004 Cyclo-cross results
USGP of 'Cross
USGP 1 Cannondale Stumptown Cyclocross Classic: 25th
USGP 2 Clif Bar Gran Prix: 8th
USGP 3 Michelob Ultra Gran Prix of Gloucester 1: 2nd
USGP 4 Michelob Gran Prix of Gloucester 2: 1st
USGP 5 Beacon Cyclocross: 1st
USGP 6 Highland Park Cyclocross: 2nd
Overall Classification: 1st
2003 Cyclo-cross results
National Championships, Portland USA: 3rd
Phrophecy Creek: 1st
Worcester Mass: 1st
Saturn Liberty Classic: 1st
Rockville Bridge Classic: 1st
Granogue: 2nd
Highland Park: 2nd
Clif Bar Grand Prix: 4th
Gloucester ECV: 9th
Mid-Atlantic series: Overall winner
NC State Cyclo-cross Championship: 1st
2002 Cyclo-cross results
U23 National Championships: 3rd
Lancaster Sportsbook CX: 7th
Redline Cup finals: 9th
2004 MTB Results
Sea Otter Classic USA
Super Cross Country: 30th
Time Trial: 24th
Short Track: 8th
Cross Country: 17th
Overall Classification: 16th
NORBA series USA
Round 1 Waco USA: STXC 41st , XC 50th , TT 40th
Round 2 Sonoma USA: XC 4th, STXC: 3rd
Round 3 Snow Summit USA: STXC 5th, XC 4th, TT 2nd
Round 4 Snow Shoe USA: STXC 46th, XC 5th
Round 5 Mt Snow USA: STXC 9th
Round 6 Schweitzer USA: STXC 3rd, XC 4th
Round 7 Snow Mass USA: STXC 13th, XC 14th
Round 8 Durango USA: STXC 4th, XC 3rd
Overall: STXC 5th, XC 2nd
UCI world Cup XC
Round 5 Canada (Calgary): 28th
Round 6 Livigno (Italy): 27th
National Championships, Mammoth USA
STXC: 11th , XC: 5th
World championships, LesGets (France)
DNF due to mechanical
He stumbled in the first two major U.S. 'cross races, then exploded to the front of the pack, winning or coming second in practically every other race he entered. Overtaking Geoff Kabush in the final U.S. Gran Prix of Cyclo-cross race, Trebon won the overall as well as two of the last four races and, barring a repeat of last year's solo win by Jonathan Page, is a favourite to win the U.S. National Championships in December.
Cyclingnews wanted to learn more about this rising young star so we met with Trebon just before the final USGP in Highland Park, New Jersey. He was staying at the home of one of the local cycling club's members and met us in a two-story garage behind the house. The race was two hours away. Trebon and teammate Barry Wicks needed to assemble their Kona Jake the Snake's in time to get a few warm up laps on the course before their event. We talked as he worked on his bike.
Cyclingnews: When you were 19, you said in an interview that you didn't see yourself as a technical rider. Is that still the way you feel after your success in cyclo-cross?
Ryan Trebon: I still don't think it's my strong point. Doing well, for me, is more about having good fitness than handling my bike. I handle it well enough, but I'm not going to be killing people on the technical sections and I know I can't always go through corners as fast as Geoff (Kabush), Adam (Craig), Todd (Wells) or Marc (Gullickson), but I make up for it in the pedaling sections.
CN: What's it like being six foot five? Why aren't you playing basketball?
RT: I'm too uncoordinated. I played a little bit when I was a freshman in high school. I just didn't like it too much and you have to like what you do, not just do it because you're tall. I started racing bikes when I was fourteen instead and that was way more fun.
CN: Mountain biking is where you started. What was your progression in the sport?
RT: A friend of mine introduced me to it. I did my first mountain bike race two weeks after I started riding. Of course, I sucked pretty much until I was about 18 years old - it took me a while to physically mature. I was always tall but I don't know if I was just too tall and goofy to get out of my own way but I didn't do well for a while. Some people have instant success, they do really well when they're young then fizzle out in their twenties. Barry (Wicks) and I are both the same in that we didn't really do a lot when we were juniors, but we came on after. As a junior, I did only a couple of nationals and nobody really knew who I was until I was like 20 years old. It just took me a while to find my rhythm in racing.
CN: When did you have that first breakout race?
Ploughing through the mud
Photo ©: Rob Karman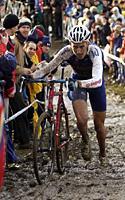 RT: It's weird because I won local races when I was eighteen and stuff like that but I think the first time I really did well, where people noticed, was cyclo-cross nationals when I was in the U23 race. Adam Craig got first, I got third and Barry got second.
CN: You said you moved a lot but went to high school in the Northwest. Did you get your start in cyclo-cross there?
RT: I never did cyclo-cross when I was in Washington. I always just raced mountain bikes. I started racing 'cross in 2002 when I lived in North Carolina. They had a great scene. I mean, it's definitely not as big as in the Northwest. The Northwest is probably one of the biggest places in the country for racing 'cross. In Oregon and Washington, we might get four to five hundred people turn out every weekend. I think we have some of the best racers too. But North Carolina 'cross was fun.
CN: Sloppy racing in the Northwest though?
RT: It's usually pretty muddy during the winter, typical Northwest weather. It's hard to understand why people are so into it out there but it's fun to go out to the races mostly because of the crowds. Then again, having a great crowd kind of sucks because I never seem to do well in the Northwest races. I always have mechanicals or a bad day riding. Weird stuff.
CN: When did you decide to take racing seriously, like it could become your profession?
RT: Seems to have been a natural progression for me. When I was younger, about fifteen, I dreamed about being like the pro's of that time. I never thought I'd be doing this well. It's just kind of snowballed into it. I rode and raced. I did well. Things happened. Which created more opportunity. It wasn't like I was going to say no and stop riding. I'm really happy with the way it's going and I hope I just continue to improve.
"We'll drive twenty hours today, sleep four hours, drive twenty tomorrow"
- Trebon before he had enough money to fly
CN: Who was your first sponsor?
RT: The first real sponsorship I had was through a local shop. They were affiliated with the Trek/VW regional program. This was 2000 and the team was based in Trek's Southeast region - I was living in Florida at the time. I raced with them for one year. Kona has been the first real, factory sponsor I've had. That happened just this year. I owe my spot on the team partially to Barry getting me hooked up last year during the 'cross season.
CN: What size 'cross frame do you ride?
RT: 62cm.
CN: Is that the biggest Jake the Snake Kona makes?
RT: This isn't even a production size. I think the biggest they make is a 60cm. But basically Barry and me are so stinking tall that Kona had to make extra-large frames for us.
CN: There's still a lot of seat post showing there (Trebon's seatpost extended a good eight inches above the frame)?
At 6'5" it's not easy
Photo ©: Steve Medcroft

RT: I like a lot of drop between the seat and the handlebars. They could build a bigger frame I suppose but they'd have to engineer it with a sloping top tube to give me the drop I need. But it's not necessary. I'm so happy with this bike and everything on it. There's nothing I'd want to change. The 'cross bike I had before my Kona was okay, but I never felt like it fit me. I was never completely comfortable.
CN: You turned pro in 2002?
RT: Right. That was my first mountain bike season as a pro. I was riding for a regional development team out of Tennessee called Highlands Racing. We did all the NORBA nationals - but drove to them all. Each race, there would be five of us in this big, full-sized van. We made three trips completely across the country. And these trips weren't like, 'We'll drive eight hours a day and take our time.' It was more like, 'We'll drive twenty hours today, sleep four hours, drive twenty tomorrow.' We'd wear ourselves out before the racing ever started. It was good to get out there and get the experience but I definitely appreciate flying everywhere now. Flying in Friday and flying out Monday instead of having to leave on Monday to get to a race on Thursday is a great luxury. As far as that first season of racing went, I wasn't that successful. My best finish was like 22nd in cross-country and 14th in short track.
CN: What did you learn from that season?
RT: It sucks losing (laughs). I don't think I really learned too many lessons. Maybe I learned this - that things can get better and that 2002 was my starting point. It was pretty intimidating to go out there and lose by fifteen, twenty minutes a race but I knew that getting better was just a matter of progression. Every year I try to do more than the year before. Build everything up. Which is why I started working with a coach last winter, to progress. Which, in turn, is why my results have been phenomenal this year.
CN: How did your second season go?
RT: I raced for another team out of Tennessee, Krystal racing. It was sponsored by a fast food restaurant and we had a lot more support. The owner of the team was really cool. He spent of lot of money out of his own pocket to send us to all the NORBA's. I went to World's that season too and raced much better than the year before. I got a top ten in a NORBA which got me an automatic selection (as an U23) for World's in mountain biking. I had a really good race at World's even though I started second to last, on the very last row with like 90 people in front of me. It gave me a discouraging start but I had a good race and ended up, I think, fifteenth in the U23 category. That result, along with my 'cross season last year, got me into Kona.
CN: Tell us about your experience working with a coach.
Leading the way
Photo ©: Steve Medcroft

RT: The coach is Jim Lehman of Carmichael Training Systems (CTS). He has totally organized me, providing a structure that I needed. Plus, he reigns in my tendency to do too much. I really like to train a lot. If I'm going well, I like to train more so I can get faster. It's a bad habit so Jim and I just focus on building each of my physical systems up, one block at a time. He's really encouraging as well. If I'm not doing well on the bike, he keeps me motivated. I also started using a power meter this year. It's made a much bigger impact on me than I thought it would. All of the work with Jim has. I know where I want to be in cycling and I believe those goals are reachable thanks to the improvements I've seen this year.
CN: Was the improvement in your fitness immediately apparent at the beginning of the season or was there one race, or one moment in a race, where you said to yourself, 'Wow?'
RT: I started out at the first NORBA in Waco, Texas and just sucked. I finished 48th or something. I was like, 'Jim, what the heck's going on?' But then I almost won the NORBA in Big Bear - I flatted two miles from the finish. I was like 'Wow,' you know. I think it took my body a while to recover from the 'cross season and everything suddenly came together.
"It's more enjoyable than sitting behind a stupid desk or taking somebody's fast food order"
- Why Ryan likes riding 'cross bikes
CN: Did you continue to have success?
RT: I ended up second in the NORBA overall series right behind stinking Geoff Kabush (laughs). I'm second behind him now in the Gran Prix series too. It gets old finishing second place to the same guy all the time. I like Geoff, but I am tired of finishing second to him. All this year during the NORBA series, he was dominant and here I am again, stuck behind him. (At the time of this interview, Trebon was second with only the last race to run. Trebon won the last race later this same day and overtook Kabush for the series overall win - Ed.)
CN: Will you shut it down after national's? No World's?
Concentrating hard
Photo ©: Rob Karman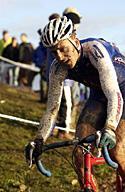 RT: I won't be doing World's but I might be going to Belgium to do some 'cross racing with a group of U.S. riders. We're not going so much to extend the season - I don't want to extend the season - but because it's a good opportunity to go race, that it's beneficial to go there, see what it's like, and go up against more and different competition.
CN: What are your goals for 2005?
RT: I'm not really to that point yet. I'm just trying to get through the 'cross season. But my goals for next year will start where I left them in 2004 - I really want to win a NORBA national race. I don't really care which one. I was bummed losing Big Bear. Chances like that don't come along very often because the competition is so strong. I don't mind it so much when I'm beaten by a faster rider but when I lose because of mechanicals, I get annoyed. So I want the win I could have had in Big Bear. Beyond that, I don't really know what's possible. That's one of the reasons why I'm going to Europe. I don't want to get stuck racing my whole career having only raced mountain bikes. I'd like to explore other options and see where they go. The racing's supposed to be really good in Belgium. Hard core, but the guys make decent money for it.
CN: If you weren't racing bikes, do you know what you'd be doing?
RT: I've been riding bikes for so long I haven't had to plan to do anything else; nothing else appeals to me at this moment. It's such a good lifestyle. All the training and traveling make it a lot of work but it's definitely way more enjoyable than sitting behind a stupid desk or taking somebody's fast food order.