An interview with Floyd Landis, March 7, 2004
On the right track for 2004
Floyd Landis has had a storming start to 2004, winning Portugal's Volta ao Algarve. Being back in the saddle and flying this early in the season is a big relief, as he tells Cyclingnews' European Editor Tim Maloney.
Floyd
Photo: © Tim Maloney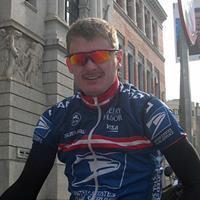 After his win in Portugal's Tour of the Algarve last month, Floyd Landis has come full circle from last year, when he was barely able to ride his bike after suffering a broken hip in a training crash in January 2003. After riding two Grand Tours last season, Landis has come into this season in superb form and is hoping to continue to ride well this spring and return to the Tour de France to once again support Lance Armstrong in his quest for his sixth Tour win. Cyclingnews visited Floyd in Gerona, Spain on Wednesday as he prepared for his upcoming appointment with Paris-Nice.
Cyclingnews: This is your third year in Gerona. How has a regular, all-American guy like you adjusted to life in Spain?
Floyd Landis: It's taken all three of those years. I was never completely out of place, but now when I come back here, it feels more like home. Every little thing doesn't cause me stress anymore now; I have the system figured out so I can function. At the beginning here in Gerona, I just didn't know how to do anything. To get the phone hooked up was work, everything was work but now it more or less flows.
CN: Have you gotten used to the opening hours of the shops, like when you need to do some food shopping on Sunday?
FL: I've learned to plan ahead. I don't like it but I've learned not to let it happen. A couple of times I had to go hungry but I've figured it out.
CN: Today is a beautiful day in early March; the landscape and weather reminds me of central California. Is that a good comparison? [Landis lives in Murietta, California when he's not in Europe]
Time trialling in the 2003 vuelta
Photo ©: AFP

FL: Yeah, today it is. A couple of days ago it was windy and quite a bit colder [Gerona is 100km south of the Pyrenees]. It doesn't snow here very often and it's a beautiful place.
CN: So what do you do with yourself here in Gerona after your training is done?
FL: The good thing about being here is that there are quite a few other Americans here so you can spend time with friends. You can rent DVDs and usually it's only a week at a time between races so time goes by. I watched a movie with Dave Zabriskie last night, and Levi (Leipheimer) is here and so is Tyler (Hamilton) and Michael Barry and so is Lance. There must be ten guys here.
CN: Do you ever see Odessa's cats?
FL: [Laughs] Occasionally, yeah. She has this little dog now, like a miniature Chihuahua and it's the cutest thing. Dave (Zabriskie) said it looks like a pound puppy. It weighs less than a kilo and it's fully grown. Odessa loves animals and she's got plenty of them here.
CN: Last year, your wife Amber and daughter Ryan came to visit you in Gerona; any plans for this year?
Following Lance Armstrong at the Volta ao Algarve
Photo ©: AFP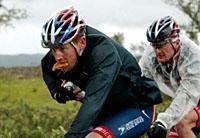 FL: They're going to come over right after Paris-Nice, but just for a week. Ryan's in first grade now so she has some vacation. Then probably after Liege-Bastogne-Liege, I'll go home for a week or so. Then we'll see for the rest of the year.
CN: What did you do last summer when they came?
FL: We went to the beach almost every day last summer; it was like 200 degrees here! We'll find some other way to entertain ourselves.
CN: But besides your training and racing, you have to spend your everyday life in a foreign country.
FL: I sleep a good bit more than other people. When I'm training hard, it helps me by taking a nap in the afternoon.
CN: Your siesta.
FL: Exactly!
CN: That's something you really like about Spain.
FL: I take the siesta and add an hour to it. There's nothing else to do here in the afternoon.
CN: You have Paris-Nice coming up next weekend, then what is the rest of your spring program?
FL: Well I couldn't be happier with the way things are going, but Paris-Nice is a much bigger race than Algarve, so I'm taking it one step at a time. Then we have Criterium International with Lance, then Tour of the Basque Country, Paris-Roubaix, Amstel Gold, Fleche Wallone and Liege. After that, I'm going back to the States for a break.
CN: You may remember that another former mountain biker, John Tomac rode Paris-Roubaix as a member of the 7-Eleven team and finished last.
FL: Perfect!
CN: Will this be your first Paris-Roubaix?
FL: No, I did it two years ago and helped George and I think it's a good race for me. I really like it a lot. I didn't finish though; I got hit by the ambulance! He came by me with the bike trailer swinging back and forth behind and the corner clipped my leg and spun me upside down. I had to get stitches and got a big scar. [Landis shows CN an ugly 5cm x 2cm scar.] Then I got in the ambulance! It was like they said "here's one guy we don't have to wait for" so they just knocked me down!
CN: Did you feel at home on the pavé two years ago when it was raining and wet?
FL: Oh yeah. I liked working for George and Max and so we'll see what happens this year.
CN: I saw a picture of you from a previous European race win at the Tour of Poitou-Charentes in 2000. How would you compare that to your win in Algarve?
FL: Algarve was a better win for me. I won the stage with the uphill finish, while the other race was more tactical, where I got in the right breaks but didn't win a stage. [Poitou-Charentes] is a good race but I haven't ridden it since.
CN: How did the win in Portugal change your outlook? Like when you got home and hung the leaders' jersey up in your apartment what came to mind?
FL: Oh, it was good for my head! I needed to start 2004 that way after the way last year went. In the end, last year turned out as a successful year. I started out very bad and ended up OK. But it wasn't what I had in mind so this year, I had to get everything right from the beginning. It was good to get back on track to where I thought I should have been last year.
CN: How's your hip doing?
FL: No problems at all. Once in a while, I feel like I can tell it's gonna' rain or something! Maybe I'm getting old!
CN: Looking forward, do you have any aspirations of riding the Olympics in August or Worlds in October?
FL: Yeah! Obviously, the Olympics is the big show but I don't know what's involved with selecting the riders. But I have to focus on being ready for the Tour and if the Olympics and World's happen, they happen, but the Tour is the big thing. The Tour de France is such a tremendous amount of stress, it's hard to look past it. The stress at the Tour just doesn't stop.
CN: Since you're now a noted music connoisseur, what are you listening to these days?
FL: I was listening to Bruce Springsteen's 'Born To Run' yesterday. and Lynrd Skynrd is back. They never get too far from my CD player. plus I watch MTV just to make sure I know what's new. Kid Rock has a new one out that's quite good actually and Bob Seger's been on the CD player too. You get the idea there.
CN: Good old American rock 'n' roll. Hard to come by in Gerona, Spain. No techno in the Floyd Landis listening library.
FL: No techno allowed in my house. It makes me mental. I don't mind being in Spain, but I don't go to the clubs. I can't take that stuff. I don't get it.
CN: Do you want to shout out to your homies in Temecula, CA. or Farmerville, PA.?
FL: Yeah! Say hi to both of those places. I don't know if they have the internet in Farmerville yet, so we can say hi to Temecula at least!
After talking with Cyclingnews for almost an hour, it was time for Floyd's siesta, so we left the up and coming American rider to dream of next week's Paris-Nice and helping Lance Armstrong to a sixth consecutive Tour de France win next July.