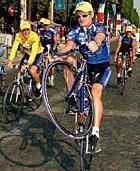 Floyd in action
Photo: © AFP
Hangin' In There: The Floyd Landis Journal
During last year's Tour de France, Cyclingnews welcomed Floyd Landis as a reporter. The talented, gutsy, 26 year old former mountain biker had ridden his way to a start in the Tour as a key part of Lance Armstrong's USPS squad, and Landis went on to distinguish himself as an important member of the now legendary "Blue Train" at Le Tour. Floyd also endeared himself to Cyclingnews readers for his unique take on an American rookie's life in the Tour De France peloton.
In 2003, Cyclingnews is pleased to announce the return of Floyd with his exclusive journal "Hangin' In There."
Crashing Into The New Year
January 28, 2003
This was supposed to be the first year in my cycling career when I could start a season with no stress and focus only on what I have to do to win races. I have the support and confidence of the world's best cycling team and a mentor who has won four Tour de France titles. But two weeks ago, while taking an easy ride after a gym workout, I found a way to add some stress to the situation.
On a road I have ridden many times and on which I have never broken a hip before, I managed to crash and do so! I guess you learn something every day, and sure enough, the thought of a broken hip was the farthest thing from my mind when it happened. I came to the bottom of a steep downhill and attempted to navigate a right turn. Anyone who rides a bike will know that this is a common skill; I add this because several people have already asked me if I was screwing around or doing a wheelie or something dangerous.
As I turned, I hit some sand, which was not visible at all and not there previously. Before I had time to react, I was down on the ground and unable to twist my foot to unclip.
Luckily I was alone, because I take pride in my ability to stay on my bike and anyone witnessing my crash would certainly think otherwise. On the other hand, I have no witnesses to confirm the fact that I was just riding along like a normal cyclist would have. Well, just in case any of you reading this ever find yourself in that position, meaning you're just laying there in the road, unable to move but not wanting any cars to come along and finish you off…well, you're in luck, because I am going to share a few simple tips with you which may or may not be obvious in this dilemma.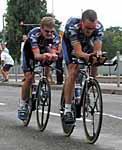 Working hard in '02
Photo: © Byron Hukee
First, just reach down with both hands and grab the useless foot, which is still clipped in, and twist it out of the pedal. Just ignore the throbbing and narrow field of vision; this is just due to the sharp, shooting pain in your hip and is nothing compared to the X-ray positions you are soon to be expected to hold at the hospital.
Second, I have to give some credit here to a squirrel I once saw, which had gotten his ass run over and could only use his front legs to get across the road. Sorry, I just put that in for shock value, but that gives you a good idea how I got off the road.
You might think, since you weren't there that I should just stand up on one foot and hop off the road, but trust me, that was not an option. Well, now that you are off the road, hopefully, like for me, there will be no place to sit and lots of sharp weeds on the only flat part of the shoulder and you will just go back and sit on the road that you just left.
Next, take out your handy dandy cell phone and call your wife, remembering to speak to her in a tone that implies that it is her fault, since this will get her to show up in a much more sympathetic mood. Now that you know help is on the way, prepare for some of the cars passing by to stop and ask if you are ok. When this happens, just look at them as if you are afraid that they are going to kill you and yell "please don't hit me again", then roll down off the bank beside the road. If you do this, please let me know what happens. So when your wife or whoever you called finally arrives, you will have probably worked enough courage to get up on your good leg and throw yourself in the car.
Now comes the explaining and I can't help you with that, because what I did didn't work. I can tell you that you'll probably yell at whoever's driving about every single thing they do, like don't drive so slow; don't go so fast around turns, it hurts; don't stop so fast, it hurts, and of course, drive faster we have to get to the 'emergency' room.
Well I think that that is quite enough sarcasm for today. I really am doing just fine now, and will be riding my stationary bike in a few weeks and will not lose too much fitness. I was lucky at the hospital; a friend of mine, Brent Kay, who is a doctor and fellow cyclist, came along and oversaw my operation. If not for his being there, I would have had to wait until the next morning for my operation, but Brent explained the urgency of the situation and so the orthopedic surgeon started on me right away.
I have no room to complain, but it has been two weeks now since my crash and every day is a beautiful, sunny, and warm Southern California day. I really don't know if I can make it through six weeks before I can ride outside again. We will just have to wait and see.
Until next time
Floyd
Click here to send Floyd a get-well message