Recently on Cyclingnews.com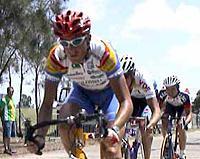 Photo: © Bob Bykerk
Moving on up: The Trent Wilson Journal 2004
After being one of six iTeamNova riders who made the cut last year when his Aussie Div III team merged with RDM-Flanders to form Flanders-iTeamNova, "Willo's" earned a place in Division II with Colombia Selle Italia in 2004. Follow his progress and get a taste of Aussie humour as he lights up the road in Europe. Trent also his own web site at www.trentwilson78.com where you can find out even more about this Sydney rider.
August 22, 2004
Crit crazy
G'day,
A look at one of the post-Tour crits
Photo ©: Trent Wilson

Russ and I headed to Holland to ride the post Tour crits at the end of July and start of August. The racing was pretty straightforward, it was the pre and post-race drama and action that made for a few laughs, dummy spits and memories.
The month before was spent sending emails, making phone calls and organizing which crits, or rather, how many crits we were going to ride. There was one reason and one reason only why we were going to Holland... the coin.
The post Tour crits, to put in one word, is a 'circus'. The races are run around the most centrally-found spot in any town, over the most brutal pave and around the most deadly corners. They start anywhere between 7-9pm and consist of generally 50-odd laps, to complete 100km. All the crits contain at least three or four 'big hitters' from the Tour de France, other riders from the Tour, and other riders from the pro peloton to fill up the field of generally around 50 or so riders. Every crit has bars, beer tents, concerts and fairs going on while you're racing. There are drunks everywhere and the noise of the festival, the crowd and the crunching of plastic beer cups under your tyres makes for a good race.
Oh yeah, the crits definitely don't improve your form on the bike... well, I'm actually travelling better after the crits than before, but as a rule, they usually put a dint in your form. The crits finish around 11pm, you're then off to the showers to get cleaned upped and then off to hand your number in and collect your money. Then of course, your gotta up a few quiet ones with the boys to relax, so you can eventually get to sleep when you get home. Then it's usually a good two hour drive home including a servo feed. I was over servo sandwiches by the end. So it was at least 2am before you got to bed every night, where you'd sleep in to get 8hrs sleep, before going for a short spin on your bike, before doing it all over again. Hope that doesn't sound like I'm complaining, 'cause its totally the opposite. I had fun, I got some km's in, got race km's in, lapped up the atmosphere and got to catch up with mates. Better still, I actually came home with better form, especially after a few 12hr nights' sleep.
Ronde van Boxmeer criterium - NE, Netherlands, July 26, 2004
Everything seemed to be organized as we left our small little Italian town to race eight crits and four road races in 17 days. Russ and I jumped on an 11.30am flight and arrived in Amsterdam at 1.30pm. The plan was to hope someone pick us up. So plan no. 1 failed immediately. Plan no. 2 was to hire a car, no worries right? That was till we almost had the car keys in our hands, when the computer screen in front of the lady in charge flashed up: "If you give these Aussies a hire car with this credit rating and previous record you've lost ya mind." So we were left in a situation and I wasn't prepared to hang around and wait for options to come. I headed for the train with Russ in tow. Two hours and four trains later we'd be at Boxmeer where the race is, with 40mins to spare, barring hiccups! Yeah, that's right, hiccup number one was when train number two sat on the rails for 15mins, so we then missed our connecting train.
We rang the promoter three times - to tell him we'd be there and all is good - then, we'll be just on time - to, yeah, we will miss the start. On the fourth and final train after coming to grips that I am actually catching a train to a bike race, and then overcoming severe stress which was backed up by Russ's relaxed, who cares, attitude, it just gets worse. We decided that if we're going to race we better get ready. We pulled the bikes outta the bags and dressed in the bike kit fully ready to race. Can you imagine the looks we got when we got off the train in totally different kit to what we got on with, and a bike. It was like a superman change.
I rode half the course wheeling my suitcase and carrying my backpack. We got anything from applause, to laughter, to one guy yelling, "you can crash at my place". It was halfway between embarrassment and an entry like never before. We got there just as they were finishing their parade lap, and jumped in, hunger flat and 50psi in the tyres.
The race itself was actually pretty uneventful. It was a nice flowing circuit with minimal pave. It was probably my favourite course out of all of them when I look back. We finished the race and in the middle of it all, Russ had organized a lift home. An absolute legend mate of ours, Vince, picked us up and let us crash at his house. The hunger flat had worn off and after a day like that I had to kick back and enjoy a cold bevie, then followed by food and sleep. What a day!
21st Profronde van Stiphout - NE, Netherlands, July 27, 2004
Team Cyclingnews' David "Harro" Harrigan kicks back
Photo ©: Trent Wilson

After a short ride and a brew shop stop in the morning, there was more organizing to get to the next crit in Stiphout. Another friend dropped us off and I hooked up Harro to pick us up; he was going to put us up for a few nights. I felt like a drifter! The race was a late one, with a 9.30pm start, and the big fella himself was there, Lance. The crowd was huge and the atmosphere even bigger. There was even a punch-on before the start between two photographers trying to get photos of Lance. So two days after his sixth victory, Lance won again in Stiphout. Harro saved the day, picked us up and took us home. A few quiet ones with Chookman's 'good thing' fiancée and we hit the hay.
The next day was a day off from the crits, but we're gotta train at some stage too. We headed out for five hours with our mate Kristof. Wasn't a bad ride but was just so tired from the late nights.
Wateringse Wielerdag - NE, Netherlands, July 29, 2004
Onto the third crit, Wateringse. Was definitely not my favourite crit. I had sore legs and a sore undercarriage from all the pave, and this crit didn't help with 90% of it being pave. I got my head around it, got through it and got home. Robbie took the win. It was a bit of a drive home, so it was more servo sandwiches for dinner. They were tasty the first few days but I was already getting sick of 'em.
Profronde Heerlen - NE, Netherlands, July 30, 2004
The next day we had a real bright idea that we'd don the backpack, ride 140km to where the crit is, then stay the night at Russ's relatives and get a lift for Saturday's crit. It actually didn't turn out as bad as I thought. I packed as minimal as possible so the backpack wasn't too heavy and we made a day of it. We stopped for a coffee and breakky after 50km, and then had lunch in Maastricht at a fantastic café. Russ and I left Harro with 30km to go for us, and a return trip for the hard man Harro of 110km. We arrived in Heerlen a few hours before the crit and Russ's relo's Yvonne and Huup at Hotel California made us feel at home. A great pasta feed and an hour of kickin' back, it was time to put the kit back on and do it all again. The crit was a late one, on a great circuit with probably one of the best crowds. All the riders got a bunch of roses on the start line to give to some lucky lady on the parade lap. The atmosphere was great and was probably my favourite crit.
37th Spektakel van Steenwijk - NE, Netherlands, July 31, 2004
After a 240km day, I slept like a baby and had no training to do this morning. We only had a good three hour drive ahead of us to the only crit in far north Holland. The day was uneventful and for once nothing went wrong, so I was happy with uneventful. Our mate Kristof gave Russ and I a lift to the crit and home again. We stayed at his house in Mechalen after having a few well deserved bevies before bed. The crit was again majority pave and was definitely not a fav of mine. It was a tight circuit with a few hairpin corners which weren't nice to the legs. I was counting the laps down and was rapt once this crit was finished.
Sunday... day of rest. Apart from Kristof getting up at the crack of dawn for a bunch ride of around 100km, it was virtually a day off for the body. To make this day even better we did what Aussie's do best, have barbies! Thing was, we hadn't had a barbie for six months, then we get three invites for a barbie in one day, go figure...
Robbie McEwen threw a lunchtime Barbie at his lovely house in the countryside of Belg. You couldn't get more Aussie; there were about nine Aussies including Russ, myself, Gatesy, McFann, Big Red and of course the hosts. To polish off the Aussie day, Stuey won the HEW Cyclassics. Coming into the last few km's there were names being dropped for the win, when Robbie called out, "A tenna on Stuey." Everyone looked and thought, not a bad call, he's a chance. So when he got the win there was a big ovation. A great feed and a nice few ales were downed before we had to move on to the next BBQ.
Aussie barbie outta control!
Photo ©: Trent Wilson
My good mate Karl Becker who is Aussie but living in Gent, and now engaged to his girlfriend Katrin, was up another birthday. It was new venue for dinner, more meat, more beer and more Aussies. Harro made an appearance again, as did Andrew Torney. Another great barbie that went slightly askew when the BBQ went up in flames (see photo).
Draai van de Kaai - NE, Roosendaal, Netherlands, August 2, 2004
After eating half a cow the day before, I thought I better get out on the bike Monday morning before doing one more last crit before returning to Italy for a day. The last crit at Roosendal was the hardest of all the crits and the worst course. It was pave for the majority of the course with one really tight hairpin that snapped the legs off every lap. It didn't help when I went hunger flat with 10 laps to go. I was counting the laps down in this one especially. They put on a fantastic buffet for us after the race which got a flogging after being hunger flat in the race. Boonen took the win.
Tuesday was the day we flew home to Italy for two nights. Wasn't too happy with that arrangement, but you gotta do what you gotta do. Our team wanted us back for one road race in the middle of the crits, so we flew back to Italy Tuesday, then back to Belg Thursday. We headed out for a nice recovery ride with the Cyclingnews team and finished off at the local brew shop. Nice way to finish the first part of our criterium trip in northern Europe.
More crit action, drama and laughs to come.
Cheers, Willo