The Scott Sunderland Diary 2004
Milan-San Remo
Italy, March 20, 2004
The seven year itch
Scott Sunderland (Alessio-Bianchi)
Photo ©: Lars Rønbøg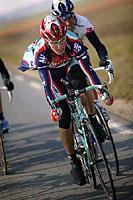 It's been seven years since I last raced Milan-San Remo in 1997 and I was really happy to be back. It's a nice race and I've always liked it. It can be dangerous and you have to be on the ball at all times, but I enjoyed my day out. It was a good day also because I feel OK. I think the shape will be right for the coming classics.
Pre-race
On Friday I went for a bit of a ride near Monza, and the traffic was terrible. So I headed over to the car racetrack... well, just the park around it actually. I tried to get on the track but the guy there didn't let me.
"But I'm riding a Bianchi! This is made in Italy! Goes fast! " I said, just pulling his chain.
He said : "The cars will run you straight over, but you can pay 3 euros for a look."
"Nah, that's OK," I said.
I did four or five laps around the park there and that was my training for the day.
Race day
I jumped about 20 times at the beginning just to follow the moves and try and get in a successful break. If there were any more than five guys I wanted to be with it. Eventually, just as I sat back to eat a bit, the break with Dierckxsens went, I tried to get across, but I didn't make it, so then it was just a matter of saving energy until the final.
I was probably 40th over the Cipressa; I had a good descent and had good position. Bartoli and Rebellin dropped themselves on a corner and I was just behind it. Most years someone goes down there. I just flicked to the right and got out of it OK.
But there were just too many riders in the finale, and it wasn't only because of the tailwind. The quality of the peloton, especially the first 20-22 teams in the World Cup, means that the level is very high. The team leaders are protected till the last kilometres.
I remember when I did this in the early nineties, we had 30 or 40 guys before the Poggio - the last climb. Now we came to the foot of the Poggio with 80-100!
I thought I was sitting perfectly with 1 km to go to the Poggio, in the first 10; but got caught against the wall and got swamped as we turned right to start the climb. I was good but no way I had enough horsepower to go around everyone! Van Petegem said that he made his move at the last minute before the climb and thus avoided the situation I put myself in. I was having too much of an adrenalin rush I guess...
There was a headwind off the Poggio and someone left the wheel go on the way down. The gap was 50m and there was no way we could close it up. There was no-one there who was able to put it on the line. Tom Boonen was sitting further back then I was and got caught out too, he was pissed off as well.
The Primavera is a tiring race but it's not a race that wrecks you like Flanders and Roubaix can. The whole race is an adrenalin crescendo to the Cipressa and Poggio.
I had good legs, I felt alright. Of course, the result could have been better but Zabel would be saying that too! I think he'll have consumed a few glasses of wine or a few beers to get to sleep Saturday night. Erik is a great sprinter - he knows what he's got to do, this was just a mistake; a costly one I agree.
Baldato lucks out
Our team leader Fabio Baldato hit a hole with his back wheel just before the Poggio. Sometimes a carbon wheel will split or get a little crack in it when that happens. Unfortunately it was too late to get a change. On the Poggio his back wheel kept locking up. Whatever it was, it caused him to drop back through the field. He was sitting really well before that but ended up at the back of the group on the flat with two kms to go, and although Moreni and Pellizotti tried to move him up, he had to come from too far back to do the sprint. He finished 16th but was really disappointed.
It was just unfortunate and it's a pity for him and also for the team for the Tour of Flanders, the following World Cup Race. Our positions in San Remo determined the order that the team cars go in in the Tour of Flanders, and of course it's important to be near the front to service all the riders.
Party in the Rabo bus
After the race, Magnus and myself got a lift from the Rabobank guys to the airport in Nice. We got in the bus and I can tell you, Frans Maessen (team director) was very cheerful. There were beers all round - Heineken, what else! And we all listened to Frans yahooing and carrying on about how happy he was!
Up next? Dwars door Vlaanderen(Wednesday), E3 Prijs in Harelbeke (Saturday) and Brabantse Pijl (Sunday)
Talk you then!
p.s. Thanks for the ride Pete (Bus driver)
Photography (from Paris-Nice)
Images by Lars Rønbøg/www.picturesport.com