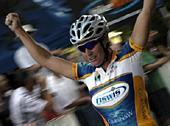 Photo: © Shane Goss
Speedy Gilmore: The Rochelle Gilmore Journal 2004
Rochelle Gilmore - super sprinter and scratch race silver medallist at the 2002 world track championships - is a woman full of ambition. After proving her prowess on the track, she's aiming to forge a successful career on the road, and in 2004, she'll riding for Denmark-based Team S.A.T.S. Follow Rochelle as she attempts to rise to the top of the tree in 2004.
Nature Valley Grand Prix, June 11 & 12, 2004
Confusion & rains - time to take a break
The third stage of the Nature Valley tour was to be a 45 minute crit in down town Minneapolis. Due to thunder storms and rain the crit was reduced to a 30 min demonstration event. The intermediate sprints were cancelled and the race did not count towards the general classification. Riders protested before the race causing a 45 minute delay on the start. A final decision was made by the race officials that riders were only required to roll around the course for 15 minutes - they could then retire from the race without a penalty. Race leader Lyne Bessette and her team (Quark) demanded that the first 15 minutes be neutralised.
At the 15 minute mark more than half the field pulled out (including myself) while those remaining started to race hard on the wet, technical course. Three riders crashed on the first lap after the 15 minutes - a team Quark rider fell quite hard proving that it was extremely dangerous conditions.
Team-mates
Photo: © Rochelle & friends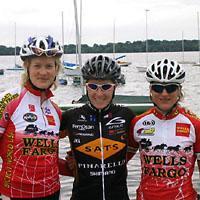 I am riding this tour with an American team called Wells Fargo. I am traveling and staying with two riders from the team, Melissa Sanborn and Becky Broeder. They're two really fun chicks and they're making my time in the US very enjoyable despite my disappointing level of fitness following my surgery.
In the crit last night Melissa again proved her sprinting ability finishing third to Sarah Uhl and Jo Kiezanowski. Melissa took her first NRC victory a couple weeks ago at Tour of Somerville.
Today's stage was an 80 mile undulating road stage in 88F heat. I didn't last too long today - it wasn't my shoulder but a combination of many things. The stage ended in dispute with riders taking an incorrect right hand turn only 1km from the finish. Unfortunately Melissa and Becky were amongst those front riders who turned right. We are yet to hear today's official stage results.
Tomorrow I will witness the brutal criterium from the road's edge. I believe there is a 17 percent hill in the short circuit which would have been impossible for me with my injured collar bone!
Monday I fly to Italy where I will train and stay with the AIS team. I will meet with my team 'SATS' on Thursday at the 4 day tour- Trentino. The tour is extremely hilly and will be great preparation for the Giro.
Cheers,
Rochelle