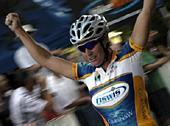 Photo: © Shane Goss
Speedy Gilmore: The Rochelle Gilmore Journal 2004
Rochelle Gilmore - super sprinter and scratch race silver medallist at the 2002 world track championships - is a woman full of ambition. After proving her prowess on the track, she's aiming to forge a successful career on the road, and in 2004, she'll riding for Denmark-based Team S.A.T.S. Follow Rochelle as she attempts to rise to the top of the tree in 2004.
Nature Valley Grand Prix, June 9 & 10, 2004
Back on the road in the USA
I did go to Philly but I decided not to race. My flight from Oz was very uncomfortable.
I had a great time catching up with my team (SATS) there. I'm happy that I got to see them all even if it was only for a couple of days. I must say that I am very impressed with the support I have had from the team, they have answered to every request I have made this year in regards to my track ambitions, demanding a custom fit frame, racing Nature Valley in the states, training in Italy with the AIS etc.. My new custom 'Pinarello Dogma' was ready when I arrived. I raced on it today and it feels great, BUT... the colours, can't say I like it and it's a little embarrassing because it's painted in the colours of the world champs stripes- perhaps they were as confident as I was about the scratch race. Errrr.
It was very motivating watching the race (Philly) from the car. Of course I just wanted to be out there. Looks like a great course for a fit sprinter!
Nature Valley started yesterday with a 5.4 mile TT on a bike path. It was a real test for me as I had not been on the road since the operation only 10 days before. I still scream, groan, and pull faces trying to take my top off, but riding is not so bad! It was also my first time on the new bike so I decided not to race the TT but to just ride the course in a small gear and see how the shoulder held up.
Today's road stage was about 130km on rough flat roads. The bunch just rolled along most of the day and it was rarely strung out. I found the American bunch much quieter than those in Europe, the riders don't ride so close or swear at each other and they don't take as many risks. They were not very aggressive either.
I just sat in the bunch until the timed finish and then I pulled out. It's a weird set up here; they have a timed finish for GC about 5-10 miles out from the real end of the race. Once you have passed the GC finish you do not have to complete the finish laps around a small circuit. My main concern was crashing- that's why I chose not to get involved in the sprints, it's just too dangerous at this point of my recovery. As predicted, there was a big crash in the sprint- with 100m to go about 10 riders fell.
Yesterday's TT was won by Lyne Besette and today Gina Grain took the sprint for the stage win.
It feels great to be back on the bike working towards that level of fitness that I'll need to reach for the Giro.
Tomorrow night's stage is a flat fast criterium. I am very concerned as I lost about 10 positions at every turn today being over cautious. I'll let you know how I get on.
Cheers,
Rochelle