Recently on Cyclingnews.com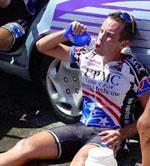 Photo: © Franklin Reyes
Papillon: The Joe Papp Diary 2004
Joe Papp is a UCI Elite rider with the UPMC cycling team. He was a double stage winner at the 2003 Vuelta a Cuba (UCI 2.5) and in 2002 won the GS Mengoni Grand Prix, the BMC NYC Cycling Classic for elite amateur men and a stage at Superweek, among other events. Joe's writing is good enough to make boring races intriguing and intriguing races captivating.
Univest GP and beyond... finish of the US Season
Part 1: Univest Grand Prix - 1.6, Souderton, Pennsylvania, USA, September 18, 2004
Friday, September 17, 2004
When my younger brother David rang me on my mobile today and asked if I thought that Hurricane Ivan would have a major impact on the outcome of tomorrow's Univest GP, I was nonplussed. My first thought was that my non-cyclist sibling had been secretly following this year's domestic road scene until he had a good feel for who was hot and who was not. And Colavita's Ivan Dominguez has certainly been hot. Then I started to worry that he had inside knowledge that I hadn't come across yet - namely, that Dominguez, known as the "Cuban Missile," had a new nickname. Blame it on the rain, but it took me a few labored seconds as my teammates and I drove through eastern Pennsylvania en route to Souderton to realize that my dear brother was simply commenting on the ominous weather system that had been battering the USA all week. Doh.
Memories...
Photo ©: Joe Papp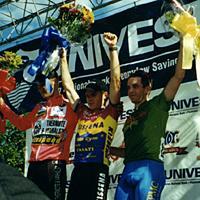 The Univest Grand Prix is my road racing version of the Tour of Somerville criterium - an event that I love, that I look forward to riding every year and that I'm desperate to win before I retire. Just like at Somerville, my best placing at Univest has been a 3rd, when Alex Lavalle won solo in 1999 and Tom Boonen just beat me in the sprint from our tiny chase group. The race, which is promoted by John Eustice, is this year ranked 1.6 on the UCI calendar. For the first time, there will also be a criterium on Sunday after tomorrow's classic, and there will be an overall omnium. My teammates aren't fanatics about Univest like I am, but they're always game for a good hard race. Representing the ACT-UPMC squad would be Alejandro Acton, Gerardo "Jerry the Mouse" Castro, Eneas Freyre, Mateo Sasso, Alvaro "Coto" Tardaguila and yours.
We breezed through the registration process then went to meet-up with our host housing, which for me is always a moment filled with trepidation. Ever since Ryan McDermitt and I were assigned host housing in a mobile home in Ohio in 1996, I've always been slightly nervous about where we'll end-up. It was an unfounded fear with the Univest GP, however, as the local populace are enthusiastic supporters of the race, and our hosts were all far more educated, refined and affable than any of us.
The six-man team would be spread out over three houses, but since Eneas and his fiancée Nancy (who doubles as our support staff, and we love her for that) are staying with friends in Doylestown, I was the odd man out. That is, until Aidan Charles, who rides for the ACT-UPMC under-23 team, showed up looking for his host housing. I didn't even know he was riding for a composite team this weekend, but we paired up and headed out into the hills. After first dropping off Mateo and Coto, we were the next to reach our house, before Jerry and Alejandro continued on to the final stop.
Aidan and I are staying with Greg and Terry and their kids in lovely Pennsburg, PA. After walking through the front door of their fantastic home, I was ready to leave Mike Fraysse's Victorian mansion for Montgomery County! Ok, maybe not, but after a few minutes of conversation with Greg and Terry, it was clearly evident that these were some of the nicest hosts that vagabond cyclists could hope to find. If we ride like whipped dogs this weekend, it won't because we were sleeping on lumpy beds, had lousy food or otherwise were lacking creature comforts.
Saturday, September 18: Univest GP
The real Hurricane Ivan left me an emotionally battered, bruised boy this morning, and that was before I even threw a leg over the ol' Fuji. Remnants of the tropical storm that absolutely kicked the stuffing out of a large swath of the United States arrived in Pennsylvania last night and annihilated the Univest Grand Prix. Part of the race's charm is that, much like the Housatonic Valley Classic in Connecticut (also a Eustice event), the GP is run over steep hills on narrow roads throughout the countryside, before finishing with exciting laps on a short but challenging circuit in the main town. Unfortunately, this morning those narrow roads were either flooded or covered in rock slides as a result of the storm, and the Univest GP as we'd planned for wasn't to be. The conditions were so bad, in fact, that we flatted one of the tires in our team van while traversing a boulder field (previously a secondary road) on the way to Souderton. We had a little luck upon arriving in town in that we found a place to park underneath the awning of a drive-through banking window, and after Eneas arrived, the entire team would be dry for a bit.
I give credit to Eustice, who handled the disaster with aplomb. The women were actually racing on the circuit when we arrived (in the middle of a torrential downpour laced with gusts of wind that sliced through tiny Souderton), and after an hour's delay, it was decided that the men would race about 130km solely on the finishing circuits; that's 27 laps, 27 times up the stiff feed zone climb. Gulp.
The course is technically challenging. Less than a block after the start/finish line, there is the first turn, a not-quite 90-degree off-camber bend into a gradual downhill of about two blocks before a tight 90-degree right that takes you from a road that is about three lanes wide to what seems like a narrow lane-and-a-half. This is Wile Avenue, the approach to the feedzone climb, but before you go up, you must go down and thus there is a short, shallow descent before you hit the hill. You can big ring the climb though with 27 laps it's safe to say that I would be going up it in a 39x19 if not the 21 in order to save the legs a bit. No wannabe McCormack impressions here.
The climb is short and direct, and the worst part lasts only about a minute, but then it's a false flat for the next several blocks before a left, then a quick right into the junior high school parking lot. There is a small median in the road after this turn, and given the wet, slippery conditions, we eventually started riding over it in order to lessen the severity of the bend. It made for an interesting bike handling challenge... No sooner do you hop the median than you turn right again, ride through one parking lot, turn left and ride through another (the worst crosswinds of the course were here) before gradually sweeping right and then intersecting Fourth Street. Turn left, go one block, turn right again onto Erie, two blocks and then right onto South 3rd, flick onto Reliance and flick off onto 4th Street after you ride over a set of railroad tracks. Right turn onto East Summit, one of the longest straightaways on the course and then make a wide left onto Main Street - the finishing stretch. It's about 600m downhill and 150m uphill to the line. Repeat. 26 more times.
When faced with a seemingly impossible task - finishing this race - the best defense is a strong offense, and so I made my way to the front line for the start and promised myself that I would do whatever it took to stay in the top-5 for the first few laps. With a strong European contingent, deplorable conditions and a technical course, dozens of the 150 starters would no doubt be hung out to dry at the back of the field in the opening kilometers, and I didn't want to be anywhere near the carnage. I'm sure my teammates were thinking the same thing, namely that the Europeans would ride incredibly aggressively from the start in order to shed the unmotivated riders and those who didn't trust their skills on the sections of the course that were under several inches of water.
For once the ACT-UPMC team had a serious pre-event strategy session which consisted of our typical plan: get someone into the early move, stay at the front to avoid the falls but conserve energy and protect Coto and me for the second part of the race. Jerry, Mateo and Ale would all be selfless workers, Eneas would be active early but able to ride his own race, Coto would try his hardest not to start at the back like he always does and I would be at the front from the start but still trying to conserve energy.
Cameron Hughes of Subway also wanted to avoid any melees, and after the drop of the flag we were one-two through the first and second turns, and down the short descent that leads to the feedzone climb. We flew up the hill, never looking back, and by the time we swept through the three quick turns that took the peloton through the windswept school parking lot and then out to another part of Souderton, a break had formed. I was ahead with Dutchman Jurgen van Pelt, winner of several stages of this year's Vuelta a Cuba, and two other riders. The field reacted with desperation, and pursued us as if we'd attacked with 10km to go in the World Championships. It was epic, and despite the tremendous amount of racing left to complete, this first move set in motion a selection that would eventually cull the field to only 31 finishers by the end.
While a first-lap attack wasn't part of my initial plan, my good starting position and the willingness of my breakaway partners to ride hard made it seem worthwhile, given the damage that was being done to the field just from the course and conditions, never mind someone pushing the pace! If you started at the back and didn't get to the front extremely quickly, your race was over by virtue of the hard, hard pace and the groups of riders that were falling and/or abandoning en masse.
In fact, the data from my powermeter shows that the most intense 20 minutes of the race were the first 20 minutes we rode! Unfortunately, while I was starting on the front line, my Latino teammates were starting at the back, with Eneas plopped down somewhere in the middle of the bunch. Ugh. The hellish conditions made organized action fairly difficult, to paraphrase a friend, and there would have been no point served by me dropping 40 riders back in order to look for the boys.
Jerry, being the awesome bike handler that he is and a former BMX national champ in Uruguay, fought his way through the carnage and into the front group. In fact, when the first major split happened, it was he who represented ACT-UPMC by bridging solo to the break, where he would remain until I joined him much later. Eneas, by virtue of his great form and determination to be a part of the action also moved up into the first part of the field and would stay out of danger for the rest of the day. Alas, old habits are tough to break and Coto started too far back. Both he and Mateo were the victims of a mass pile-up on the second lap, with Coto falling and Mateo being stopped by the crash, unable to rejoin the field. As they say in Spanish, Alejandro's motor was simply "fundido" and he wouldn't be a factor at all today.
The actual race was a blur for, except for a few key sections. Although the Belgians were very, very strong, no one team could control the race and the attacking was incessant, non-stop. Moves were going over the top of the climb and on the straightaways between turns on the backside of the course, but as soon as one rider had attacked and some other bridged, the field would claw its way back up to the front before the cycle would repeat. I was amazed to learn, however, that Stephane Bonsergent (Alderfer Auction Company) had gone away on his own soon after our move, but with visibility as bad as it was, and no time checks on the road, it didn't come as a complete surprise.
At the time, I couldn't be bothered to worry if one or two guys were up ahead, since it was sometimes a struggle just to stay upright. Michael Lange, who would finish the day as the first American (in 6th overall) was caught by a gust of wind and pulled across a tree lawn and into a separate parking lot at the school after he had attacked us going into the turns! To his credit, he kept the bike upright and carried on with his move. Bravo.
Eventually, the decimated field split into three groups plus the solo leader, and Eneas and I found ourselves in group two, but still in the race, with Jerry up ahead in the first group. I've never been in one, but I imagine that the style of racing was reminiscent of a knock-down, drag-out street brawl, with riders hurling themselves up the road and those who were left behind savagely fighting to rejoin the leaders. Jerry had his hands full up ahead, and Eneas and I were becoming increasingly frustrated by the inability of at least one of use to join our teammate. When a tough, stocky Frenchman attacked on E. Summit at the close of a lap, I saw my chance and belatedly set off in pursuit. I never succeeded in sliding into his draft, but I matched him pull-for-pull down Main Street, always 10 meters from his back wheel! I caught him on the little rise to the finish line, and we swapped a few short, quick pulls before we finally linked up with Gerardo's group on the feedzone climb.
It was at this exact moment that the most important selection of the race was made. No sooner had the two of us caught the back of the group than a handful of riders escaped off the front. It wasn't because I was making some tactical decision to hold back that I didn't follow. Rather, I had reached my maximum exertion level after participating in almost every single previous attack and then the bridge with the Frenchman, and I needed time to recover. Jerry was equally stuffed after having ridden in the break/chase/first group since the third lap, and despite my urging him on he couldn't find the strength to accelerate across the gap on his own. Game just about over.
With 10 laps to go, and the field spread out all over the course, my hopes of a podium finish were dashed and I desperately wanted to abandon. I couldn't bring myself to climb off the bike, however, since I knew that minutes after I stopped I would be racked with feelings of shame and guilt for having quit when my legs still had life left in them. I took the opposite path, and instead attacked solo in an attempt to bridge the 45 second gap to the group ahead of me, which then would have been the third on the road (some of the riders had gone up ahead from the group we were riding in, and one or two had been dropped from the major selection that was further ahead). At least, I thought, if I physically crack and don't make it across, I will stop without having held anything in reserve.
As sometimes happens in the midst of a personal battle, I shocked myself and found that I did have the legs to do it, and I slowly closed on the riders ahead of me. It took me almost two laps, two trips up the climb, almost 11km on my own to bridge, but I did it. I caught them midway up the climb, though Fortune wouldn't smile too indulgently upon me. Just as I made contact with the back of the group, with my vision narrowed to a pinpoint as a result of the incredible effort, several more riders jumped away and eventually bridged to the leading group!
Cameron Hughes (Subway) leads Joe Papp
Photo ©: JS McElvery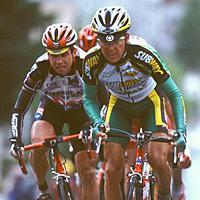 There were about 10 of us left together, and though Eneas eventually crossed with Cameron Hughes, an attack made thereafter by the Australian cut my teammate loose and dropped him out the back. At least Hughes' efforts had brought us to within a minute of the group of nine that was just ahead.
With three laps to go, fatigue wracking my body, I almost crashed while crossing the only set of railroad tracks on the course when my front wheel started to slip and I belatedly reacted to correct it. I fought harder to maintain my focus thereafter.
While Jerry never made it across to our chase group, he was hanging tough in the third group until he flatted on the same lap that I almost crashed. Just as my group and the group ahead were really splintering, Jerry's group came apart while he was receiving service from Mavic, and by the time he had caught up to some riders, they were ready to abandon. With no prospect of catching the next riders ahead on his own, and a bitter taste in his mouth, the Mouse stopped at the team van after he passed through the S/F rather than be the last rider to arrive on the line.
The second-to-last time up the climb, Hughes attacked again, and only Jake Rosenbarger, Andy Lannoo of Belgium and I could follow. We were still gaining on the next group, though when two riders caught back on to our quartet, the chase slowed slightly.
In the closing kilometers of the race, with the victor already decided in a two-up sprint several minutes before, our group started to fragment again as the Europeans attacked. This time I didn't instigate a chase, since my only goal was to win the sprint, which I did, handily. My companions might not have been motivated to contest the finish at 100%, but with omnium points on the line, I couldn't afford not to.
Too wet, cold, tired and hungry to be disappointed in the moments immediately following the finish, I was instead elated to see that the van's flat tire had been fixed by the ACT-UPMC riders who didn't make it to the half-way point of the race! Still, Greg gave Aidan and me a ride back home, stopping along the way to allow me to buy three donuts, a 20oz Coke and three slices of pizza. Proper post-race recovery protocol went out the window in favor of satisfying the post-race cravings. I couldn't even imagine having to race again tomorrow, and didn't feel the urgency to ingest a bottle full of Hammer Nutrition whey protein and complex carbs. Greg did prepare one of the best dinners I've ever had - a simple yet elegant grilled chicken with pasta.
Miss America entertained us in the evening, and the predictability of the Belgians' finishing all six riders this afternoon was nicely complimented in a ying-yang sort-of way by the unexpected win of Miss Alabama, Deidre Downs. Who would have thought it? Certainly no one would have bet on it, since apparently odds have never been laid on the Miss America Pageant because of a lack of interest from high-stakes gamblers. And can you imagine trying to handicap that field?
Part II: Univest GP Criterium
Email Joe at joe@cyclingnews.com