Recently on Cyclingnews.com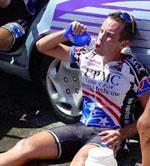 Photo: © Franklin Reyes
Papillon: The Joe Papp Diary 2004
Joe Papp is a UCI Elite rider with the UPMC cycling team. He was a double stage winner at the 2003 Vuelta a Cuba (UCI 2.5) and in 2002 won the GS Mengoni Grand Prix, the BMC NYC Cycling Classic for elite amateur men and a stage at Superweek, among other events. Joe's writing is good enough to make boring races intriguing and intriguing races captivating.
Univest GP and beyond... finish of the US Season
Part 2: Univest GP Criterium - NE, Doylestown, Pennsylvania, USA, September 19, 2004
Sunday, September 19: Univest GP Criterium
After returning from my mid-season break, discussions with my coach Hunter Allen led me to target the Univest GP weekend as my third peak of this long, long year. I had a hiccup in my preparation, in that I got sick after the Green Mountain Stage race and actually went into Univest less fit than I'd been two weeks before in Vermont, but I was still riding well. It's disappointing, however, to expend an enormous amount of mental and physical capital to prepare for an event, only to earn a result that was less than what had been expected or hoped for. Finishing 18th was great in that I completed an incredibly hard race, and I was actually feeling stronger in the closing laps than I'd been at the start, but it's still not even a top-10. These are the vicissitudes of life, no?
Joe Papp at the Univest GP Criterium
Photo ©: JS McElvery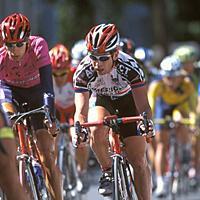 While today's race offered the chance at redemption of sorts, a short criterium doesn't have the same cachet as a tough, one-day "classic." I wasn't super-motivated to ride when I woke up, but the six shots of espresso served up in succession by Gary soon had me nervous with anticipation. My outlook suitably improved, Aidan and I left the house, and Alejandro, who was driving the van, did his best to keep up with Gary in his Porsche.
Alas, Ford Windstar does not equal Porsche 911, and we arrived slightly behind schedule and weren't left much time to warm-up. Nonetheless, after yesterday's debacle, the guys were very motivated and I think we could have shown up two minutes before the start and not suffered any ill effects.
Same plan as yesterday, except that I told the guys that I would be active from the start and not holding anything back for a field sprint. While finishing in the top-5 in the overall omnium would be a small feather in the cap, it was more important for the team to win the stage, and I thought that Coto would have the best chance given how recovered he should be.
The weather was perfect, and while it was chilly with a light breeze, the long-absent sun had reappeared in all its glory. Today's course was the perfect city-center criterium, even though we were racing a few blocks off of the principle avenues in Doylestown. The four-corner course went clockwise, and turn one came almost immediately after the start/finish and led into a one-block-long downhill. Turn two was roughly 90-degrees and could be ridden at insanely fast speeds, but it wasn't a smooth transition and I always held back just a little (nerves). The backstretch was very long and had a slight downhill in it before the road started to rise slightly for turn three, which took you onto a one-block-long uphill to turn four. The home straight was as long as the backstretch, and buffeted with a cross-headwind to boot, so the first 50 meters after the last turn (which were still slightly uphill) were a dead zone. Once you were back up to speed, it was just a question of staying on a good wheel to catch a draft through the swirling wind, or hugging the barriers if you were attacking at the front.
There were a lot of guys in the race today who either didn't compete yesterday or didn't finish, which was a departure from the original rules that stated if you didn't ride Saturday, you didn't ride Sunday. The result was that the pace was 100% full-on from the sound of the gun, as fresh legs tore through the streets of Doylestown.
The ACT-UPMC boys were firing on all cylinders today, except for Alejandro whose motor was spewing just as much oil and smoke as yesterday. Oh well, he did win three stages at the Tour of Korea this summer... Jerry, Mateo, Eneas and I made sure that at least one of us was in every move, while Coto employed his risky starting technique of riding at the back to warm-up. I don't quite think that he was tail-gunning, but he certainly wasn't enjoying a free ride up in the front with us.
An enthusiastic crowd watched the race, cheering us around the entire course. Not nearly as technical as yesterday's circuit, and with weather that was far from epic, today's stage began to follow the typical script of almost any fast, four-corner US criterium: there are attacks, a small break gets a bit of a lead, riders chase or try to bridge from behind and the break is caught. Sprinkle in some intermediate sprints and repeat. Even so, we kept attacking and covering moves, and it finally paid off when Coto emerged from nowhere, as if he'd sprung David Copperfield-like from a trap door just outside turn one and raced up ahead with three other riders. Theirs was a perfect counterattack, and suddenly four very strong riders were up the road. Alvaro was accompanied by the Dutchman van Pelt, who'd beaten him into second during one of the final stages of the Vuelta a Cuba this year, when the two were part of the winning break to San Antonio de los Baños. A Belgian also made the break, as did one of the Endeavour riders.
This move epitomized what it means for a break to "dangle," which they did for over 20 laps, never gaining more than 35 seconds on the field. Nonetheless, with our teammate up the road, the rest of us did all we could to disrupt the chase, short of stationing Alejandro at the last turn to organize the crowd into a human chain to arrest the pursuit. Blocking didn't win us any friends amongst those riders in the field who were interested in working to bring back the escape, as it is an inherently negative tactic, though it serves quite a positive purpose for the rider(s) up the road.
Even though van Pelt had beaten Coto once before, the technical aspects of the finish here were very different than what the break faced so many months ago in Cuba, and we were more than willing to roll the dice and bet on Alvaro's ability to deliver the win. Despite their tenuous lead, I thought the four leaders might hold on, up until the moment when the other Europeans (especially Bonsergent) decided they could close the gap. The pace increased exponentially over the next few laps, and with some of the US riders starting to work in concert with the French and Italians, the escape was quickly put into jeopardy. We'd already planned for this, however, and first Eneas, then Jerry, would counterattack when the field came back together.
(As an aside, we've been riding without race radios all season, which goes to show that the six of us tend to operate on the same wavelength. Not that we wouldn't like to have functional race radios. It's just that the Alinco's that we dream of using are retailing for around $160 a pop.)
With 10 laps to go, it was gruppo compatto, and Eneas made his first move. He tried to draw out some others riders with him, but finding no takers, he went again a few laps later. In a flash, he and Jerry and two other riders had slipped clear of the field, aided by subtle tapping of the brakes on Mateo's part through turns one and two.
There was blood in the water, however, and the sharks in the peloton weren't about to let another group go up the road and ruin their field sprint. I felt horrible by this point after having done an enormous amount of work during the course of the day, but our options were suddenly limited and there was only one lap left to ride. I came out of turn two in the first third of the field, but well out-of-contention for the finish if I didn't move up. When Mateo shouted from behind for me to lead-out him and Eneas, I suddenly had my motivation and was ready to sacrifice myself for my teammates. I jumped on the right side of the road as hard as I could.
Only a split second before, Chad Hartley from Jittery Joe's, who later admitted to keying off me during the closing laps (?!?!), instructed his lead-out man John Murphy to gas it to pull him to the front. They had a slight lead on us as we raced towards the third turn, quickly passing the riders at the head of the field who were slowing slightly to negotiate the corner. In a flash, the two Jittery Joe's skittered through the turn and I followed at nearly three bike lengths. It took major force of will for me to catch Hartley's wheel after turn four, as my leg muscles were fatiguing and every fiber seemed to scream "No más! No más! No más!" Unfortunately, a quick glance back revealed that the other ACT-UPMC boys had been caught in traffic, and I was left on my own to drag race to the line.
A furious finish
Photo ©: JS McElvery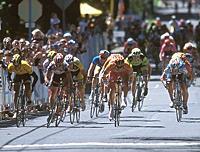 You've seen the results, so you know that Chad took the win in a photo finish, but what a sprint it was! Chad thought that Murphy was starting to crack after we crossed the hump in the final straight and were about 300m from the line. Understandable, given the length of the effort that he'd made up until then. Just as Hartley started to back off a bit to prepare to accelerate on his own, his teammate found a double-top-secret energy reserve and kicked for a few more meters, and then the sprint was really on.
When Chad jumped, I think I heard my Fuji groan as I reacted to stay on his wheel, before starting to come around him on the right. Hartley drifted a bit to try to check my progress, but I ignored it and kept my focus ahead on to the finish. Note: our sprint was squeaky-clean, nothing like Bauer vs. Criquielion circa '88, but it was very close. I could sense that I was gaining on Chad millimeter by millimeter as we approached the banner, and only a few feet from the line, just as I was readying for a bike throw, I knew I'd passed him. We hit the line, I glanced to my left and noticed the mass of my body was indeed in front of Chad's and thought I'd won.
The photo finish
Photo ©: Fred Patton

Fred Patton's finish line camera would prove otherwise, as Chad delivered a contortionist's bike throw to pip me, much like I did to Michael Barry in 1993 when I just beat him for the win in the junior race at the Tour of Somerville. What goes around comes around, though it can be years in the making.
I'd never spoken to Chad before today, though I can report he was a nice guy, a humble victor and a seemingly class rider. My teammates were pissed as hell, however! Well, not really, though they were almost as frustrated as me. Reviewing the photo finish tape just made it worse, since although it was super-close, there was no doubt that Chad did beat me, and he won by virtue of one of the best bike throws that has ever snatched victory from another rider, irrespective of the event or level at which it was ridden!
I don't know where he came from, but Bonsergent finished 3rd to ensure his victory in the overall omnium. Pascal Lievens, second place finisher yesterday, would also finish second overall and Chad, by virtue of his win today, moved into third overall. By scoring 30 points today to go with the eight I won yesterday, I leapfrogged over Kevin Maene (Belgium) and finished fourth with Maene fifth.
Next weekend is the Mengoni GP in Central Park, NYC, our last race together as a team this season. The following week I go to Cuba and then in late-October Eneas and I are off to the Tour of Taiwan with two other riders.
As always, thanks for reading, and don't hesitate to send positive or negative feedback to the address below.
Photography
Images by Joe Papp
Images by Jonathan S. McElvery/www.jsmcelvery.com
Images by Fred Patton/Phoenix Sports Technology/www.phoenix-sports.com
In a photo finish, Chad Hartley beats Joe Papp with a contortionist's bike throw (photo credit: by Fred Patton-Phoenix Sports Technology www.phoenix-sports.com)
Email Joe at joe@cyclingnews.com