Recently on Cyclingnews.com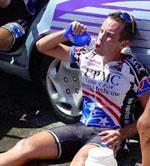 Photo: © Franklin Reyes
Papillon: The Joe Papp Diary 2004
Joe Papp is a UCI Elite rider with the UPMC cycling team. He was a double stage winner at the 2003 Vuelta a Cuba (UCI 2.5) and in 2002 won the GS Mengoni Grand Prix, the BMC NYC Cycling Classic for elite amateur men and a stage at Superweek, among other events. Joe's writing is good enough to make boring races intriguing and intriguing races captivating.
Green Mountain Stage Race, Vermont, USA, September 3-6, 2004
Friday, September 3, 2004 - GMSR Prologue Time Trial
After a killer breakfast of blueberry pancakes, scrambled eggs, bacon and juice, I hopped on my Fuji for a morning pedal. We're just a few miles from the Sugarbush ski station, and the summit of Appalachian Gap (the finish of Sunday's epic road stage) is just up the road, so I planned on at least two hours in order to loosen up for the prologue's tough climb. In fact, tonight's route follows Route 17 up the backside of App Gap, and with the Inn only a ½-mile from the course, I thought I would finish by riding the entire prologue. The last 4.5km are where the real climbing begins, but when I hit 1km to go and saw how steep the road was, I bailed and descended back towards town. My mental note said "Save something for the last kilometre because it's horrible," and while true, I would come to regret not having seen the last 500m of the course.
Men's Podium;
Photo ©: Chris Milliman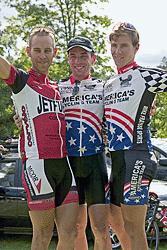 After driving into Waitsfield to pick-up my registration packet and grab a deli sandwich for lunch, I was surprised to see none other than ex-Farm Frites, ex-Mercury, ex-Saeco, ex-Navigators pro Justin Spinelli at the White Horse Inn. A phenomenal talent in the not-so-distant past, Justin is back in New Hampshire, working 8 hours per day in a bike shop, trying to figure out his next move after not being renewed by Navigators and admitting to the world - through stolenunderground.com - that he doped. I was actually surprised to see him racing, since I thought a public admission of doping would draw the same penalty as failing a control, but maybe this marks the dawn of an era in which riders who admit to doping in order to help "clean up the sport" are shown some leniency. But probably not.
The race itself was uneventful for Eneas and me, and had anyone other than waif-like Dominque Perras won, I would have been suspicious. The peloton rolled leisurely out of Waitsfield, and I was sandwiched in the front row with Matt Svatek on my left and Canada's Lynn Bessett on my right, with Mark McCormack just behind. His teammate Todd "el Gato" Herriott was close by, and Larry Perera of Sharper Image-Mathis Brothers was also at the front. We were riding so calmly at the start that I was able to encourage Svatek to do something "memorable" during the stage in hopes of generating content for this diary entry (nothing would be worse than coming all the way up to Vermont to race, wanting to write a diary, and then not doing anything memorable myself from a sporting perspective and not seeing anything interesting in the peloton or off-the-bike worth writing about!). His deadpan response was that the simple act of a non-climber like him riding up the backside of App Gap was insane enough to be noteworthy. Fair enough.
I wish that I'd ridden the final 1km of the mountain, since when I reached the point where I'd turned around earlier this morning after having clawed my way past Charles Dionne of Webcor, I eased off a bit so that I'd have something left for the final 400m of the climb, which were around a bend and out of site. Imagine my chagrin when I realized that the last 500m were a helluva lot easier than the pitch from 1k to 500m to go, and I found myself in a three-up sprint with Jet Fuel Coffee's Kevin Miller and Aaron Fillion of the Ottawa Bicycle Club - at the top of a mountain. Eddie B. once told me that if you have enough energy left to sprint at the finish of a time trial, you didn't go hard enough, and I think that was the case here.
Eneas cracked the top-20, finishing just ahead of Ofoto.com's Scott Zwizanski, and I was 25th. I lost 59 seconds to stage winner Perras, but since the GC is on points and not time, I still have a chance to take the leader's jersey in tomorrow's stage! It's a pipe dream, perhaps, but anything is possible with some good form, a solid teammate and lots of motivation.
Part One - Part Two - Part Three - Part Four - Part Five
Email Joe at joe@cyclingnews.com