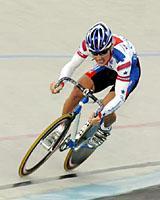 Photo ©: Anthony Bartoli
Carney's last stand: The Jame Carney diary 2004
Welcome to the Jame Carney diary for 2004. One of the US' longest-serving domestic pro riders, Carney is a track endurance specialist and coach of several other American track specialists. He has ridden for the Shaklee and Prime Alliance teams but this year is captain of the Northwestern Mortgage Cycling Team. And the only member. Follow Jame's lively accounts of his adventures as he tries to make it to the World Championships, exclusively on Cyclingnews.com.
www.jamecarney.com
Bicycling Magazine Madison Cup, Lehigh Valley, PA, July 9, 2004
Madison Cup Action (MCA, one of the Beastie Boyz)
The Madison Cup is the biggest event T-town has each year. There must have been at least 5,000 spectators this year. This was a big but pleasant surprise to me because I was getting bummed out with the size of the crowd turn out for the previous two Friday nights that we had racing.
We only had nine teams start (eight finished) but for America, that isn't bad, especially when five of the teams had a true chance to win.
Teams with a fantasy chance
Carney & Carney - Jonas's last ride at T-town. He is retiring after the season.
BTN (Nothstein) + Kiwi Heavy Hitter, Hayden Godfrey - This team was the favorite to win for sure. After all, the BTN is a six-day super star and Hayden is bound for the Olympics in this very event.
Bobba Lou (Bobby Lea) + The George Michael of American track cycling, Kyle Whamsley) - They can sprint with best and they are always a threat to take a lap.
Gui "Puff Daddy" Nelessen & Mike Free-Ham - The combination of a smooth tattooed operator and the brute force of Captain Caveman. They stormed off the front of the last Madison we had at the very end.
Deon Sanders (Eric Saunders) & Dan Marino (Dan Larsen) - NFL power but on the bikes, these guys are strong like swans and as vicious as well. Not much speed to contend with but you can't give this team any breathing room or they will be gone.
The other teams were decent but they weren't going to battle on like Xena for the win.
For the past couple of years the Madison Cup has been held as two separate Madisons that count as one. We do a 50 lap Madison with a sprint every 10 laps and then later in the night we do a 105 lap Madison with a sprint every 15 laps. Whoever has the best combined events wins the title.
Jonas and I really wanted to win this event but we knew we were against some pretty tough odds. I had just came back from Junior Nationals where for ten days I was lucky to ride my bike an hour a day, not a great fitness builder, and Jonas had not touched his track bike more than a hand full of times since last years Nationals (11 months prior). These situations combined with the fact that Marty had brought in a "ringer" (Godfrey) made us the underdogs for sure.
The game plan was to ride smart. Last year, I won the event with Colby Pearce and that was exactly how we won. Colby was having an off day and had been going through knee problems so we had to be extra intelligent that day.
I tend to goof around a lot but when the pressure is on and I have to concentrate and figure things out, the ugly, serious side of me surfaces. I had tried to pressure USADA to show up to this event earlier in the week but of coarse they didn't come. Mike Freidman knew that I tried to do this and made a comment to me before the racing started that USADA was here. He was just joking around with me, but I wasn't in the mood. I knew that wasn't the case so I sternly told him to "Kiss the Rings."
Sorry for getting off on this tangent, but it is as good a time as there is. Doping in America is a problem. Some people can deny it all they want, but it is here, and a problem. In the US, USADA basically only tests at selection events and only does no advance notice (NAN) testing for a very select few individuals. This basically means if you are not on the NAN program and you are not chasing the dream of Olympic or World Championship selection, you can almost 100 percent avoid being tested. If you were to cut out all of the selection events in the USA from your schedule, there would be less then a one percent chance that you would be tested in the US at an event. Let's say you show up to an event and it is a miracle and USADA is there: They are going to tell everyone before the event that there is testing and at most they will only test the top three and a random. If you are a doper, you can simply not get in the top 3 and then play the odds game. The chances of you being tested now is about 1 in 147 chance since about 150 cyclists show up to our big events. Basically what I am saying is that the chances is lees than one percent of one percent that you will be tested in the US if you are just a little careful. Do you see the problem now? Remember, I am just talking about avoiding testing, not beating it. Obviously there are a lot of people out there that know how to beat the tests too. Here is one last little tidbit for you; when randoms are tested in the US, the percentage of them that go positive is much larger than you would expect. Nobody wants you to know this. Why? Because it is shocking. Something has to be done. Please run out in the street right now and scream, "Why Nixon, why?"
Okay, back to the action. Remember, the first Madison was sprint every 10 and the second was sprint every 15. The Ancient Chinese Secret here is that there are five sprints in the first Madison and only seven in the second. If you are going to guard against other teams taking a lap; building a small lead in the first Madison is key because even though the next Madison is much longer, the opportunity for points is very limited. Jonas only likes to sprint in Madisons. He is the Dennis Rodman of the event: defense only.
I can't let all my secrets out yet because I am still going to race next season, so I will just say that everything went as planned in the first Madison. Jonas and I had a lead heading into the second one. Bobby Lea and Kyle impressed my brother in that first ride and thought that they were going to be our biggest obstacle in the final. I agreed that the eye had to be on the Fuji duo.
Frustration, again, becomes my best buddy. The second Madison starts and we continue to build our lead, but just slightly and slowly. No reason to showboat; it is important to let the other teams think that they have a chance in the sprints or attacks will begin to mount. Because there is no scoreboard at T-town it is easy for people to lose track of the point totals. After the first two sprints, three teams, with not very many points at all, roll off the front. The big three (C&C, BTN & Hayden & Lea/Wham) are all looking at each other to chase. I see it as a much different scenario. It is a perfect situation; I can hold these teams at a half a lap on my own. I tell Jonas not to pull and only to sit. Every turn that I am in, I get to the front and regulate the speed. All of these teams can stay off the entire rest of the race and they will still finish behind me and Jonas on points. Marty/Hayden and Bobby/Kyle are the ones that need to put the smack down if they want a chance to win the event. It is their responsibility. Marty is now barking at a few different riders. The ones that seem to be getting the most heat are Jonas and his partner Hayden.
The break stays off for two sprints and now our victory is in sight. The next sprint happens and we mess it up a little and only get fourth. It's okay though if we win the next sprint it's 100 percent a lock. Even if we get second or third; it is still almost guaranteed. We have 30 points and the next teams have 23. I throw Jonas in and tell him, "win this one and is over." He lights it up and barely gets over the Lea/Wham train but does and now can just relax.
There are five teams in our group and three teams off the back (dropped) and only 15 laps to go. With about 10 laps remaining, Marty and Hayden attack while Jonas is in and they get a gap. As long as they don't lap our group, it is not a worry. That isn't going to happen in less than 10 laps especially because they haven't shown any sustained success all night. We keep them in check but aren't closing on them. Two of the three dropped teams are very friendly with the BTN crew and their coaches/friends on the back straight are yelling at them to wait for Marty and Hayden. More BS but whatever; it's not like those teams had any gas left to help them anyhow and now it's less than two laps to go. I coach Bobby Lea, Mike Freidman and Gui Nelessen but they all know that we are flat out racing each other. It is the only way they are going to learn what really to do under race situations. None of us are on the same team, so it is not fair to our sponsors anyway if we collaborate.
Anyhow, the race ends and Jonas has won his final race at T-town and I am psyched that I was able to be apart of the equation. Jonas has had an amazing career. There is still no-one on the planet that can corner as well as he can. That is his super power. I have seen many a maniac try to follow him around the final bend in a race over the years only to end up surfing the pavement on his booty. Cornering clinics should be a viable part time job for him in the future if he chooses to do so.
The final total was:
1st - C&C = 37 points
2nd - Bobba Lou & Wham = 29 points
3rd - Nothstein & Godfrey = 29 points
4th - Nelessen & Freidman = 17 points
Cool Beans. Gotta go. Heading to Portland next weekend: Always trouble but worth the price of admission.
Peace Out,
Jame