Recently on Cyclingnews.com
An interview with Stefano Garzelli, December 16, 2003
Nice guys don't always finish last
Celebrating a win in stage 3 of the 2003 Giro d'Italia
Photo ©: Sirotti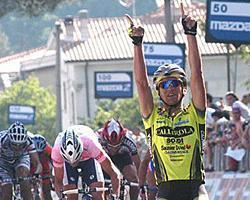 With only 16 pro victories in his palmares, Stefano Garzelli hasn't won a lot, but many observers expect the classy Italian will continue to improve as he enters what are invariably one's best years as a professional. Cyclingnews' European Editor Tim Maloney recently sat down with the easygoing 30 year-old Vini Caldirola rider who is looking forward to repeating his Giro win in 2004.
After winning the 1996 amateur Giro di Lombardia, Stefano Garzelli burst onto the pro cycling scene as a support rider for Marco Pantani on Mercatone Uno, finishing ninth in his first Giro d'Italia in 1997. The year after, Garzelli had a surprise win in the '98 Tour of Switzerland, confirming his talent two years later by winning the 2000 Giro at just 26 years old.
Hired by Mapei in 2001, Garzelli looked to be on his way to another win in the 2002 Giro, but a surprise positive test for a little-used steroid masking agent, Probenecid, put him out of the race and out of the sport with a disappointing nine month suspension. His suspension ended in March this year, with the talented all-around rider from Varese surprising many by his strong second place comeback ride at the Giro d'Italia.
Cyclingnews: 2003 has been a big comeback season for you, Stefano... the podium in the Giro d'Italia, then an abandon in the Tour, a trip to San Francisco for the T-Mobile International and a vacation to the Maldives before training for the 2004 Giro. How are you feeling now?
Stefano Garzelli: I'd say I'm back to normal... I got better after the Tour from my breathing problems and the doctors thought I might have to have my tonsils out, but after a few visits, they told me I could keep (my tonsils). Usually, once a year, I have a big problem and I can't breathe... at the 2001 Giro, I had to retire from the race and also at the Tour this year, so you could say I have delicate tonsils.
Stefano Garzelli
Born: July 16, 1973
Nationality: Italian
Lives: Varese, Italy
Turned pro: 1997

Career highlights
2003 - Vini Caldirola-So.Di
1st, Stage 3 & 7, Giro d'Italia
1st, Stage 1, Giro del Trentino
2nd, GC and Points Competition, Giro d'Italia
2nd, Giro del Trentino
2nd, Stage 12 & 14, Giro d'Italia
2nd, Stage 2, Giro del Trentino
3rd, Stage 13, Giro d'Italia
2002 - Mapei-Quick Step
1st, GP Industria & Artigianato-Larciano
1st, Stage 2 & 5, Giro d'Italia
2nd, Liege - Bastogne - Liege
2nd, Stage 3, Giro del Trentino
3rd, Stage 1, Vuelta Al Pais Vasco
2001 - Mapei-Quick Step
1st, Stage 5A, Vuelta Al Pais Vasco
3rd, Stage 3, Tour de France
3rd, Stage 4, Giro d'Italia
3rd, Stage 1, Setmana Catalana
3rd, Stage 3, Giro del Trentino
2000 - Mercatone Uno
1st, Stage 18 & GC, Giro d'Italia
1st, Stage 8 & Mountains Competition, Tour de Suisse
1st, Stage 4, Settimana Lombarda
2nd, Grand Prix Gippingen
2nd, Stage 9, Giro d'Italia
2nd, Stage 1, Vuelta Al Pais Vasca
3rd, Stage 13 & 20 & Mountains, Giro d'Italia
3rd, Stage 3, Tour de Suisse
3rd, Stage 5A, Vuelta Al Pais Vasca
3rd, Stage 3, Vuelta A Burgos
1999 - Mercatone Uno-Bianchi
1st, Trofeo Navarra Miguel Indurain
1st, GC, Vuelta Al Pais Vasco
2nd, GC, Tirreno - Adriatico
1998 - Mercatone Uno-Bianchi
1st, Stage 5, 6, Points, Combination & GC, Tour de Suisse
2nd, Trofeo Floral de Navarra
3rd, Rund Um den Henninger Turm
3rd, Stage 4, Tour de Suisse
1997 - Mercatone Uno
1st, Mountains Competition, Tour de Suisse
2nd, Stage 4, Tour de Suisse
3rd, Stage 14, Giro d'Italia
CN: So here we are at the end of 2003 and I want to ask how you feel about your performance in this year's Giro d'Italia?
SG: In my opinion, I rode a good Giro... I was strong and found a Simoni who was very good. Plus the final was influenced by the crash I had with Pantani [on Stage 18], because that day I lost a lot of time... so for sure Simoni was strong on the climbs and in time trials, but without that crash, the Giro would have been closer. If someone had told me before the Giro that I would have been second after a year away from racing, I would have been happy. But in the moment you are there, going for the win, second place isn't good. But that's the past and it was a great Giro for Simoni; so next year I'll try to correct the mistakes I made this year.
CN: I'm curious; how do you get along with Simoni?
"I'm sorry about what happened to him. I never thought he would have those problems. I hope he gets better. "
- Stefano Garzelli on his former leader and team-mate, Marco Pantani
SG: Very well; we talk often during the races and have no problems. When someone rides well or wins, I'm one who always congratulates them. Certainly, Simoni was stronger than me on the climbs in the Giro this year and also in the time trials. But our relationship is very good.
CN: So in the end, you're satisfied with the way the Giro turned out this year?
Rode a smart final TT at the 2003 Giro
Photo ©: Sirotti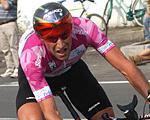 SG: Yes! You know, only one rider can win so the others all lose, but it's always important to be there to fight for the win. In the end, only one rider wins and the others are beaten. I won the Giro in 2000, Simoni has won two and I have a second place now, so in 2004, I'll be going for the win.
CN: What were the mistakes you made at this Giro this year?
SG: There wasn't one specific mistake I made; you are never perfect - there's always something to improve. So more than mistakes, you have to avoid distractions and focus more before and during the race... so for example, my approach to the first time trial (from Merano to Bolzano) wasn't right. I started too hard, but in the second TT in Milano, I rode much better. But that stage is just part of all the little mistakes that add up in the end.
CN: You mentioned the stage with the snow and cold and your crash with Pantani on Stage 18. When you crashed with him, you seemed concerned about his condition. Have your heard from your old team-mate Pantani since the Giro?
SG: No... not at all. I've read about what happened to him after the Giro but otherwise I've had no contact. I don't even know how to get in touch with him... but for sure, I'm sorry about what happened to him. I never thought he would have those problems. I hope he gets better.
Brothers at arms
Photo ©: Sirotti
CN: But do you still have some relationship with Pantani?
SG: Sure... things got a bit chilly between us in 2002, but this year, we came closer and I found a different Pantani this year. He was more open, willing to talk. In 2001 and 2002, Pantani was very closed, reserved... he seemed calmer and happier this year to me.
CN: Some of the best images of this year's Giro d'Italia were of you and Pantani racing up Monte Zoncolan together... besides the pain and fatigue, what was going through your mind then?
SG: It's was a good moment; Simoni was just in front of us and we were just behind in second and third. It was a comeback for Pantani too; we were together and he won the Giro d'Italia with me and I won the Giro with him, so there were a series of coincidences. We both had some problems after that and so it was a comeback moment for both of us. I think that (Monte Zoncolan) was a good image for us... two riders with the same yellow jersey, the same kind of bike, two shaved heads... you know, I've come out from (Pantani's) shadow. I turned pro with him and I then followed my own path. But the images (of Zoncolan) were good for the fans too.
"It was a very high price. But I know in my conscience, I know that I am clean. "
- Garzelli on testing positive for Probenecid at the 2002 Giro d'Italia, after which he served a nine-month suspension
CN: So what does Stefano Garzelli have as his objectives for 2004?
SG: The Giro is still my number one objective for 2004. Sure I would like to focus 100 per cent on the Tour de France, like Armstrong and Ullrich do, but for (Vini Caldirola), the Giro is the most important race. There are also the Olympics and the World Championships in Italy next year and that is something I want to do well at.
2002 Giro: not a good time
Photo ©: Sirotti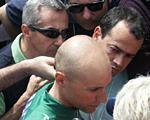 CN: So as 2003 is a comeback year with a lot of satisfaction, but do you still have any bad feelings about the 2002 Giro, where you tested positive for Probenecid and were then thrown out of the race and suspended?
SG: Yes, there are certainly some bad feelings remaining because when something like this happens, unfortunately one's career becomes stained.
CN: So what does the course of the 2004 Giro d'Italia look like to you?
SG: It's a race where experience and intelligence will be very important, as well as time bonuses. But I like the look of it, especially because there are no steep mountain-top finishes like this year on Zoncolan or Alpe de Pampeago. Sure there are some big climbs, but I'll be more competitive against Simoni without the steep finishes.
The Giro is hard early so you have to be in top form at the beginning. The time trial is long [52 kilometres] and I'm sure I'll do better next year in the time trials than last year, since this winter I'll be looking to do some wind tunnel testing on my position. The hardest stage looks like the one to Bormio 2000 after the Gavia; this will be more difficult than the stage with the Mortirolo. I'm really looking forward to next season and I'm not afraid of Simoni.
CN: But the Giro 2002 is still the only stain on your career... it seemed like such an anomaly for you?
SG: Yes... but I still paid for it and it was a very high price. One year of suspension... for something that didn't make sense, to be found positive for a substance [Probenecid] that was useless... but I paid the price and didn't say anything about it and couldn't do anything about it. But I know in my conscience, I know that I am clean. But it was an experience that was bad; I've tried to put this behind me now... to dwell on it is useless. I wanted to show that nonetheless, I am still a top rider. It was a long year when I was suspended. 11 months away from racing was a long time.
CN: But nonetheless, you managed to maintain your desire to race. When the entire Giro 2002 affair came down, you were very disappointed and even thought of leaving the sport?
"Grazie tifosi e famiglie"
Photo ©: Sirotti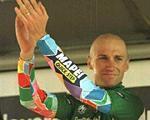 SG: At the beginning, I didn't touch my bike for three months. The desire came later... a bit from my fans, a bit from my family, but it came back for me. My family started me with cycling when I was a kid, so the entire (incident) really affected them. But they wanted me to keep riding and after four or five months, I realized that I was still young and it was right that I should keep racing - that I still have a lot to give to the sport of cycling. So I think that I made the right choice.
CN: At the end of your career, how do you want to be remembered?
SG: I hope people speak well of me... I'm a rider who tries to be available for the fans, my team-mates and the media. I hope people will say I was a good rider and a good person. That's what I'm interested in.
CN: In fact, your reputation in the sport is a very good one. Everyone has something nice to say about you.
SG: I have good relations with everybody, so like I said, human relationships are very important. Those are what last after the sporting relationships are over. You might think a lot of yourself as a racer, but after you finish your career, you don't have any friends. That's not good.
CN: Do you have a dream for your career? Or a big objective?
SG: I have a lot of dreams, objectives... to chase a dream is one thing, but it's important to realize you've done everything you could to achieve your dreams. But to win is always very difficult. To be world champion, it's really, really hard. I've won a major Tour [the 2002 Giro d'Italia] because I worked very hard. But everyone has to work hard to be a top rider... so you need something extra. Yes, I'd like to win another major Tour and as a one-day race, the World Championship is difficult to win, but I'd like to be in position to go for the victory someday.