Recently on Cyclingnews.com
An interview with Michael Barry, November 15, 2003
Moving on up
A relatively anonymous figure in the peloton until October this year, Canadian Michael Barry gave the locals something to cheer about after a top 10 finish at the World Road Championships in Hamilton. The question Anthony Tan now asks is, can he continue to lift his game to become one of the best?
Michael Barry
Born: December 18, 1975
Place of birth: Toronto, Canada
Lives: Boulder, Colorado, USA
Marital status: Married to wife Dede
Teams: US Postal Service Presented by Berry Floor (2003- ), US Postal Service (2002), Saturn (1999-2001)
Web site: www.michaelbarry.ca
Career highlights
2003
2nd, Stage 1, Volta ao Algarve
2nd, Stage 1, Vuelta a Espaņa
4th, Stage 3, Sea Otter Classic
4th, GC, Tour de Georgia
5th, Stage 4, Tour de Georgia
7th, World Championships Road Race
13th, GC, Sea Otter Classic
14th, Four Days of Dunkirk
15th, GC, Volta ao Algarve
18th, HEW Cyclassics
2002
1st, Teams classification, Vuelta Burgos
1st, Teams classification, Vuelta Rioja
1st, Stage 1, Volta a Catalunya
2nd, Stage 1, TTT Vuelta a Espaņa
6th, First Union Invitational
9th, Commonwealth Games Road Race
9th, Stage 5, 4 Days of Dunkirk
9th, GC, Redlands Classic
11th, First Union USPRO Championships
2001
2nd, San Francisco Grand Prix
2nd, National Championships Road Race
4th, GC, Grand Prix de Beauce
4th, GC, Peace Race
4th, GC, Rio Grande stage race
5th, GC, Cascade Cycling Classic
7th, USPRO Criterium Championships
7th, First Union
2000
5th, GC, Ringerike GP
6th, GC, Redlands Classic
11th, GC, Grand Prix de Beauce
14th, Pino Cerami
"I WAS FEELING GOOD. Even when we first left the start/finish, I felt good power on the pedals and wasn't feeling the accelerations too badly. I talked to Whitey [Matthew White] during the race and I was saying, 'Man, I'm feeling really good today and I'm not feeling these hills at all.' Whitey said: 'Michael, ride conservative the whole time and just try and kill it in the end, you're going to be there for sure - I don't have a doubt you can follow these guys.'"
Whitey was right. At the World Road Championships in Hamilton, Michael Barry kept his cool and cards close to his chest, riding sensibly at the front of the peloton throughout each of the 21 laps, following the attacks with ease. Then on the final lap, going over the climb of Claremont Access, World Cup winner and race favourite Paolo Bettini of Italy and Spaniard Igor Astarloa made a move. "It was wait for the peloton to bring it back or I was going to have to take a chance", says Barry with slight trepidation, as if he was still in the race.
Waiting for the right moment
Photo: © Robert Naish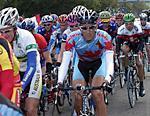 "So I just attacked and let it rip... I just gave it everything I had. When I caught the breakaway with Bettini, Astarloa had already gone; those guys hesitated a little bit, and I just decided to keep going, but obviously I left it a little too late. Though for me, just racing in front of that crowd was pretty awesome and I was happy with the result at the end of the day."
Up until a month ago, the 27 year-old Canadian was just another domestique in the peloton doing his job, first for Saturn for three years, then joining Postal after that in 2002. For now, it's something Barry's more than happy to do (there's no room for self-indulgence on the 'Big Blue', rather a case of self-sacrifice), though it's becoming hard for even one of the most modest figures on US Postal to contain his enthusiasm for next year.
"I'm going to talk to Johan [Bruyneel] and Dirk [Demol] at our training camp in January and go over everything and make a plan. Y'know, there are a lot of great races during the year, so there's a lot to pick and choose from," says Barry from his home in Boulder, Colorado, where he lives with his wife and T-Mobile rider Dede.
___________________
A well-balanced child, Barry participated in a wide range of activities from pottery classes to hockey to baseball and, of course, riding his bike. However, with a cycling-mad Dad who also had his own bike store (he even managed to persuade his wife to throw a leg over a bike on occasion), it became difficult for young Mikey to ignore his two-wheeler sitting in the garage. "They were both very supportive and never really pushed me to do it as a profession or even be competitive," he says. "I mean, they were happy when I did well, but they never pressured me at all - though cycling's always remained my favourite and what I enjoyed doing the most."
"In the last couple of years, I've been able to learn a lot from them [US Postal] - that's made a big difference for me - I was able to continue the progression."
- Michael Barry talking about his move from Saturn to US Postal
By the time Barry was approaching his nineteenth birthday, he had raced on the road, off the road, a little bit of both (cyclo-cross) and was about to represent his country on the track at the 1994 Commonwealth Games in his home country, where he was to ride the team pursuit and the points race. "Though the track team was pretty weak back then", he says, a little embarrassed about his versatility on two wheels.
Shyness certainly doesn't show on the bike, nor in his conviction to making something of himself in arguably the toughest of sports. Shortly after the Commonwealth Games in Victoria, Barry stopped his university studies, got on a plane headed for the French Alps and signed with a club he knew almost nothing about or what he was getting himself into. In a move likened to something only Indiana Jones would recommend, Barry remembers laughing out loud as he told his Mum and Dad at Pearson International Airport in Toronto: 'I could be back in two weeks, I could be back in eight months.'
It turned out to be the latter, his journey to France a break point in his career. For a low-key team filled with a bunch of inexperienced amateurs, Velo Club Annemasse was blessed with a directeur-sportif who possessed a wealth of experience. Christian Rumeau had worked with legendary DS Jean De Gribaldy at Flandria, Sem, Skill and KAS, later taking over at KAS following De Gribaldy's death before working as head-honcho at RMO in their early years.
A chance meeting tied the knot for Dede & Michael
Photo ©: Michael Barry
"He had pretty much retired from cycling; I guess his wife called up the local club and said she couldn't handle him being around the house so much and offered his services to this amateur team," muses Barry in his typical Canadian drawl. "It ended up being really good for me because Christian had a lot of experience from years as a professional directeur and he was a really good tactician - he taught me a lot in a very short period of time about racing in Europe."
Not only an astute tactician, Rumeau understood a foreigner's mentality, having coached a number of English-speaking foreigners to glory, including American Jonathan Boyer and Classics star Sean Kelly, and helped those 'going it alone' in the days of Merckx and Hinault. Remembers Barry fondly, "He was a good guy too - he would come by our apartment every day just to make sure we were doing okay and he understood it can be hard living in France, having dealt with so many professionals and foreigners over the years, so he understood our mentality, which made a big difference."
Our conversation on his three seasons at VC Annemasse ambles along, steeped in anecdote and fond memories - it's clear the combination of father-figure and dream coach was a perfect beginning for the young Barry. After a promising Tour de l'Avenir (as the name suggests, a race specifically conceived for up-and-coming young riders), Barry went into the 1998 Espoir World Championships (for riders under the age of 23) in Switzerland with nothing to lose, and in a similar vein to his ride five years later, he rode out of his skin for a top 10 finish.
Other stuff

Have you and Dede gone or about to go somewhere for your holidays? "Yeah, we spent an extra 10 days after the World's up in Toronto visiting family and friends, so that was our vacation off the bike. We were pretty eager to get back to Colorado and settle down again, because we haven't been back here in so long."
How long have you guys been living together in Colorado? "Well, Dede's owned a place since '96 and she's lived here since then, and I moved here when we got married in '97."
What sort of preparation will you be doing for next year - same as previous years? "Most likely. I'll start off doing some work in the gym, beginning with some circuit training, and then kind of narrow down my focus to cycling-specific exercises as the season gets closer, so I do that a couple of times a week and then solid riding on the bike as well. Last year, I rode a fixed wheel, which seemed to be pretty good; I'd ride that just after lifting weights and that seemed to help my pedaling. I won't do anything really different."
The Barry clan
Photo ©: Michael Barry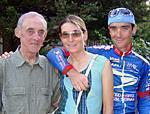 Does you Dad still own that bike shop in Toronto? "Yeah, he does, but he doesn't do the retail side as much anymore; he builds frames, repairs frames, paints frames and also restores vintage bikes. He's kind of more specialised now, just doing the things he enjoys and what he's passionate about. He builds the full touring bike and that's kind of what his speciality is now - building these steel framed touring bikes."
You've mentioned the Tour; is the Olympic Games road race also a consideration? "For sure, I'd love to go. Dede checked out the course and she said it's a great course and that will be a super setting to do the Olympics; it will be an exciting race, because the course there is one of attrition and selective."
Do you think going for a podium place in a World Cup event or going for the overall in a medium-ranked stage race such as the Four Days of Dunkirk would be a good goal for you next year? "Yeah, I think so. In the last couple of years, I've been pretty good in Dunkirk, especially on the harder stages; if I can make sure I stay out of trouble on the flat stages, I can usually do all right, so I have to see how my calendar works out, pick my goals then and see what the team has in mind as well."
Looking at your web site, you really seem to have a passion for food; does this come from being a bike rider - or being married to Dede? "I think through both of us being married, we've gained an interest in cooking because one of my friends is a chef, and he taught me a lot about cooking when I was a teenager - he's a cyclist as well and we've been really good friends since I was 14 years old. Also, when I was living in France, I became quite interested in food - that's where I learned how to make bread, and I had so much good bread in France and the rest of Europe, I wanted to learn the techniques on how to make good bread when I returned to North America."
During the year, do you hang out where most of the Posties live in Girona? "Yeah, we have an apartment in the centre of town. I ended up there because all my team-mates were there; it was a really good place - a nice environment to train, a good little town and we're all really comfortable there, which made it a lot easier to settle in. If they hadn't been there, I probably would have gone back to Annemasse in France and live there - that's somewhere where we might live in the future too; it's a great place and I have a lot of friends there."
Have you and Dede talked about raising a family in the not too distant future? "Yeah, for sure. We're both pretty eager to have kids - we just have to figure it out with cycling and all that [laughs]... I would imagine in the next couple of years."
"That season I kind of realised I could kind of make a go of it. Some of the professional teams already started to take an interest, and definitely after the World's I realised I'd like to do this," he says.
Saturn also decided he could 'do this'. Still recovering from a broken back and femur the previous year, Barry decided to continue his stay in his Alpine surroundings at Annemasse after a promising winter training camp with Gan (now known as Credit Agricole). However, when Saturn approached him midway through the year, there was an additional incentive to sign that had nothing to do with money - his future wife Dede was already racing on the same team!
"I remember saying, 'I think there's a chance it could work out,' but none of us were talking too much about it, because it was a long shot and we didn't want to jinx it."
- Barry talking about the this year's Vuelta a Espaņa
Discussing their encounter, it was a whirlwind romance. They first met each other at a high altitude training camp in Colorado Springs in 1997 where they were being coached by the same person, with their affection for one another soon reaching dizzying heights.
One year later, Michael and Dede were husband and wife. "It ended up being a good situation for both of us," says Barry, "but during my whole time at Saturn, I was still thinking about going back to Europe because my heart was really there, and that was my goal - to eventually race in Europe."
Coincidentally, his last season at Saturn turned out to be his best, with four top-five overall placings at the Grand Prix de Beauce, Peace Race, Rio Grande stage race and the Cascade Cycling Classic, as well as taking second at the national championships to Mark Walters. However, it was Barry's superb ride at the inaugural San Francisco Grand Prix that sealed the deal with Postal, where he was part of a four-man breakaway boasting massive talent, eventually finishing second to an unbeatable George Hincapie.
"I think that was the thing that clinched it," he acknowledges. "I had talked with them [before] going into the race and they had already seen me race and noticed my results, so they had a good idea - but after San Francisco, they offered me a contract.
"I don't know if the environment was that much different," Barry says when asked if the move to Postal was a big jump. "As far as organisation goes, it's pretty similar. Obviously Postal has a lot more money and is in the media a lot more, and I'm with guys who are the best riders in the sport. But in the last couple of years, I've been able to learn a lot from them - that's made a big difference for me - I was able to continue the progression."
___________________
In his first season aboard the Blue Train, Barry had proven himself worthy of a place in the team for the 2002 Vuelta a Espaņa after a strong showing in the Volta a Catalunya, where he first contributed to Postal's stage win in the team time trial on the opening stage of the Spanish hors categorie race, then backed it up for the next six days as Heras rode to victory. While the speed of the opening week of his first Grand Tour came as a shock, the tiger from Toronto held firm until a bad crash at the end of the first week took him out of the race. However, by then, Barry had learned plenty for his next outing at La Vuelta.
"I had much more confidence, knowing what to expect after last year; even though I didn't finish the race, I had a pretty good idea how to approach it and what to expect what to expect in the first couple of days," he says.
Riding strong in a nail-biting Vuelta
Photo ©: AFP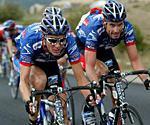 This year, US Postal demonstrated flawless performances at two Grand Tours: first with Lance Armstrong's fifth consecutive Tour de France victory, and again in September at the 58th edition of the Tour of Spain. One can only admire the faith the riders and directeur-sportif Johan Bruyneel have in their leaders, and on the penultimate stage of the Vuelta, Roberto Heras repaid the faith, overcoming a two-and-a-half minute deficit in less than 11 kilometres.
Citing team-mate and Cyclingnews diarist Floyd Landis' feelings on the day of the hill-climb time trial, who said, 'With two stages to go, our team (except for Heras) was pretty sure we would go home with second place for a second year in a row,' I asked Barry whether he truly believed the petite Heras was going to win until he actually did win. The Canadian was a little more confident than his laidback ex-mountain biker buddy, but not by much.
"We thought it would be a stretch for him to win, but with [Isidro] Nozal, every day we were gaining more and more hope; Nozal was looking worse and Roberto was looking better," recalls Barry. "I remember thinking and saying to the guys, 'I think there's a chance it could work out,' but none of us were talking too much about it, because it was a long shot and we didn't want to jinx it.
"On the day [of Stage 20's time trial], Nozal had to be really bad and Roberto had to be exceptional; we obviously all did the time trial before Roberto, and we were all in the team cars at the top, and after having done it, we were thinking, 'If Nozal is bad, he's going to lose a lot of time' - it was so steep. So we all had a little bit of hope. The other thing was that after the stage to Sierra Nevada, Floyd did a really good job that day and Roberto was starting to fly - he was climbing like a rocket. We were gaining all through the week, and we managed to finish it off."
After a performance like that, did he already know he was on for an exceptional ride three weeks later in Hamilton?
Barry says he wasn't quite sure. He was confident he had the fitness, but had no idea how his body would react after his finishing his first three week race. "I had a solid Vuelta - I came out of it healthy and fit and I felt good going into the World's, but I didn't know exactly how I would feel on the day; I think it was going to be an all-or-nothing feeling, y'know. I was either going to be there in the final or I was going to be in the cabin, but I knew I was fit, and it was just a matter of whether I was going to be good on that day."
While his friend, Postal team-mate and pre-race favourite George Hincapie had an off day after falling ill, Barry turned out to be good - in fact, very good indeed - eventually finishing seventh, just six seconds behind winner Igor Astarloa; the best performance from a rider from a non-European nation.
Despite his performance in Hamilton, Barry admits he's still relatively green, but is hoping to be selected for a few of the Spring Classics like La Flčche Wallonne, Ličge-Bastogne-Ličge and maybe the Tour of Flanders next year. And of course, a ride in Tour would be a dream come true.
"It would be a dream to make the Tour team - that's a long shot on our team because there's so much depth - but I'm progressing, and just taking it race by race. I think more than anything, the World's gave me confidence going into next year, and I hope I can be competitive at that level in those bigger races."