An interview with Cadel Evans
Optimistic Evans on the mend
Break a leg next time, Cadel!
Photo: © Cyclingnews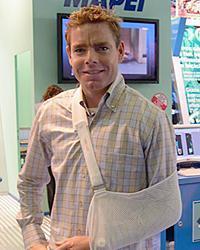 At the Milano bike show, the talented but luckless Aussie Cadel Evans was hanging around the Mapei Sport stand, run by renowned sports doctor Aldo Sassi. While Dr Sassi's knowledge nor his high-tech lab can change Cadel's recurring misfortune for breaking his collarbone, he does know how to make a champion, which explains why Evans continues to use him as his preparatore. Cyclingnews' European Editor Tim Maloney asked Cadel to sit down - very carefully - to talk about missing out on the Tour and his road to recovery.
Cyclingnews: How's your recovery from your broken collarbone in the Vuelta coming along?
Cadel Evans: It's really a chore frustrating putting your shoes and jeans on the first week...to tie your shoelaces.
CN: If I'm not mistaken, this is the...
CE: Fifth.
CN: Fifth time in total you've broken your collarbone?
CE: Yes, that's correct.
CN: All on the same side?
CE: All on the left side.
CN: So that's not so great, is it?
Dr Sassi's Mapei Sport stand
Photo: © Cyclingnews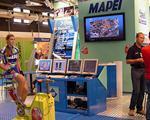 CE: Thanks! (laughs) I've landed on my left side 5 times, but I'd rather break my collarbone than any other bone, actually, because it's the easiest to heal. The collarbone is a little weaker that the shoulder, which is three weeks in plaster, wheras the collarbone is two weeks which is not too bad.
CN: But there shouldn't be any long-term consequences when your collarbone is healed.
CE: Hopefully not. Depends... just now, I was speaking to the orthopedic surgeon who worked on this (points to collarbone) because you can have problems.
CN: You flew back from the Vuelta in Spain to have your collarbone operated on?
CE: Telekom has a hospital that the team works with and not that I wanted to use the (medical) services, but in this area, Telekom are very well organized and have a very good orthopaedic surgeon who works for them.
CN: So what next on the comeback trail?
CE: I'll start back on the wind trainer and in the gym, since the main problem in recovery is that the muscles on the injured side lose strength. So I'll start working on next year now. If I did comeback, I'd be just coming good when the season was over, so it's probably not worth it.
CN: So Cadel, what are your objectives for 2004?
CE: Same again; Tour de France... a similar program as 2003 I think. Now I'll start planning for next season and I'd very much like to go to the Olympics in Athens as well.
CN: Did you watch much of the Tour de France this year on TV?
CE: I watched pretty much every day...
CN: Were you diappointed not being there this year?
CE: On the day of l'Alpe d'Huez, yes... even if I was bad, I'm sure I could have helped Vino and if I was good, who knows what could have happened.
CN: What was your take on Armstrong in this year's Tour?
CE: Well... he had some illness at the start of the Tour, but because of his ability, his capacity even with these setbacks, he was still able to win the Tour. Armstrong wasn't as good as he was in the last few years, but he was still good enough to win.
CN: How about Vino? What kind of a teammate is he?
CE: I like him... he's quiet and a little bit... coming from that part of Europe (former Soviet Union), their mentality is different, but he's just a quiet guy who does his work and isn't concerned about much else in the world. He had a phenomenal season this year.
CN: Have you heard any of the rumors that Jan Ullrich could return to Telekom?
CE: Just what I've read in La Gazzetta dello Sport and on Cyclingnews... time will tell.
CN: Any plans to head back Down Under to Australia any time soon?
CE: Hoping to go back shortly and I'm just making plans for that now... mainly for my rehabilitation. This time of year, I'd rather be making holiday plans but I want to get it right to start training for next year.