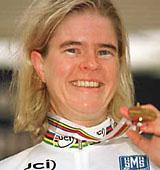 Susanne Ljungskog
Photo: © Sirotti
The Susanne Ljungskog Diary
2002 was very much Susanne Ljunskog's year as the powerful Swedish rider landed the world championship just a few weeks after her second place overall and final stage win in the Grand Boucle. In 2003, she is riding for Team Aliverti-Catalunya-Kookai, and hopes to improve on that Grand Boucle runner-up placing.
R&R after national titles
June 30, 2003
Hello friends,
Right now I'm at home in my little flat in Surte and enjoying doing nothing. For the moment I'm on a few days of vacation, which feels really nice.
On Saturday I participated in the Swedish Championships, and that was an amusing race. I felt really strong and I could ride solo for over 60 kilometres. I had decided beforehand to try and beat down every attempt from the other riders, because I was so fed up with situations like the one that occurred during last years Champs, where all I saw was negative racing. Today, I felt the situation had changed. The girls were suddenly willing to attack, especially the new and younger ones, so I put my thumbs up for them.
It was also very positive that we could have this one, because lots of so called experts have been complaining about us women over the years. If they could just try to understand that it is not very easy to make every second of a 90 kilometre cycling race exciting when there's only 15 or 20 starters. The last time I won the Swedish Champ's was in '98, so I think it's about time I won it again now.
Anyway, I feel very satisfied with my season so far. I was second on GC in the Giro del Trentino Alto Adige last weekend, and that was a good confirmation that my training is going well. Right now I'm really looking forward to a few days of vacation, and I haven't planned anything special, I will just take the days as they come along.
On Wednesday, Klas and I will go to the French Alps to ride some really long and nice training hours, and I trust it will be fun. We were there last year as well, and it was well spent time as preparation for the Tour in August. My last race before the Tour will be in Germany, July 22-27 (Ed: Thüringen Rundfahrt) A good race where I hope I will have the final preparation before the big test of the year.
I'm off to enjoy the wonderful Swedish summer now!
See you all,
Susanne