California Dreamin' - The Paolo Bettini Diary 2003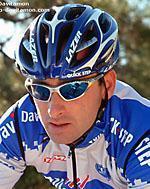 In action
Photo: © Quick-Step Davitamon
He's from California, down near the beach, but this guy's no surfer dude. Paolo Bettini is from La California, near Cecina on the Tuscan coast in Italy. Bettini is a compact, power packed explosive puncher of a rider who conquered the World Cup title last year for Mapei-Quick Step with his exciting, dynamic style. Bettini learned his trade as the right-hand man for Michele Bartoli, but emerged from his fellow Tuscan's shadow in 2000 with a great win in Liege-Bastogne-Liege. Bettini repeated at L-B-L last year and has now moved on from the glorious but now sadly defunct Mapei team to the new classics super-squad, Quick-Step - Davitamon. Cyclingnews is honored to welcome the likeable "fuoriclasse" Paolo Bettini as a diarist for 2003.
Hello to everyone after the Tour!
August 4, 2003
Hey Cyclingnews readers,
That World Cup winning feeling
Photo: © AFP

Here's my first diary in a while - I couldn't do a diary for you at the Tour de France since there is just too much going on, but now we're back at the World Cup season and here I am back again!
I just got back home from Hamburg after a long and stressful series of flights across Europe. Jeez, I'm glad that trip is over, but I'll tell you that the trip goes a lot easier when you are coming back from a win at a World Cup like the HEW Cyclassics! That was a great win for me, you guys. It was a spectacular race with a huge amount of spectators.
It was a tremendous race that almost got ruined by a motorcycle driver 300 meters from the finish line. Did you see the race on TV? In one second, the moto driver almost ruined the hard work we did all day. I think that the organizers need to look at the race rules more carefully and not have the TV moto cross the line with the break. Too often the race motos get in the way and cause problems. In any case, the race went good...even great! Even if on paper, the HEW Cyclassics race wasn't a good one for me, I was able to win and re-launch my campaign to win the World Cup.
I'd really like to repeat my win last year in the World Cup for 2003. The World Cup jersey with the vertical rainbow stripes is an award for being good all season long, and this year, apart from some injury time from my crash in Belgium, I think I've always been a protagonist in the races I've ridden. I really wanted to win a stage at the Tour this year, but it seemed Lady Luck wasn't smiling on me. But that's the way it goes sometimes.
Yesterday I came back with a big win and had a nice festa with Quick.Step-Davitamon boss Patrick Lefevre and my teammates. We treated ourselves to a nice dinner and ended up with some champagne toasts. It was the best champagne I've ever had! We had a nice evening after HEW, even if we wrapped it up early since Wednesday is GP Camaiore in Italy, practically a hometown race for me.
Saturday is the Clasica di San Sebastian, where it will be important to get some more points for the World Cup, then there's another World Cup, GP Zurich the week after that I would like to win again.
Once Zurich is over, I'm taking a break of three weeks from racing. My wife Monica is expecting our daughter in October and I want to spend as much time as possible with her and prepare well for the World Championships in October. I'll get ready by racing the major races in Italy in September. Do you think it might be a good idea to give my baby daughter the gift of a prestigious result at the end of October?
We'll see!
A Presto,
Paolo Bettini