Recently on Cyclingnews.com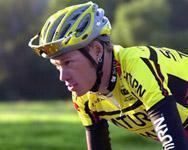 Danielson in action
Photo: © Casey Gibson
Tom Danielson had a stellar first half of 2003, winning the Tour de Langkawi and dominating US domestic races along with Saturn team-mates Nathan O'Neill and Chris Horner. Although he managed to defend his Mt Washington hill-climb title the second half of his season was limited by injury, and with the ending of the Saturn team Tom has high hopes for a Europe-based 2004 with Fassa Bortolo.
A day in the life
March 26, 2003
With April on the horizon, I find myself back in Durango resting up for my next big goal. What is that goal? Well, it consists of four parts. The main objective is the Peace Race in May. However, three important races fall in between now and May: Redlands, Sea Otter, and Tour of Georgia all fuel each pedal stroke in training. In this entry I am going to fill you in on what I have been doing for training as well as my personal life happenings.
Tom out riding
Photo: © Rick Crawford

Between Pomona, which was in Early March, and now, three weeks later, it seems like I have been everywhere from Tucson, Arizona to Boulder, Colorado searching for the perfect training. My coach Rick Crawford and I have mapped out locations and then travelled to them together to enhance my training. Training in new environments stimulates the central nervous system, which in return produces better training results. New roads, different terrain, and warmer temperatures all have helped improve my training quality.
In addition to improving training quality, we have also targeted improving my weak points. These can be summed up in one word: criteriums. In the US, every stage race has at least one criterium in it. For a small climber these criteriums present a big challenge. In the last two weeks, we have been moving our training location so we could incorporate this type of racing in addition to our typical mountain training. Last week we were up in the Denver area while this week we were in the sun of southern Arizona. I have noticed that as I have made improvements in the power-oriented criteriums, it has also improved my climbing as my overall power has increased. Good deal, eh?
Someone is following you
Photo: © Rick Crawford

In addition to the weekend criteriums, Rick has focused my training during the week on what lies ahead: mountains and time-trials. As I have learned, both skills are critical to stage race success. Climbing is the most critical, but time trialling plays a huge part as it can provide a cushion on other strong climbers before the mountains even begin. Just looking back a month ago to Langkawi where my time trial provided me with seconds over super-climber Munoz, so all I had to do was follow him instead of attacking him. Ultimately, the best position to be in!
My weekdays begin with a cup of my favourite "Steaming Bean" coffee and answering my e-mails. Then it is off to work, after a slug of my Athlete Octane of course! With Rick in the Saturn VUE following me, we have ridden everything from Kitt Peak with 80-degree weather in Tucson to Coal Bank Pass in Durango with 20-degree snowstorms. In the mountains, we observe the data provided by the Power-Tap power-measuring device. Here, we look to raise my watts at threshold while maintaining my slim frame. With Rick in the car behind me, he critiques my riding. He looks at keeping my cadence high, working on accelerations, and pedal stroke. Rick's apprentice John Gamble rides along learning Rick's coaching techniques so he can apply them to his ever growing clientele.
These mountain workouts are very difficult, but very stimulating, as climbing is my favourite thing to do. When we are not in the mountains, we are working closely with my Lemond time trial bike in the rolling hills. In time trial workouts Rick looks to perfect my power and position. As we all know, the best time trialists, like Lance Armstrong, have a perfect blend of aerodynamics and power output. The PowerTap also comes in handy here and has become a tool that both Rick and I could not live without. All this hard work requires rest and downtime in order for my hard workouts to add up.
Up the hill
Photo: © Rick Crawford

Between workouts, I spend my time with my partner in crime, Kristin Johnson who rides for T-Mobile. She spends the majority of the day stomping out the miles on her bike, so at the end of the day our recovery occurs together. I would say our favourite evening pastime is, well, dinner. For a professional athlete whose day-to-day job requires more calories than are found in a case of Crispy Crème Donuts, dinnertime is a much-anticipated event. I really don't think anything else comes to mind when you are finishing that last 25 km of a 200 km ride than what you will be gorging yourself with when you return home. For Kristin and me, the recovery station we visit the most is the local burrito shop, Nini's. There is nothing quite like a chicken burrito to speed up the recovery process. When we are not eating the traditional chicken burrito, we usually venture out to other places with our friends such as The Palace for a $4.00 hamburger every Monday night, or my personal favourite, Tequilas (best salsa in town!).
When we are at home, things are not as quiet as you might imagine, especially after Langkawi. The phone is ringing constantly and the e-mail account is always full. Both Rick and my tireless agent Bob Mionske have helped to manage all of this and are working hard to ensure a very exciting next year. Also, Kristin has been very patient with me dealing with all of this. And, of course, my number one fans over in Connecticut, Mom and Dad have been super supportive and keep me more motivated then ever with their endless enthusiasm!
Finally, my heart goes out to both the families and friends of Andrei Kivilev and Gerrett Lemire whose tragedies have affected us all within the cycling family. It is hard to swallow. Both of these great cyclists will be remembered by us all. Thank you all for reading!
Photos
Images by Rick Crawford