Jacobs Creek Tour Down Under - 2.3
Australia, January 15-20, 2002
Stage 5 - January 19: Gawler - Tanunda, 156km
Live report  Results Preview and course profile Previous stage Next stage
Aussies ablaze in Barossa furnace
By Jeff Jones in Tanunda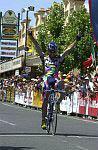 Evans wins
Photo: © Tom Balks/CN
Today was the stage that everyone was dreading: a twisting, turning, 156 kilometre race through the vineyards of the picturesque Barossa Valley, including two climbs of the dreaded Menglers Hill - christened "Mongrel Hill" by the riders. Added to this was the incredible heat, that saw temperatures hit 44 degrees celsius. Truly it was the toughest day of the tour.
Everyone knew this would be the case, and special provisions were made as the team cars stocked up on water to ensure the riders could maintain at least a semblance of hydration. Australian Institute of Sport rider Michael Rogers was looking tense but determined before the stage, telling Cyclingnews "It's going to be hard, hot and windy...We'll try to play out cards right."
And play his cards right he did, as Rogers finished second in the stage and took the leader's yellow jersey after Saeco's Fabio Sacchi burned all his reservoirs and finished many minutes behind.
Today's winner was a well deserving Cadel Evans (Mapei-Quick Step), who showed his strength on the climbs to take the Mountains Jersey. before putting in a late attack to finish some 16 seconds ahead of Rogers and 25 seconds in front of Mapei teammate Daniele Nardello. In effect it was a Mapei 1-2-3 as Rogers normally rides for the Young Mapei team in Europe.
The attacks started from when the flag dropped, but it took 20 kilometres before a breakaway could finally establish itself. The attack included last year's winner of the Barossa stage, Kai Hundertmarck (Telekom) as well as Pierrick Fedrigo (Crédit Agricole), Thierry Loder, Mikel Astarloza (AG2r-Prevoyance), Luca Paolini (Mapei Quick Step), Nicolas Vogondy (La Française Des Jeux), Bram Tankink (Domo Farm Frites), Kurt Van De Wouwer (Lotto Adecco) and Russell Van Hout (UniSA).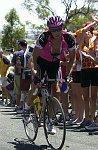 Kai Hundertmarck
Photo: © Tom Balks/CN
Hundertmarck - being German - was looking for a good performance today through the Barossa with its German speaking public. "It's very motivating to be able to speak to the spectators in German. At least I want to do a good race," he told Cyclingnews moments before the start in Gawler.
Hundertmarck certainly had a good race as he and his eight breakaway companions rode out to a steady 2 minute lead before the bottom of the first climb of Mengler's Hill (78 km). Although none of these riders was a threat to Sacchi's lead, the Saeco team were riding tempo on the front and did not ease up. However, the savage 10 percent gradient of Mengler's Hill combined with the oven-like temperatures saw the complexion of the race completely change on the ascent.
By the top of the climb, a group of 15 had formed containing several of the early escapees as well as Rogers, Evans, Nardello, Botcharov and Jonker. Rogers' race almost ended halfway up the climb when a race marshal's motorbike rode into the back of him and destroyed his derailleur and back wheel. In an incredible stroke of luck, a spectator immediately gave him a bike that was identical in size, and a carbon Colnago to boot.
Afterwards, Rogers said that "I did panic a bit. I thought it was all over."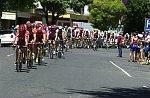 Saeco train
Photo: © Tom Balks/CN
But Rogers remounted and caught the leaders before the top as his rival Sacchi was floundering in the third group, never to see the front again. After the descent, Rogers kept going strongly and got into the decisive break of the day, this time with Alexandre Botcharov (AG2r-Prevoyance), Kai Hundertmarck (Telekom), Daniele Nardello, Luca Paolini, Cadel Evans (Mapei Quick Step), Kurt Van De Wouwer (Lotto Adecco) and Patrick Jonker (UniSA).
With Sacchi gone, Rogers was the virtual leader on the road, and he confirmed this by taking the sprint bonus in Angaston. His leading group was chased by another 15 man group containing Andrea Tafi (3rd on GC) and Stuart O'Grady, but they could not close the gap.
The second climb of Mengler's came with 25 km to go, and here it was Evans who showed his good form to take the mountain points and reduce the leaders to just five men. Now it was Mapei's Nardello and Evans, Rogers, Botcharov and Jonker who were the leaders, with Hundertmarck and Van de Wouwer chasing them all the way to the finish, and Paolini dropping back to the third group.
The race for GC had gone to the impressive Rogers, but it remained to see who would win the stage. In the final two kilometres, Nardello launched a couple of attacks to set up a Mapei win. He was brought back and Cadel Evans countered strongly, putting his head down and motoring away for the stage win.
"I'm very happy to win, especially in Australia," said a delighted Evans afterwards. "Being the first win in Mapei colours helps a bit. I wasn't sure who was interested in going in the break but it worked out well."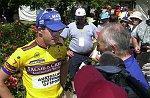 Rogers in yellow
Photo: © Tom Balks/CN
Rogers followed suit and stood on the pedals to finish ahead of Nardello and claim second place in the stage. It was certainly his day today, and he should now claim the overall classification of the 2002 Jacob's Creek Tour Down Under when the race finishes in Adelaide tomorrow.
"We just kept working the whole day," he said. "I was confident when we got over the last climb. We saw holes in his [Sacchi's] armour early on when he panicked and we took advantage of that."
"It's not over yet. We've still got a lot of work to do tomorrow."
Tomorrow's stage should be straightforward for Rogers, a 90 kilometre circuit race on wide roads in Adelaide. A two hour speed fest and the race will be his, his first stage race win as a professional cyclist.
Photography
Results
1 Cadel Evans (Aus) Mapei Quick Step                   3.42.21 (42.1 km/h)
2 Michael Rogers (Aus) Australian Institute Of Sport      0.16
3 Daniele Nardello (Ita) Mapei Quick Step                 0.25
4 Alexandre Botcharov (Rus) AG2r-Prevoyance
5 Patrick Jonker (Aus) UniSA                              0.33
6 Kai Hundertmarck (Ger) Telekom                          1.30
7 Kurt Van De Wouwer (Bel) Lotto Adecco
8 Paul Van Hyfte (Bel) CSC - Tiscali                      3.17
9 Stuart O'Grady (Aus) Crédit Agricole
10 Anthony Morin (Fra) Crédit Agricole                    4.43
11 Andrea Tafi (Ita) Mapei Quick Step
12 Robert Tighello (Aus) Australian Institute Of Sport
13 Inigo Chaurreau Bernadez (Spa) AG2r-Prevoyance
14 Steffen Wesemann (Ger) Telekom
15 Thierry Loder (Fra) AG2r-Prevoyance
16 Mikel Astarloza (Spa) AG2r-Prevoyance
17 Dave McPartland (Aus) United Water
18 Scott Davis (Aus) Australian Institute Of Sport
19 Nicolas Vogondy (Fra) La Française Des Jeux            4.48
20 Kevin Hulsmans (Bel) Mapei Quick Step                  4.53
21 Luca Paolini (Ita) Mapei Quick Step                    5.00
22 Russell Van Hout (Aus) UniSA                           8.54
23 Sebastian Hinault (Fra) Crédit Agricole               14.50
24 Brad Davidson (Aus) Saeco-Longoni Sport               25.17
25 Baden Cooke (Aus) La Française Des Jeux
26 Peter Dawson (Aus) United Water
27 Ashley Humbert (Aus) United Water
28 Steve Cunningham (Aus) UniSA
29 Ief Verbrugghe (Bel) Lotto Adecco
30 Luke Roberts (Aus) UniSA
31 Gorik Gardeyn (Bel) Lotto Adecco
32 Adrian Laidler (Aus) UniSA
33 Gerrit Glomser (Aut) Saeco-Longoni Sport
34 Robbie McEwen (Aus) Lotto Adecco
35 Jonathan Vaughters (USA) Crédit Agricole
36 Stefan Van Dijk (Ned) Lotto Adecco
37 Biagio Conte (Ita) Saeco-Longoni Sport
38 Matt Wilson (Aus) La Française Des Jeux
39 Oscar Mason (Ita) Saeco-Longoni Sport
40 Christian Pepoli (Ita) Saeco-Longoni Sport
41 Joerg Ludewig (Ger) Saeco-Longoni Sport
42 Koos Moerenhout (Ned) Domo Farm Frites
43 Max Van Heeswijk (Ned) Domo Farm Frites
44 David Kopp (Ger) Telekom
45 Chris Jenner (NZl) Crédit Agricole
46 Servais Knaven (Ned) Domo Farm Frites
47 Laszlo Bodrogi (Hun) Mapei Quick Step
48 Raphael Jeune (Fra) CSC - Tiscali
49 Jurgen Van Goolen (Bel) Domo Farm Frites
50 Glenn d'Hollander (Bel) Lotto Adecco
51 Bram Tankink (Ned) Domo Farm Frites
52 Fabian De Waele (Bel) Mapei Quick Step
53 Mark Renshaw (Aus) United Water
54 Jens Heppner (Ger) Telekom
55 Regis Lhuillier (Fra) La Française Des Jeux
56 Simon Gerrans (Aus) United Water
57 Tomas Konecny (Cze) Domo Farm Frites
58 Thomas Bodo (Fra) La Française Des Jeux
59 Bobby Julich (USA) Telekom
60 Jakob Piil (Den) CSC - Tiscali
61 Niko Eeckhout (Bel) Lotto Adecco
62 Bjarke Nielsen (Den) CSC - Tiscali
63 Innar Mandoja (Est) AG2r-Prevoyance
64 Frederic Bessy (Fra) Crédit Agricole
65 Fabio Sacchi (Ita) Saeco-Longoni Sport
66 Julian Dean (NZl) CSC - Tiscali
67 Geert Van Bondt (Bel) CSC - Tiscali
68 Bradley McGee (Aus) La Française Des Jeux
69 Pierrick Fedrigo (Fra) Crédit Agricole
70 Jans Koerts (Ned) Domo Farm Frites
71 Robert Bartko (Ger) Telekom
72 Danilo Hondo (Ger) Telekom
73 Andreas Klöden (Ger) Telekom
74 Steve Williams (Aus) Australian Institute Of Sport
75 Corey Sweet (Aus) UniSA
76 Igor Astarloa (Spa) Saeco-Longoni Sport
77 Frederick Guesdon (Fra) La Française Des Jeux
78 Brett Lancaster (Aus) Australian Institute Of Sport
79 David Pell (Aus) United Water
80 Anthony Langella (Fra) Crédit Agricole
81 Brett Aitken (Aus) UniSA
82 Lauri Aus (Est) AG2r-Prevoyance
83 Jaan Kirsipuu (Est) AG2r-Prevoyance
84 Tristan Hoffman (Ned) CSC - Tiscali
85 Hans De Clercq (Bel) Lotto Adecco
86 Daniel Mackey (Aus) United Water
87 Gene Bates (Aus) UniSA
88 Fred Rodriguez (USA) Domo Farm Frites
89 Bruce McIntosh (Aus) United Water
90 Allan Davis (Aus) Australian Institute Of Sport
91 Stefano Zanini (Ita) Mapei Quick Step
92 Arvis Piziks (Lat) CSC - Tiscali
DNF Carlos Da Cruz (Fra) La Française Des Jeux
 
General classification after stage 5
 
1 Michael Rogers (Aus) Australian Institute Of Sport  15.08.15
2 Alexandre Botcharov (Rus) AG2r-Prevoyance               0.21
3 Patrick Jonker (Aus) UniSA                              0.30
4 Cadel Evans (Aus) Mapei Quick Step                      0.40
5 Daniele Nardello (Ita) Mapei Quick Step                 0.58
6 Paul Van Hyfte (Bel) CSC - Tiscali                      3.14
7 Stuart O'Grady (Aus) Crédit Agricole                    4.00
8 Andrea Tafi (Ita) Mapei Quick Step                      4.38
9 Anthony Morin (Fra) Crédit Agricole                     4.40
10 Robert Tighello (Aus) Australian Institute Of Sport    5.19
11 Steffen Wesemann (Ger) Telekom                         5.29
12 Inigo Chaurreau Bernadez (Spa) AG2r-Prevoyance         6.17
13 Kurt Van De Wouwer (Bel) Lotto Adecco                  9.32
14 Scott Davis (Aus) Australian Institute Of Sport        9.39
15 Kai Hundertmarck (Ger) Telekom                         9.47
16 Dave McPartland (Aus) United Water                    12.39
17 Thierry Loder (Fra) AG2r-Prevoyance                   12.43
18 Mikel Astarloza (Spa) AG2r-Prevoyance                 12.45
19 Kevin Hulsmans (Bel) Mapei Quick Step                 12.46
20 Luca Paolini (Ita) Mapei Quick Step                   12.57
21 Nicolas Vogondy (Fra) La Française Des Jeux           13.45
22 Russell Van Hout (Aus) UniSA                          24.03
23 Fabio Sacchi (Ita) Saeco-Longoni Sport                25.07
24 Biagio Conte (Ita) Saeco-Longoni Sport                26.01
25 Sebastian Hinault (Fra) Crédit Agricole               28.25
26 Robbie McEwen (Aus) Lotto Adecco                      33.05
27 Danilo Hondo (Ger) Telekom                            33.16
28 Ashley Humbert (Aus) United Water                     33.20
29 Bobby Julich (USA) Telekom                                 
30 Fabian De Waele (Bel) Mapei Quick Step                     
31 Max Van Heeswijk (Ned) Domo Farm Frites                    
32 Chris Jenner (NZl) Crédit Agricole                         
33 Simon Gerrans (Aus) United Water                           
34 Koos Moerenhout (Ned) Domo Farm Frites                     
35 Robert Bartko (Ger) Telekom                           33.31
36 Peter Dawson (Aus) United Water                       33.34
37 Tomas Konecny (Cze) Domo Farm Frites                       
38 Bradley McGee (Aus) La Française Des Jeux             34.14
39 Joerg Ludewig (Ger) Saeco-Longoni Sport               34.37
40 Frederic Bessy (Fra) Crédit Agricole                       
41 Pierrick Fedrigo (Fra) Crédit Agricole                     
42 Gene Bates (Aus) UniSA                                35.51
43 Jens Heppner (Ger) Telekom                            37.07
44 Servais Knaven (Ned) Domo Farm Frites                 37.23
45 Mark Renshaw (Aus) United Water                            
46 Glenn d'Hollander (Bel) Lotto Adecco                  37.25
47 Tristan Hoffman (Ned) CSC - Tiscali                        
48 Luke Roberts (Aus) UniSA                              37.27
49 David Kopp (Ger) Telekom                                   
50 Steve Cunningham (Aus) UniSA                               
51 Oscar Mason (Ita) Saeco-Longoni Sport                 37.30
52 Laszlo Bodrogi (Hun) Mapei Quick Step                      
53 Julian Dean (NZl) CSC - Tiscali                            
54 Allan Davis (Aus) Australian Institute Of Sport            
55 Gorik Gardeyn (Bel) Lotto Adecco                           
56 Stefan Van Dijk (Ned) Lotto Adecco                         
57 Regis Lhuillier (Fra) La Française Des Jeux                
58 Innar Mandoja (Est) AG2r-Prevoyance                        
59 Geert Van Bondt (Bel) CSC - Tiscali                        
60 Hans De Clercq (Bel) Lotto Adecco                          
61 Igor Astarloa (Spa) Saeco-Longoni Sport               38.01
62 Bruce McIntosh (Aus) United Water                     38.13
63 Frederick Guesdon (Fra) La Française Des Jeux         38.14
64 Thomas Bodo (Fra) La Française Des Jeux               38.24
65 Bram Tankink (Ned) Domo Farm Frites                   38.52
66 Adrian Laidler (Aus) UniSA                            41.00
67 Jaan Kirsipuu (Est) AG2r-Prevoyance                   42.30
68 Jans Koerts (Ned) Domo Farm Frites                    42.31
69 Baden Cooke (Aus) La Française Des Jeux               42.32
70 Stefano Zanini (Ita) Mapei Quick Step                      
71 Brett Aitken (Aus) UniSA                                   
72 Bjarke Nielsen (Den) CSC - Tiscali                         
73 Fred Rodriguez (USA) Domo Farm Frites                      
74 Brad Davidson (Aus) Saeco-Longoni Sport                    
75 Niko Eeckhout (Bel) Lotto Adecco                           
76 Brett Lancaster (Aus) Australian Institute Of Sport        
77 Anthony Langella (Fra) Crédit Agricole                     
78 Lauri Aus (Est) AG2r-Prevoyance                            
79 Andreas Klöden (Ger) Telekom                          42.57
80 Jurgen Van Goolen (Bel) Domo Farm Frites              43.00
81 Raphael Jeune (Fra) CSC - Tiscali                     43.22
82 Jonathan Vaughters (USA) Crédit Agricole              43.51
83 Jakob Piil (Den) CSC - Tiscali                             
84 Arvis Piziks (Lat) CSC - Tiscali                      43.58
85 David Pell (Aus) United Water                         44.40
86 Steve Williams (Aus) Australian Institute Of Sport         
87 Ief Verbrugghe (Bel) Lotto Adecco                     44.49
88 Gerrit Glomser (Aut) Saeco-Longoni Sport              44.51
89 Christian Pepoli (Ita) Saeco-Longoni Sport            44.52
90 Corey Sweet (Aus) UniSA                               45.10
91 Matt Wilson (Aus) La Française Des Jeux             1.02.16
92 Daniel Mackey (Aus) United Water                    1.11.54
 
Sprints classification
 
1 Robbie McEwen (Aus) Lotto Adecco                          28 pts
2 Michael Rogers (Aus) Australian Institute Of Sport        20
3 Jans Koerts (Ned) Domo Farm Frites                        14
4 Fabio Sacchi (Ita) Saeco-Longoni Sport                    12
5 Glenn d'Hollander (Bel) Lotto Adecco                      10
6 Tristan Hoffman (Ned) CSC - Tiscali                       10
7 Daniele Nardello (Ita) Mapei Quick Step                   10
8 Luca Paolini (Ita) Mapei Quick Step                       10
9 Cadel Evans (Aus) Mapei Quick Step                         8
10 Thierry Loder (Fra) AG2r-Prevoyance                       6
11 Kevin Hulsmans (Bel) Mapei Quick Step                     6
12 David Pell (Aus) United Water                             6
13 Stuart O'Grady (Aus) Crédit Agricole                      6
14 Corey Sweet (Aus) UniSA                                   6
15 Danilo Hondo (Ger) Telekom                                6
16 Robert Tighello (Aus) Australian Institute Of Sport       4
17 Russell Van Hout (Aus) UniSA                              4
18 Biagio Conte (Ita) Saeco-Longoni Sport                    4
19 Andrea Tafi (Ita) Mapei Quick Step                        4
20 Jaan Kirsipuu (Est) AG2r-Prevoyance                       4
21 Alexandre Botcharov (Rus) AG2r-Prevoyance                 2
22 Kurt Van De Wouwer (Bel) Lotto Adecco                     2
23 Mikel Astarloza (Spa) AG2r-Prevoyance                     2
 
Mountains classification
 
1 Cadel Evans (Aus) Mapei Quick Step                        48 pts
2 Russell Van Hout (Aus) UniSA                              28
3 Glenn d'Hollander (Bel) Lotto Adecco                      28
4 Daniele Nardello (Ita) Mapei Quick Step                   20
5 David Pell (Aus) United Water                             16
6 Nicolas Vogondy (Fra) La Française Des Jeux               16
7 Michael Rogers (Aus) Australian Institute Of Sport        10
8 Patrick Jonker (Aus) UniSA                                 8
9 Kai Hundertmarck (Ger) Telekom                             6
10 Joerg Ludewig (Ger) Saeco-Longoni Sport                   6
11 Alexandre Botcharov (Rus) AG2r-Prevoyance                 4
12 Thierry Loder (Fra) AG2r-Prevoyance                       4
13 Fabio Sacchi (Ita) Saeco-Longoni Sport                    4
14 Brad Davidson (Aus) Saeco-Longoni Sport                   4
 
U23 classification
 
1 Dave McPartland (Aus) United Water                  15.20.54
2 Ashley Humbert (Aus) United Water                      20.41
3 Simon Gerrans (Aus) United Water                            
4 Peter Dawson (Aus) United Water                        20.55
5 Gene Bates (Aus) UniSA                                 23.12
6 Mark Renshaw (Aus) United Water                        24.44
7 Allan Davis (Aus) Australian Institute Of Sport        24.51
8 Gorik Gardeyn (Bel) Lotto Adecco                            
9 Regis Lhuillier (Fra) La Française Des Jeux                 
10 Bruce McIntosh (Aus) United Water                     25.34
11 Thomas Bodo (Fra) La Française Des Jeux               25.45
12 Adrian Laidler (Aus) UniSA                            28.21
13 Brad Davidson (Aus) Saeco-Longoni Sport               29.53
14 Jurgen Van Goolen (Bel) Domo Farm Frites              30.21
15 David Pell (Aus) United Water                         32.01
16 Daniel Mackey (Aus) United Water                      59.15
 
Teams classification
 
1 Mapei - Quick Step                                  45.31.14
2 Australian Institute Of Sport                           4.34
3 Ag2R Prevoyance                                        12.02
4 Crédit Agricole                                        25.04
5 Telekom                                                41.47
6 UniSA                                                  48.18
7 CSC - Tiscali                                        1.11.42
8 United Water                                         1.12.36
9 Lotto Adecco                                         1.13.54
10 La Francaise Des Jeux                               1.17.12
11 Saeco Machine Per Caffe - Longoni Sport             1.19.25
12 Domo Farm Frites                                    1.33.38