Wednesday 10 October - 14:30 - Elite Women's TT - 19.2 km
Live report Results Profile & start list Previous race Next race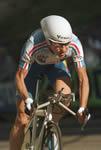 Jeannie Longo
Photo: © Sirotti
Longo by a whisker
By Jeff Jones
Jeannie Longo has been winning races at the top level of women's cycling for over 20 years, and today confirmed her status as one of the greats of the sport in a perfectly judged time trial to win the 2001 World Championship. Longo, starting second last, rode consistently throughout the entire 19.2 kilometre event, finishing strongly to beat Swiss favourite Nicole Brändli by just 0.41 seconds. Brändli had led at both the 4.5 and 13 kilometre time checks, but could not hold off the Longo charge and was pipped at the post for the gold medal.
The women's event was run over the same course as the Junior Men, held earlier today. Riders such as Joane Somarriba (Spain), Nicole Brändli, Diana Ziliute (Lithuania), Alessandra Cappellotto (Italy), Kirsty Nicole Robb (New Zealand), Kimberly Bruckner (USA), Judith Arndt (Germany) and Anna Millward (Australia) were expected to perform well, not discounting Longo nor defending champion Mari Holden (USA).
It was the Spaniard Teodora Ruano Sanchon who became the first rider to go under 30 minutes, and her time of 29:53.16 turned out to be good enough for a bronze medal. Many riders suffered over the last half course after having gone out too hard, too early.
It was no great surprise when Swiss road champion Brändli went past 4.5 kilometres in 7:50, which was 15 seconds better than Ziliute's time at that point. Brändli continued to blitz through kilometre 13, but her speed levelled off over the final 6.2 kilometres. Five riders behind her, Jeannie Longo-Ciprelli was the best of the rest, losing 8 seconds to the Swiss rider on the first time check, but pulling it back to 4 seconds at 13 kilometres. Longo had the momentum and the timing to finish her run well, coming across the line in 29:08.55 (39.53 km/h). This moved Brändli into the silver medal position and Ruano into the bronze.
All that remained was for defending champion Mari Holden to finish, and the US rider rode a creditable time for 6th place. Thus, 42 year old Jeannie Longo-Ciprelli captured her 13th World title, and her fourth in the time trial discipline.
Photography
Alessandra Cappellotto (Italy) - gets ready to start in the Elite Women's time trial.
Fabiana Luperini and Alessandra Cappellotto - warming up together
Jeannie Longo-Ciprelli on the stationary trainer - perhaps the only time she stopped all day!
Fabiana Luperini (Ita) - about to start
Fabiana Luperini - powers into the course
Rasa Polikeviciute (Ltu) - comes in fourth
Diana Ziliute (Ltu) - with her eyes on the road
Italian Alessandra Cappellotto - in action
Joane Somarriba - before her crash.
USA rider Mari Holden - on her way to 6th place
Jeannie Longo-Ciprelli - shows her power and determination in the TT
Jeannie Longo-Ciprelli - continues to amaze during her twenty year career
Jeannie Longo-Ciprelli - flanked Nicole Brändli (Swi) and Teodora Ruano Sanchon from Spain
The face of a champion - Jeannie Longo-Ciprelli fronts the media
Results
1 Jeannie Longo-Ciprelli (Fra)        29.08.55 (39.53 km/h)
2 Nicole Brändli (Swi)                 0.00.41
3 Teodora Ruano Sanchon (Spa)          0.44.61
4 Rasa Polikeviciute (Ltu)             0.46.94
5 Judith Arndt (Ger)                   0.55.07
6 Mari Holden (USA)                    1.26.00
7 Anna Millward (Aus)                  1.26.67
8 Mirjam Melchers (Ned)                1.32.52
9 Diana Ziliute (Ltu)                  1.32.79
10 Priska Doppmann (Swi)               1.40.71
11 Fabiana Luperini (Ita)              1.42.27
12 Alessandra Cappellotto (Ita)        1.48.71
13 Olga Slioussareva (Rus)             1.53.09
14 Kimberly Bruckner (USA)             2.00.08
15 Leah Goldstein (Can)                2.05.21
16 Anne Samplonius (Can)               2.07.39
17 Hanka Kupfernagel (Ger)             2.21.40
18 Bogumila Matusiak (Pol)             2.24.76
19 Elena Tchalykh (Rus)                2.30.12
20 Solrun Flataas (Nor)                2.37.29
21 Pia Sundstedt (Fin)                 2.43.13
22 Sara Carrigan (Aus)                 2.43.44
23 Jenny Algelid (Swe)                 2.48.06
24 Lada Kozlikova (Cze)                2.51.12
25 Tetyana Andrushchenko (Ukr)         2.56.76
26 Doris Posch (Aut)                   3.00.09
27 Sari Saarelainen (Fin)              3.09.38
28 Katrina Berger (USA)                3.16.81
29 Lisbeth Simper (Den)                3.22.15
30 Séverine Desbouys (Fra)             3.37.10
31 Kirsty Nicole Robb (NZl)            3.59.94
32 Wenche Stensvold (Nor)              4.07.57
33 Flor Delgadillo Ruiz (Col)          4.12.20
34 Miho Oki (Jpn)                      4.36.01
35 Monika Tyburska (Pol)               5.00.11
36 Ine Wannijn (Bel)                   5.08.17
37 Martha Luz Lopez (Col)              5.37.65
38 Anastasia Pastourmatzi (Gre)        9.07.81