Stage 11 - September 19: Alp - Andorra, 154.2 km
Results & report Live report Profile Description Previous stage Next stage
Profile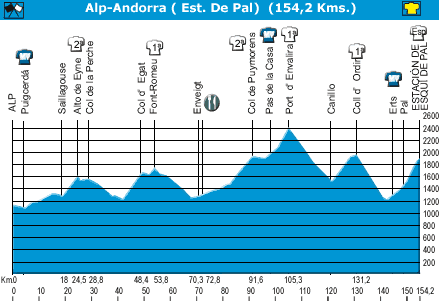 image © LaVuelta 2001
| | | | | | |
| --- | --- | --- | --- | --- | --- |
| | intermediate sprint | | category of climbs | | feed zone |
Description
In just 154 kilometres we can find a special-category finish, three first-category climbs and two second-category climbs. It is going to be considered a Top Stage. Many tactics could be combined. Control by those riders who had to fight for the podium. Attempts to break away from Font Romeu so as to get time and space. There also exists the possibility that Kelme Team makes use of their well-known tactic of sending several riders at the front who, then, wait for their leaders on the home stretch. If any rider knows well and rides easily across these mountains, that is Chaba Jiménez, who, in 1998 and having covered 199 kilometres, achieved the victory leaving Escartín, Heras, Camenzind, Clavero and Gilberto Simoni behind. The entrance across Envalira, makes the last part of the route very difficult with a nine-kilometre-long climb to Col de Ordino with a 5% gradient. The last ten-kilometre-long climb to Pal ski resort has an average gradient of 7,5. Danger for everyone.
Signing time /Rassemblement de départ et signature: De 11:50 a 12:35 en c/Mancomunitat.
Call /Appel: A las 12:40.
Pre-start time /Départ fictif: A las 12:46, por: Avda. Cerdanya, Avda. Tossa Alp, Nort y Ctra. Bellver dirección Puigcerdá por C-162. Total: 2,1 Kms.