Stage 13 - July 21: Foix - Saint-Lary-Soulan (Pla d'Adet), 194 km
Results & report Live report Profile Description Previous stage Next stage
Preview
By Tim Maloney
Despite his tenaciousness, Maillot Jaune Francois Simon will be hard pressed to resist the onslaught of Lance Armstrong and USPS tomorrow, as gravity is simply not in his favor on the long climbing stage. Aptly numbered Stage 13 will be brutal. The ultimate Hors Categorie climb to Pla d'Adet (10.3km at 8.3%) is preceded by Portet d'Aspet, an opening Cat 2 climb, where Lance Armstrong and the peloton will stop briefly to pay homage to his fallen teammate Fabio Casartelli at his memorial.
Then the fun begins. Over the next 100km, there are 4 consecutive Cat 1 climbs before the final ascent to Pla d'Adet. The mega stage over 194 km has 48.7 km of climbing with an average grade of 7.9%. Perhaps the day's 4th climb will have the largest impact; the 13 km climb of the Col de Peyresourde is steep, narrow and bumpy.
Profile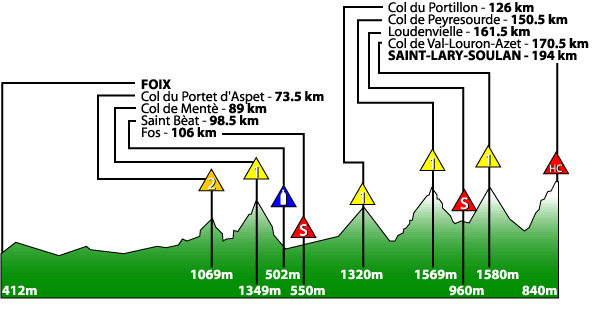 bonus sprint

feed zone

prime

intermediate timing

category of climbs

"hors" (severe)
category climb
Description
Probably the critical stage in the Pyrenees is the 13th stage from Foix to Saint-Lary-Soulan (194 km). The action begins at 73.5 kilometres, with the Col du Portet d'Aspet, where the peloton will stop to pay homage to Fabio Casartelli, who was killed on the descent of this climb. There follows the Col de Mente (km 89), Col du Portillon (km 126), Col de Peyresourde (km 150.5) and the Col de Val-Louron-Azet (km 170.5). All these climbs at of first category, serving to break the peloton up before the finishing climb up to St. Lary-Soulan (km 194) which is an hors categorie climb to 1680 m.
Foix is the capital of the Ariège department, on the Ariège River at the foot of the Pyrenees. It is an administrative and tourist center with some small industry. It grew around an oratory founded by Charlemagne and became the capital of the countship of Foix.