World Track Championships - CM
Antwerpen, Belgium , September 26 - 30, 2001
Main Page Previous Day's Results
Day 5 - September 30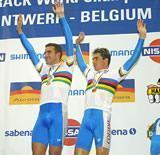 Neuville and Sassone
Photo: © Mike Gladu
Phtography of the Men's Madison Final
The American team of James Carney and Colby Pearce - set the pace early
Jamie Carney and Colby Pearce - USA takes a lap early on in the race
James Carney and Colby Pearce - from the USA defend their early lead
Gabriel Ovidio Curuchet and Juan Esteban Curuchetl from Argentina - on their way to third place
Neuville and Sassone from France exchange, with Sassone looking for the opposition
Robert Sassone - exchanges with Jérôme Neuville
Sassone and Neuville with Sergey Lavrinenko from Kazakstan in the background
The Spanish team - exchange riders, and move past the Swiss
Juan Llaneras Rossello of Spain - with Robert Sassone closing in on
The winners podium - with the Spanish team , the French team and the Argentina team
Men's 60 km Madison

1 France                                               5 pts
(Jérôme Neuville, Robert Sassone)

1 lap behind

2 Spain                                               10
(Isaac Galvez Lopez, Juan Llaneras Rossello)

3 Argentina                                            9
(Gabriel Ovidio Curuchet, Juan Esteban Curuchet)

2 laps behind

4 Switzerland                                         28
(Alexander Aeschbach, Franco Marvulli)

5 Australia                                           24
(Graeme Brown, Scott McGrory)

6 Netherlands                                         17
(Robert Slippens, Danny Stam)

7 Austria                                             13
(Roland Garber, Franz Stocher)

8 Belgium                                             12
(Matthew Gilmore, Wouter Van Mechelen)

9 Colombia                                             9
(Leonardo Fabio Duque, Victor Herrera)

10 Slovakia                                            2
(Martin Liska, Jozef Zabka)

11 Italy                                               2
(Devid Garbelli, Marco Villa)

12 Ukraine                                             1
(Olexandr Fedenko, Vasyl Yakovlev)

13 Denmark                                             0
(Jimmy Hansen, Jimmi Madsen)

14 USA                                                 0
(James Carney, Colby Pearce)

3 laps behind

15 Germany                                             8
(Stefan Steinweg, Erik Weispfennig)

16 New Zealand                                         1
(Glen L. Thompson, Lee Maxwell Vertongen)

17 Kazakstan                                           0
(Sergey Lavrinenko, Sergey Tretyakov)

DNF Russia
(Serguei Koudentsov, Valeri Potapov)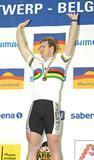 Ryan Bayley
Photo: © Mike Gladu
Men's Keirin
The final of the Men's Keirin lived up to it's promise as a wild race with several riders falling including French star Florian Rousseau. Rousseau was taken to Antwerp hospital, with doctors finding no major damage, although he has several bruises, burns and contusions to show for his day.
The race was won by Australian Ryan Bayley who had already picked up a silver in Thursday's Olympic Sprint final. Bayley claimed the Keirin title the hard way, coming last in his qualifying heat and avoiding a fall in his repecharge. "I was already content with the silver medal for the Olympic Sprint, to gain the Keirin, that is fantastic!," said Bayley.
Fielder runs for it
Photo: © Mike Gladu
Bayley was considerably helped to his win by compatriot Jobie Dajka, who was later disqualified from the race. "The two Australian's (Bayley and Dajka) ran the front with Dajka controlling everyone," said Laurent Gané from France who came in second. The fall in the race brought down everyone bar Bayley and Gane with eventual third place getter German Jens Fiedler, picking up his bike and running the last 170 metres to the finish line.
The crash happened on the last lap of the race, leaving Bayley and Gane to sprint for the finish.
"It is a shame that the commissioners did not sanction out the faults with the Keirin from the beginning of the season. The Keirin, it is not to go to the contact, it is a sprint," said Gane. Dajka, disqualified in the race felt that contact is part of the Keirin. "Falling is one of the risks of the Keirin," he said. "Gane bumped me slightly, then I saw only arms and wheels around me," Dajkka added.
Photography
Ryan Bayley - in the repechage following Toshiaka Fushimi and Jan Van Eijden
Toshiaka Fushimi and Jan Van Eijden - come to grief in the repechage
Another shot of Toshiaka Fushimi and Jan Van Eijden - after falling in the repechage
Ryan Bayley leads out Jobie Dajka and Florian Rousseau (Fra) in the Keirin final
The Keirin Final crash - with Rousseau , Jens Fiedler, Pavel Buran, and Jobie Dajka (Aus)
Ryan Bayley leads out Jobie Dajka - with Laurant Gane moving up on the outside, with one lap to go
Immediately after crossing the finish line - Jens Fiedler collapsed.
Ryan Bayley and Laurent Gane - sprint for the line
The winners podium - with Laurent Gane, Ryan Bayley and Jens Fiedler
Qualifying
 
Heat 1
 
1 Jens Fiedler (Ger)             10.948 (65.77 km/h)
2 Laurent Gane (Fra)
3 David Cabrero Buenache (Spa)
4 Yuji Yamada (Jpn)
5 Craig Mclean (GBr)
6 Jean-Pierre Van Zyl (RSA)
7 Ryan Bayley (Aus)
 
Heat 2
 
1 Pavel Buran (Cze)              11.509 (62.56 km/h)
2 Florian Rousseau (Fra)
3 Nobukatsu Takagi (Jpn)
4 Viesturs Berzins (Lat)
5 Barry Forde (Bar)
6 Steen Madsen (Can)
7 Jaroslav Jerabek (Svk)
 
Heat 3
 
1 Grzegorz Krejner (Pol)         11.359 (63.39 km/h)
2 Ainars Kiksis (Lat)
3 Garth Blackburn (USA)
4 Theo Bos (Ned)
5 Athanasios Mantzouranis (Gre)
6 Andrei Vynokurov (Ukr)
7 Serguei Borissov (Rus)
 
Heat 4
 
1 Jobie Dajka (Aus)              10.938 (65.83 km/h)
2 Lazaros Skoubas (Gre)
3 Jan Van Eijden (Ger)
4 Roberto Chiappa (Ita)
5 Martial Heer (Swi)
6 Toshiaka Fushimi (Jpn)
7 Dean Edwards (RSA)
8 Jeffrey Labauve (USA)
 
Repechages
 
Heat 1
 
1 Andrei Vynokurov (Ukr)         10.797 (66.69 km/h)
2 Steen Madsen (Can)
3 Dean Edwards (RSA)
4 David Cabrero Buenache (Spa)
5 Martial Heer (Swi)
 
Heat 2
 
1 Roberto Chiappa (Ita)          11.211 (64.22 km/h)
2 Jaroslav Jerabek (Svk)
3 Jeffrey Labauve (USA)
4 Craig Mclean (GBr)
5 Athanasios Mantzouranis (Gre)
DNF Nobukatsu Takagi (Jpn)
 
Heat 3
 
1 Viesturs Berzins (Lat)         10.970 (65.63 km/h)
2 Yuji Yamada (Jpn)
3 Serguei Borissov (Rus)
4 Garth Blackburn (USA)
5 Jean-Pierre Van Zyl (RSA)
 
Heat 4
 
1 Ryan Bayley (Aus)              11.614 (61.99 km/h)
2 Barry Forde (Bar)
3 Theo Bos (Ned)
DSQ Toshiaka Fushimi (Jpn)
DNS Jan Van Eijden (Ger)
 
Semi-final
 
Heat 1
 
1 Florian Rousseau (Fra)         11.035 (65.25 km/h)
2 Jens Fiedler (Ger)
3 Jobie Dajka (Aus)
4 Roberto Chiappa (Ita)
5 Ainars Kiksis (Lat)
6 Andrei Vynokurov (Ukr)
 
Heat 2
 
1 Ryan Bayley (Aus)              10.779 (66.80 km/h)
2 Pavel Buran (Cze)
3 Laurent Gane (Fra)
4 Lazaros Skoubas (Gre)
5 Viesturs Berzins (Lat)
6 Grzegorz Krejner (Pol)
 
For 7th - 12th
 
1 Roberto Chiappa (Ita)          11.282 (63.82 km/h)
2 Andrei Vynokurov (Ukr)
3 Grzegorz Krejner (Pol)
4 Viesturs Berzins (Lat)
5 Lazaros Skoubas (Gre)
6 Ainars Kiksis (Lat)
 
Final
 
1 Ryan Bayley (Aus)              11.030 (65.28 km/h)
2 Laurent Gane (Fra)
3 Jens Fiedler (Ger)
4 Pavel Buran (Cze)
5 Florian Rousseau (Fra)
DSQ Jobie Dajka (Aus)

Photography of the Women's 24km Points Race
Calm before the storm - the pack all together at the start
Belem Mendez Guerrero - on her way to a bronze medal
Big smile please Olga - Slioussareva does her best to smile at 60km/h
Go Aussie! - Kate Bates peforms superbly to take out the silver medal
Definition of tension: - Slioussareva leads out Bates holding a one point advantage with three laps remaining
Yeah baby! - Olga celebrates with a huge smile and proudly waves the national flag of Russia
The podium - Bates, Slioussareva and her son, and Guerrero Mendez

Women's 24 km Points Race

1 Olga Slioussareva (Rus)                  21 pts
2 Katherine Bates (Aus)                    14
3 Belem Guerrero Mendez (Mex)               5
4 Teodora Ruano Sanchon (Spa)               3
 
1 lap behind
 
5 Leontien Zijlaard Van Moorsel (Ned)      14
6 Erin Mirabella (USA)                     12
7 Szilvia Szabolcsi (Hun)                  10
8 Mandy Poitras (Can)                       9
9 Evy Van Damme (Bel)                       7
10 Lyudmyla Vypyraylo (Ukr)                 5
11 Monika Tyburska (Pol)                    5
12 Luisa Maria Calle (Col)                  5
13 Anke Wichmann (Ger)                      4
14 Vera Carrara (Ita)                       4
15 Edita Kubelskiene (Ltu)                  3
16 Eleftheria Ellinikaki (Gre)              0
DNF Juliette Vandekerckhove (Fra)

Final Medals Table&nbsp
                    Gold   Silver   Bronze   Total
France               4        2       1       7
Russia               2        1       1       4
Ukraine              2        -       -       2
Australia            1        2       -       3
Mexico               1        -       1       2
Netherlands          1        -       -       1
Switzerland          1        -       -       1
Germany              -        2       4       6
Argentina            -        1       1       2
Canada               -        1       1       2
Great Britain        -        1       1       2
Spain                -        1       -       1
United States        -        1       -       1
Austria              -        -       1       1
Poland               -        -       1       1