The Scott Sunderland Diary 2001
Friday the 13th
Belgium April 8-13, 2001
GP Rennes, 165 kms
Scott's fakta team-mates Allan Bo Andreson and Jorgen Bo Petersen
Photo: ©Sabine Sunderland

The completely new parcours meant that no one knew what the race was going to be like. It turned out to be a lot nicer than the old course.

Six foreign teams and eight French teams showed up. Domo had Axel Merckx present and Wilfried Creskens to ride for; Bobby Julich was the main man for Credit Agricole. Bramati (Mapei), Angolutto (Ag2R), Heulot (Big Mat), Nazon (Bonjour) all looked ready for a good bash.

Grand Prix Rennes is a French Cup race and all the French teams had lined up their star riders, and I can tell you they were on alert as soon as the flag was dropped.

We started out for two hours of aggressive riding, with constant attacks, counterattacked by opposing teams. The French teams were controlling the race and the attacking never stopped; we covered 46 km the first hour. Domo chased a major breakaway of twelve riders. Our Team Fakta's Kurt Arvesen was with it and one of each of the French teams; except for Credit Agricole. It took the peloton over 15 km to bring back the one minute break!

Once we reached the feed zone, everybody sort of relaxed, for a short ten minutes. After a short breather, we went at it again, this time on smaller roads and hills. Along a flatter section, Nazon (Bonjour) and a Frannaise des Jeux rider broke away. Everybody seemed quite at ease with letting them get two to three minutes. During the run into the finishing circuit, they quickly lost their lead.

We went left, right, left, right, then another attack, with no-one getting away, left, right again. During the last lap, on a small climb, a group of 15 to 20 riders formed. We rode no more than 100 meters in front of the peloton. Bramati (Mapei) attacked with 2 kms to go, Bauer (Bonjour) jumped with Agnolutto (Ag2R) in his wheel. Casarotto (Alessio) and I went after him.

Cassarotto brought them back within arm's reach with one kilometre to go, than swung to the side and I did the final effort to lock on to Bauer and Agnolutto. At the same moment Agnolutto attacked, just before the final corner (600 meters to go). I went straight over Bauer to chase Agnolutto. I came onto his back wheel 250 meters before the finish; with Casarotto glued to my back wheel, getting an armchair lead out. With Bramati still in front, I had no time to consider Casarotto's position; I had to keep going if I wanted to overhaul Bramati. Casarotto came over me with 200 meters to go. We beat Bramati, virtually on the line.

GP Pino Cerami, April 13

Preparation

Sabine went out training with me on Thursday. We rode alongside the Schelde, from Gent to Oudenaarde and back. The cyclists on the little road running next to the Kanaal were numerous and at one stage we caught up with some 'Posties'. Sabine thought it was pretty cool to pass Ekimov, Liepheimer, and George Hincapie, winner of Gent-Wevelgem the day before, at 45 km/h. She giggled and remarked how they couldn't "hook on" to her and said she was going to tell that to a few people, of course without mentioning she was riding a Piaggio scooter!

Further down the track, Peter Van Petegem was also putting some kilometres in behind the derny and a few other teams had the same idea of taking a flat training route that day. For me, it was good to go out and train 100kms behind the motorbike. My legs had been feeling like lumps of wood and the soigneur pointed out that my thigh muscles were really hard and tight.

I had been getting a lot of lactic and it was bothering me; so even though Sabine was trying to fight off a cold, she 'sacrificed' a few hours to go out with me. It turned out to be a fun ride, and the weather kept the promises the weathermen had made of having an almost dry day.

To be able to "spin the legs" like that is always ideal to get a bit of 'souplesse' going. The fact that you sit behind the motorbike puts you out off the wind, aerodynamically ideal. The winds have been very harsh lately and it had been tough training by myself or with only a couple of training partners.

Anyway, after a deep massage the same afternoon and a solid sleep that night, I woke up refreshed and ready to tackle Grand Prix Pino Cerami on Friday.
The Race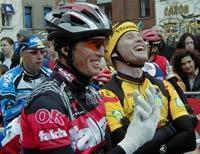 Scott joking on the start line with Matt Gilmore
Photo: ©Sabine Sunderland

Before the race I was feeling relaxed and confident. With my recent results I knew I might be able to get my first win of the season. The parcours, with two short steep hills in the finishing circuits, the last one being a cobbled 20 per cent climb just four kilometres before the finish, was ideal for me. I was chatting to Matt Gilmore, another 'Belgian-Australian' as we were waiting for the start signal and a few good laughs kept us warm in the cold weather conditions.

The race was fast with a lot of attacks, typical for this type of race course. Small roads, big roads and wind from the side.

I did get the chance to pull up next to Bortolami to congratulate him on his Tour of Flanders victory. He replied, "Grazie, you're also riding well!" I answered "Eh well," while making the appropriate hand signal "Come ci, comme ca, it's going ok".

The race wasn't breaking up on the first few laps of the finishing circuit. As we hit the cobbled climb with one lap to go, the group did split as we went over it, with the main riders at the front. We formed a group of 13 and decided to make the break work. On the second-last climb I was patiently looking at the reactions of the other 12 riders. There was a bit of an acceleration but nobody was prepared to put it on the line on this climb. We reached the final hill and I moved myself into third position at the bottom. I had it in my head to attack at the foot of the climb, staying in the big chain ring and thus not having to change at the top of the climb; that way, I could keep my momentum going.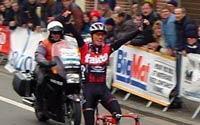 Crossing the line in first.
Photo: ©Jeff Jones/Cyclingnews

There was a bit of false flat at the top and I knew the race would be won here, as I had to establish a gap. I looked over my shoulder and saw I took 100 meters on Michel Vanhaecke who had answered my attack. The rest of the group closely followed him. I gave it all I had. With two kilometres to go, I heard my team-director on the race intercom. "You have 10 seconds lead Scott"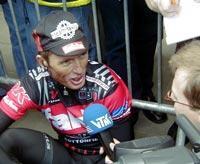 Enjoying the post-win media attention
Photo: ©Sabine Sunderland

I knew, if I could hold this till the one kilometre red flag; I'd win. My director, Peter Meinert, announced I took another two seconds as I passed underneath the red kite and I knew the win was mine.

Winning doesn't come often for me, but I can tell you, it's a hell of a feeling when it does happen!

Results