News for April 15, 2001
Recent results and new features
Paris-Roubaix live coverage
Cyclingnews will cover today's Paris-Roubaix live. The race starts at 11:00 local time. That's 02:00 on the US west coast; 05:00 on the US east coast; 10:00 in the UK; 17:00 Australia west coast; and 19:00 Australia east coast.
Our Paris-Roubaix coverage starts here with quotes and pictures of some of the favourites and team lists, plus links to pre-race photos.
Our live coverage has now started and cyclingnews' correspondents Jeff Jones and Tim Maloney report that the weather this morning in Compiegne is about 10 degrees - not too cold - but raining steadily. "It's pouring all the way to Roubaix," Maloney reported.
With the generous layer of mud left on some sections of cobbles from the floods, the riders are in for a very slippery day. Indeed, it looks like we're set for a classic edition of this wonderful race.
99th Paris-Roubaix news and commentary
VDB to Start
Frank Vandenbroucke is a surprise late addition to the start roster for Paris-Roubaix, replacing Marco Serpellini, who is injured. Vandenbroucke himself convinced the Lampre-Daikin management he should ride, saying he feels the need of come competition kilometres after abandoning the Vuelta al Pais Vasco.
However, Vandenbroucke's aims for the day don't include reaching Roubaix. During the first part of the race he aims to help Dierckxsens and Sciandri. Lampre-Daikin's statement concludes: "For how long and up to where he will remain in the peloton is of minor importance."
After Paris-Roubaix Vandenbroucke will ride the Settimana Lombarda and then the Amstel Gold.
Ballerini the trend-setter
Using your favourite race as your competition swansong is an unconventional move to say the least, but Franco Ballerini, who will retire after today's Paris-Roubaix, hopes to be imitated. In an interview with Reuters, he joked: "I hope to start a fashion, but I think it's preferable to leave in the light of day rather than in the night of winter. But it would be good to be imitated in the future."
Reflecting on the 13 times he has taken part in Paris-Roubaix, Ballerini said the worst race was 1993, when he was narrowly beaten in the velodrome by Gilbert Duclos-Lassalle. "I was sure he had suffered to stay with me, and I didn't ask him to work with me. I didn't feel the need. In the velodrome, I was so sure I would win, I wasn't thinking clearly. I forgot that Duclos-Lassalle was a track specialist."
"On the line it was very tight, but I was sure I had won, and the commissaries indicated the victory was mine before consulting the photo. Then the victory went to Duclos-Lassalle and I announced I did not want to do this job any more, that it was too ungrateful."
"With hindsight, I realised I did not deserve another win, I had been immodest about this race and my competitors."
The best days of course, were his wins in 1995 and 1998. "This race has to be earned, it is a lesson in life. All year long the rider chooses his objectives but Paris-Roubaix chooses you. In 1995 it chose me and that remains one of the greatest days of my life. Up to then I thought I was going to finish my career without finishing my work. I was like 'l'incomputa', the unfinished statue by Michelangelo. There was a great vacuum in my life and I filled it on that day by riding a perfect race, having retained all the lessons of previous years."
"For my second victory in 1998 it was different, as I dispatched my rivals one after another. I won like Eddy Merckx with four minutes in hand. That gave me time to enjoy the welcome from the spectators, which is fantastic in Roubaix."
As for today's race: "If only I could leave on one last victory… But whatever happens it will be a great day and if I am inevitably a little sad I will not show it."
The oldest of the oldies?
For the last ten years every Paris-Roubaix winner except Frederic Guesdon in 1997 has been over the age of 30, so it seems sensible to look at the older riders for a likely winner. Telekom team boss Walter Godefroot explains that "as a rider gets older, he declines in the mountains and becomes tougher, and especially stronger on the flat."
The oldest rider in the Peloton for this year's race is of course Andrei Tchmil, winner in 1994 in appalling weather conditions at the age of 31. Since then, Tchmil has had a second coming, with wins at Milan San Remo (1999) and the Tour of Flanders (2000). Tchmil is deeply familiar with the cobbles, saying "When I see pavé, I feel at home, like a climber at the foot of a col."
Tchmil makes no secret of his ambition to win a second paris-Roubaix. Back in January, he announced: "the world titles remains an objective, but what I would like above all is to win Paris-Roubaix."
Van Petegem anxious
Peter van petegem is worried about the cobbles. The star of Paris-Nice has had a bad couple of weeks, falling ill at the end of March and twice falling literally in the Tour of Flanders. Since then, his back has been giving problems and he says, "I am very anxious about tackling the pavé."
Desbiens leads Kelme
"It's almost more than I could have hoped for," says Laurent Desbiens. At the end of last season he was not retained by Cofidis and found himself unemployed in January after a dispute over terms with the Ville de Charleroi team. In March he was approached by Kelme and since then "I have worked very hard." Today he leads the Spanish squad into the cobbles.
Ferretti afraid
Giancarlo Ferretti, directeur sportif of Fassa Bortolo says he fears for his riders on the cobbles of the hell of the North. "In my opinion, the riders must have challenges; pavé, but good pavé. Paris-Roubaix has horrible pavé. Albert Bouvet (formerly in charge of the parcours) searched for pavé for cows, for agricultural vehicles, but not for riders. But I also know that there is not much more pavé left."
On the other hand, "this race has a history in cycling, and its organisers [the Societe du Tour de France] are the most powerful in the world. No, this race has to be done, but this pavé is really too difficult. We always come back to the same debate. Even in France, the last great champion, Bernard Hinault did not love the queen of the classics. He said he would ride it and win it once, then: no more."
"The race is beautiful, but every time it makes my heart race. I am afraid for my riders." But Ferretti is not bringing his riders just to make up the Paris-Roubaix numbers."I am not like Coubertin, it is not in my character to come to a race just to take part. Also, in the professional world, it is very important to do something. I always come to Paris-Roubaix, even when I don't have specialist riders. From time to time, the riders make good."
Jalabert returns
Laurent Jalabert will return to competition in the Flèche Wallone on Wednesday, April 18. Jalabert was originally scheduled to make his comeback after in the Niedersachsen-Rundfahrt (Tour of Lower Saxony) at the end of April, but has brought his return forward to help his CSC-World Online team-mates.
Jalabert said: "This week I was training with my brother Nicolas and learned that the Tour of Flanders had caused much damage in the team and that it was very difficult for Bjarne to compose a team for the races to come. I got on my mobile to tell him I had decided to return to competition at Flèche Wallone."
With its triple ascent of the feared Mur de Huy, Flèche Wallone is considered one the of the hardest of the Ardennes classics, and Jalabert has won it twice. He doesn't think he'll be repeating this year, however.
"I have been going well in training. I rode approximately 3,200km in one month after starting with two hour sessions, but I know full well that I am absolutely not competitive. Don't expect a great performance. I am not even sure I will finish, but I am happy to be racing again."
Jalabert has fully recovered from the back injury he sustained two months ago when he fell from a ladder at his home in Geneva, fracturing three lumbar vertebrae. "I have not felt any back pain for three weeks, even in six and a half or seven hour training sessions. I only have problems with my legs."
Jalabert's CSC-World Online team now has a huge task ahead of it: make enough of a showing over the next few weeks to convince Jean-Marie Leblanc that the team deserves a wildcard entry for this year's Tour de France. There is much lost time to be made up, but Jalabert says his team boss has been patient "Bjarne Riis and his assistants have not once shown any impatience on this subject; they haven't complained once, and I appreciate this attitude very much."
"I know what I have to do."
Only three people will regret Jaja's return to racing: his three children, who have never seen as much of him as during these last two months.
RVV test results negative
All the anti-doping controls from the Ronde van Vlaanderen have returned negative results. The tested riders were: Gianluca Bortolami, Romans Vainsteins, Geert Van Bondt, Nico Mattan, Eric De Clercq, Christophe Mengin, Bjarke Nielsen and Malte Urban. In addition Fabiano Fontanelli, who was prevented from starting because of a high haematocrit, produced a negative urine test for EPO.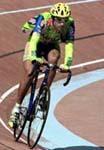 Testing the new bike
Photo: ©AFP
Mauri Prepares
Melchor Mauri (Milaneza ­ MSS) has been testing a new bike in preparation for an attempt on the world hour record on the velodrome at Bordeaux, France on May 20. Mauri will be gunning for Chris Boardman's record of set in Manchester last year.
Mauri is seen here testing his record attempt bike, designed by legendary frame builder Alfredo Gios. Presented to Mauri in Barcelona on April 12, the bicycle was made in Turin, Italy and weighs 6.82 kilograms.
Recent results and new features on cyclingnews